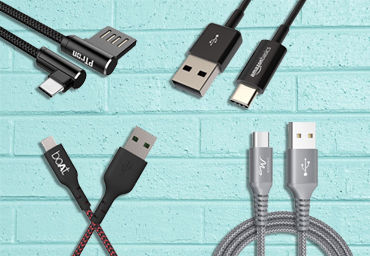 With its adoption seen across price points, it is safe to say that USB Type C has become the industry standard for phone makers. Most of the phones you get these days feature this port that can be used for charging and transfer data to another device. Because of its reversible design, you will not have to choose a specific side to connect the cable. It can be plugged in from either side and this flexibility, along with faster data transfer speed, has made it popular among consumers. So, if you need a charging Type C cable for under Rs 1,000, these are the best options right now.
1. boAt A 350 cable
Budget pick
BoAt A 350 USB Type C cable offers universal compatibility that makes it work on phones, tablet, PC, and Bluetooth speakers with a Type C port. You get 3A fast charging speeds with this cable and offers data transfer speeds up to 480Mbps. The cable features cotton braided skin that makes it durable. With the 10,000+ bends lifespan on offer, you can easily use the cable for many years without worrying about its wear and tear. It gets a reversible aluminium tip that adds extra solidity to the connector while plugging in to another device.
2. Wayona Nylon Braided
Wayona makes some rugged charging cable and this one is no different. This USB Type C cable gives you maximum data transfer speed of 480Mbps and charging speed of 5V/3A. But it is hard to ignore the build quality of this cable, with the aluminium housing that ensures safe connectivity. The cable has passed the 10,000+ bend lifespan test and the nylon braiding fabric ensures a mess-free cable when carrying in the bag or pockets.
3. Mi Braided
Best value
The braided Mi cable supports USB Type-C port gets a strong and sturdy construction and toughened joins make it suitable for your rugged daily usage. It features a tangle-free design as well, and the 10,000+ bend lifespan credibility is a testament to its quality. Overall, you can use this Type C cable without worrying about any damage to the device being charged in terms of overheating or anything.
4. Mivi 6 Feet Type C Cable
Feature packed
The next option on this list is from Mivi. This is a 6-feet USB Type C cable that is compatible with most Android devices available in the market right now. The port features aluminium housing and the cable is made of sturdy nylon fiber jacket that gives it extra durability. The reversible nature of Type C port means you can connect it from both the directions. The rugged cable gets 10.5mm aluminium casing that allows you to plug the cable into any phone case. The other good thing about Mivi is that you get longer cable than usual, that makes its use multi-dimensional. Inside the cable you have extra thick copper conductors that allows faster charging and data transfer speeds.
5. pTron Solero
The last of our top 5 in this list is Solero from pTron. This USB Type C cable gets unique L-shaped design, with the USB 2.0 interface carry a sleek built than we usually see. In addition to this, it comes with nylon braided housing, metal connectors and more. Devices can be charged at speed of 2.4A and you can transfer data at 480Mbps. The cable can be used with any device that supports the USB Type C interface. The design of cable makes it ideal for mobile gaming while let the phone charge.
Other options to consider
AmazonBasics USB Type-C
Popular
Dyazo 3.0
Playa by Belkin
CableCreation
Anker Power Line
Best in class
Wayona USB C Cable