A wearable is an excellent accessory to have with you. Not only does it tell the time, but also acts as a secondary screen of sorts for your smartphone, letting you quickly access and respond to notifications, calls and more. However, the most important feature of wearables has to be the fact that they also act like health monitors. Allowing users to track and monitor things such as heart rate, blood oxygen levels, as well as exercises.
Things to consider when buying wearables
Battery life: Battery life is vital when looking for a wearable. Due to their small size, manufacturers cannot fit large batteries in, which is why efficiency is key. After all, the last thing you would want is to charge your device multiple times a day. Ideally, your wearable should last you at least one entire day.
Comfort: Unlike a smartphone, a wearable is designed to be worn on your body for hours. As such, you need to make sure that the device is comfortable on your wrist. This means checking to see if the straps are secured on your wrist comfortably.
Health features: Most wearables tend to offer multiple health and fitness monitoring features. If you are planning to purchase the device specifically for these features, then ensure that the device is capable of tracking it well.
The app: This is something that many people overlook when buying a wearable. The smartphone app is how you will interact and control multiple features of the app. It is also how you retrieve data from the wearable. Which is why it is very important to know how useable the app is.
Best wearables available on Croma
Apple Watch Series 8 GPS+Cellular
The Apple Watch Series 8 is the latest iteration of the company's long-running wearable series. The latest wearable offers a larger display along with a bunch of new features. This includes a body temperature sensor, crash detection and more. It should be noted that this is the GPS+Cellular version. So you can use the device to make and receive calls/texts without the need to have your iPhone nearby.
Apple Watch Series 8 GPS
This version of the Apple Watch Series 8 is pretty much the same as the one mentioned earlier. However, this only has the GPS feature built in. So you will need to keep your iPhone connected. This also means that the device is more affordable. And who can say no to that?
Garmin Instinct Solar Smart Watch
The Garmin Instinct Solar lives up to its name by offering solar charging in addition to standard cable charging. This helps expensively expand the wearable's battery life. The wearable is also extremely rugged and offers multiple sports tracking options. All in, it is one of the most hardcore sports wearables you can get on Croma right now. However, do keep in mind that it may not offer the same level of 'smart' features as some other wearables in this list.
Apple Watch SE GPS
Premium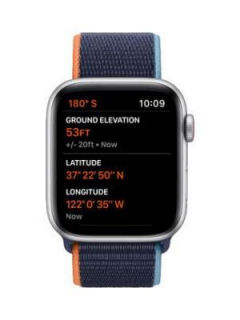 Apple's SE series strives to offer users a more affordable variant of their products and the Watch SE is no different. The device packs a Retina OLED display and offers features such as built-in Siri and GPS Navigation. Of course, the wearable is water resistant and can be used for swimming.
Fitbit Sense 2
Feature Rich
The Fitbit Sense 2 is one of the best wearables offered by a company that is pretty much synonymous with heath-based wearables. The wearable offers an Always-On display with SpO2 monitoring, heart rate tracking, sleep monitoring and a calorie counter too. There is also built-in Alexa. On top of this, it also offers a battery life of up to six days.
Samsung Galaxy Watch4 Classic
The Samsung Galaxy Watch4 Classic sports a Super AMOLED display with a rotating bezel. This bezel allows users to scroll through menus by routine instead of swiping through them. In terms of health tracing, the wearable offers SpO2 monitoring, heart rate tracking, calorie counter, sleep monitor, BMI tracking and more.
Fitbit Inspire 3 Fitness Tracker
Affordable
The Fitbit Inspire 3 features a bracelet design, which makes it offer subtler looks than other wearables in the list. It can track and monitor calories, heart rate, sleep and blood oxygen levels. It can also track stress levels. The wearable offers a battery life of up to 10 days.
Amazfit Pop 2 Smartwatch with Bluetooth Calling
The highlight of the Amazfit Pop 2 has to be the 1.78-inch AMOLED display, which is not something that devices in this price range tend to offer. On top of this, the wearable also comes with Bluetooth calling, which lets you receive calls via the device. On the health side of things, the wearable offers SpO2 monitoring, heart rate tracking, sleep monitoring and more.