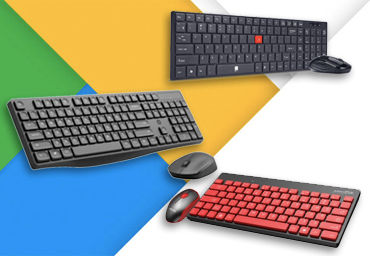 Using a wired keyboard can be a lot of hassle, especially if you are working from home. The chances of cable entangling with others can lead to a lot of mess. This is why people are better off going for wireless devices that do not cost much these days. You have plenty of options that give keyboard and mouse as a combo, and all these cost well below Rs 2,000. Here are the best options you will find in the market.
1. Portronics Key2
User recommended
The Key2 bundle of wireless keyboard and mouse fits right into the budget that most people consider while buying. The overall dimension of the keyboard gives it a compact touch, making it easy to carry around in a bag. Both the mouse and keyboard have an in-built nano receiver that works through a USB device connected to the PC you want to use them with. Through this, you can wirelessly connect the mouse and keyboard for up to a range of 30 feet. The bundled mouse comes with a central scroll button and the noiseless nature makes it convenient to use on any surface. The ergonomics of the mouse make sure your palm rests comfortably.
2. iBall i4 Deskset
Best value
The i4 Deskset is another option worth looking at. This full-sized keyboard features a slim design, and the special soft keys offer decent tactile feedback. It has a total of 105 keys with life for up to 10 million life cycles. Along with this, you get the wireless mouse that has a comfortable design with right-hand ergonomics in place. It comes with an on-off switch to make sure you don't run out of battery while lying idle. The mouse lets you switch resolution between 800 to 1600 dpi. And the switch on the mouse can easily last you for 5 million life cycles.
3. HP CS10
Also consider
Next on the list is the CS10 combo from HP. The plug-and-play system using the USB module helps you connect the device wirelessly. HP has given utmost care while designing the keyboard that features a sleek profile and brushed metal finishing. The engraving of fonts on the key offers a comfortable typing experience and make it easy for using for a long duration. With the mouse, you have an optical sensor with a direct DPI switch between 800 to 1600 dpi. And the basics of the mouse make it ideal for professionals as well as gamers. The switches and buttons come with a long-life span.
4. Lenovo 100
Feature packed
You can also check out the Lenovo 100 series. This one stands out for its compactness, which ensures you don't need a lot of space on the table to fit them. The keyboard features spill-resistant keys so that you do not have to worry about damaging them. Both the mouse and keyboard connect through a single USB receiver that gets plugged into the system. The keys offer tactile feedback for a comfortable typing experience, be it for home or office use. The mouse supports 1000 dpi resolution for fast response time while clicking and scrolling. More importantly, the design of the mouse allows both left and right-handed people to use it with ease.
5. Amkette Primus
Primus also includes a combo of wireless keyboard and mouse. The keyboard gets a full-size layout for comfortable typing without making too much noise. It features volume buttons, calculator button, and has three LED indicators for caps lock, num lock, and low battery status. You can increase the height of the keyboard as per your convenience. The mouse gets a mid-to-large size that easily fits in most palms. The sensor support for 1000 dpi, you can easily scroll through files and move the cursor without any lags.
Other options to consider
Quantum QHM9600
Budget pick
Lapcare Smartoo
Feature packed
Amkette Wi-Key Plus
Best value
Lenovo 510
Premium
Starlight Ultra Thin
Also consider
HP 3ML04AA
Best in class