"Black Shark 3 specifications, as per the 3C listing, include 65W fast-charging support and 5G compatibility"
Xiaomi offshoot Black Shark is reportedly working on its next smartphone. After launching the Black Shark 2 last year, the company is seemingly looking to launch the next-generation Black Shark 3 smartphone, which has now passed 3C certification in China. A screenshot of the same was acquired and published online by leaks aggregator SlashLeaks, with the certification revealing that the smartphone may feature 5G connectivity and 65W fast charging. However, no other Black Shark 3 specifications were revealed in the listing, leaving us considerably in the dark about what the smartphone may bring to the table.
The 3C certification of the Black Shark 3 smartphone also revealed that the smartphone comes with model numbers MBU-A0 and KLE-A0, suggesting two variants of the smartphone. These may either allude to vanilla and Pro versions of the device, or 5G and non-5G options. Such distinctions may help Black Shark price and market its devices more effectively in regions where the 5G rollout has not occurred yet.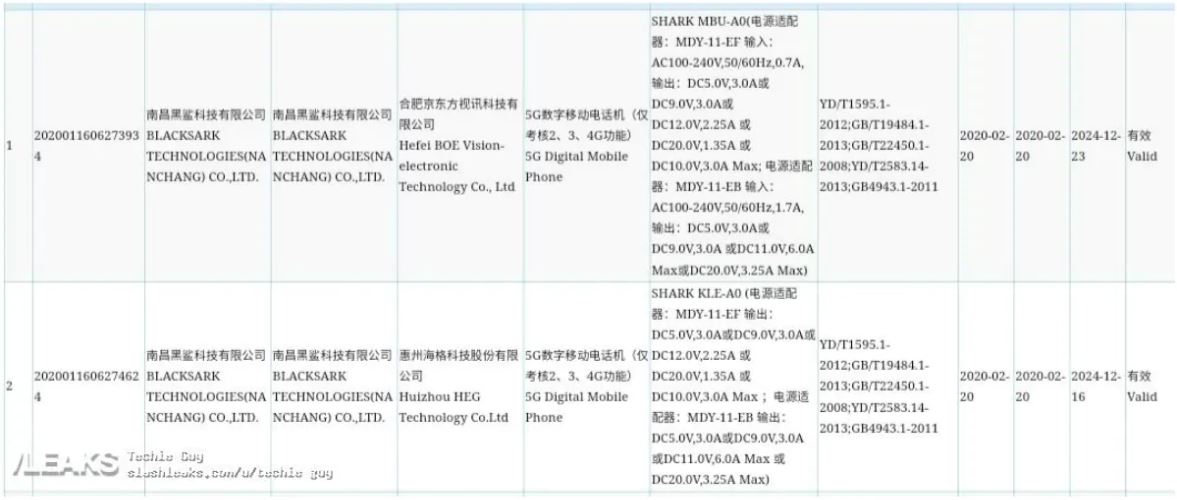 Black Shark 3 specifications
Black Shark CEO, Iuo Yuzhou, recently posted a poll on Weibo asking users to pick their preferred battery and charging combination for a gaming smartphone with 5G connectivity. Most respondents chose the option of 65W fast charging with a 5,000mAh battery. While this may well have just been a regular consumer engagement activity, the 3C certification filing does reveal that the smartphone in question features 65W fast charging, which opened speculations that the Black Shark 3 may also feature a 5,000mAh battery.
Also part of speculations is Black Shark's strategic partnership with Tencent Games, a major powerhouse in mobile game development, publishing and distribution. While the two brands signed the partnership already, it is not yet clear as to how this partnership may translate into real world impact. With Black Shark 3 being a part of the dedicated gaming phone lineup, it will be interesting to see if Black Shark features a special Tencent mode or other software enhancements that take the mobile gameplay experience up by a notch.
No other specifications of the smartphone have any sort of confirmation so far, but going by the industry trends, Black Shark 3 might feature Qualcomm's latest SoC, the Snapdragon 865, along with 8/12GB of RAM and 128/256GB of storage. A recent leak suggested that the smartphone may take cues from the Galaxy S20 Ultra and feature a staggering 16GB of RAM. The same leak also suggested a 120Hz fast refresh rate display with 240Hz touch response rate. If it launches in the coming months, Black Shark 3 should also run on Android 10 out of the box, with some interface customisations offering better gaming experience.