"Taking a long, hard look inside the BlackBerry Passport retail box"
For many business professionals, travelling is a key part of the job profile. And even if it's not, few like to be chained to their desks all day… although some may not really have a choice in the matter. Road warriors or not, everyone who needs to stay connected to work needs a reliable workhorse sitting in the pocket – ready to take on whatever challenge that comes their way next. Apart from basic productivity tasks like email and web browsing, other things like being able to view and edit documents, exchanging info with colleagues in a secure manner and fighting the beasts of the corporate jungle (to put in a very profound manner) in timely fashion take importance. BlackBerry feels it's got the perfect work partner in the form of its new Passport, a wide-bodied, unconventionally designed smartphone that's targeted specifically towards work pros. The design takes inspiration from that booklet we all know and recognise well.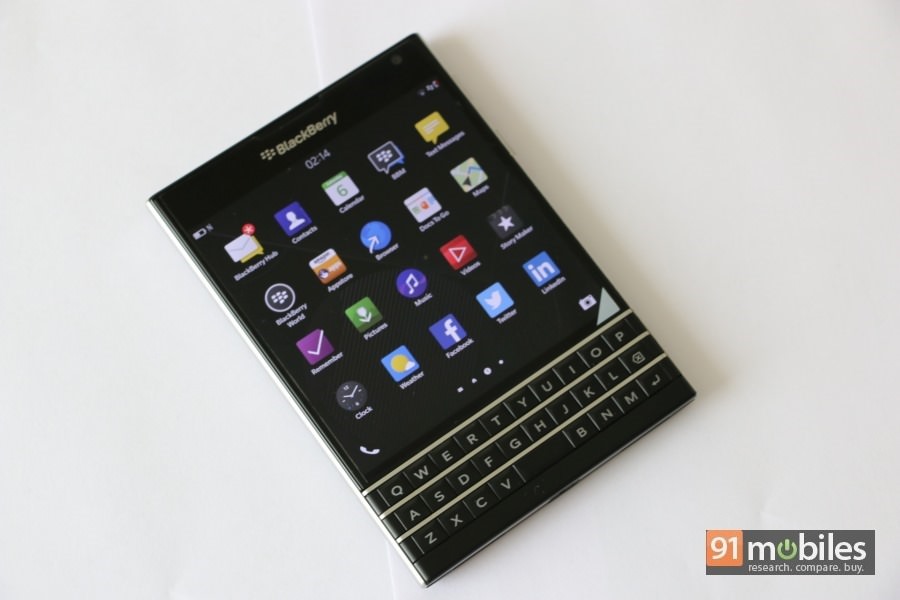 We'll be putting BlackBerry's claims to the test very soon, but at first glance, the Passport did manage to impress us with its build quality and that touch-enabled physical QWERTY. For now, we're going to take a look at the box contents and see what's included with the device.
The device comes in a black box, appropriately sized to accommodate the wide Passport. Removing the lid reveals the smartphone lying on a cardboard tray.
After lifting the device out and putting it away on the side, we see what looks like a real passport, but toting the BlackBerry logo on top. Turned out, this is a quick start guide, designed neatly to resemble a passport, complete with the hard covers and premium paper.
After removing the tray, we see a couple of smaller black boxes inside… conveniently marked to indicate the contents. A two-pin wall charger came out next, followed by a micro-USB cable tucked away at one side.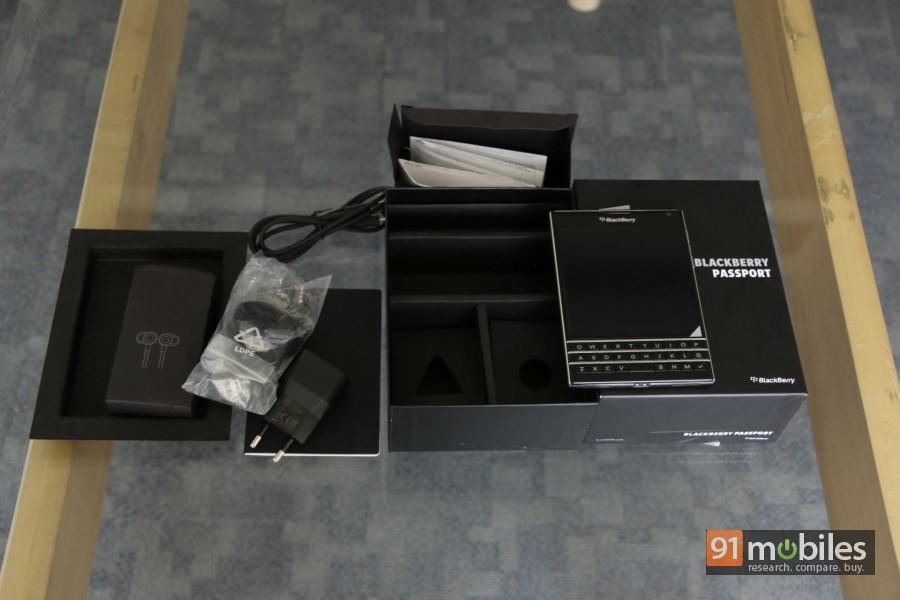 The first of the small boxes contain a wired headset, while the second contains a leaflet with safety information. We were hoping to see a carry case included in the box, but it seems like BlackBerry isn't being too generous. Of course, that doesn't really take away anything from the fact that the Passport looks like a very interesting and unique device and we can't wait to take it for a spin. Just in case you're wondering, the Passport will set you back by Rs 49,990. There's lots more incoming on the device, so keep watching this space.