"BSNL's 500GB plan and 750GB plans offer 50Mbps and 100Mbps speeds, respectively"
To make its broadband plans more attractive, BSNL has raised the speed limits of its two existing plans. Subscribers of the BSNL broadband plans priced at Rs 777 or Rs 1,277 can now continue to access the internet without data speed limits. Moreover, there will be no division of data based on the per-day limit under these plans. It seems that this move has taken to mark its stand in the wave of Jio's upcoming GigaFiber and Airtel's popular V-Fiber services.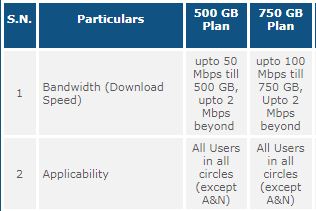 The Rs 777 plan is available in the market with a new name, the 500GB plan. Under this plan, the users can continue to use the full 500GB data with a speed of 50Mbps. And if the data is exhausted, the speed will be reduced to 2Mbps until another recharge is done.
The Rs 1,277 plan on the other hand, supports data speeds at 100Mbps. Similar to the 500GB plan, under this plan if the 750GB data is finished, the speed will be throttled to 2Mbps.
Besides the never-seen-before benefits on its broadband tariffs, BSNL has announced that it has started a pilot project on 4G network testing in few regions including Gujarat and Kerala. The BSNL 4G subscribers in these regions will be able to enjoy 4G VoLTE calls. In order to promote its 4G network, the telco is also offering free data to those subscribers. It's been reportedly giving up to 2GB of free data if the user upgrades to the 4G SIM card, but the benefit is only accessible in those selected circles.