Highlights
Rs 10k-Rs 20k price segment is the most popular among smartphone buyers in India
Almost 50% users prefer buying smartphones online, up from 44% last year
Almost 40% respondents said they'd opt for EMIs when buying a new smartphone
30% would opt for extended warranty
32.5 million. That's the number of smartphone unit shipments in India in the first quarter of this year, as per Statista. That's a mind-boggling figure, and via the 91mobiles Smartphone User Insights Survey 2020, we've been trying to get into the minds of the users and prospective buyers. The survey received over 15,000 responses, and based on the analysis of the data, we've been able to draw up quite a few insights. These pertain to aspects like ownership trends, brand loyalty, aspects that matter, how users shortlist and how they buy their smartphones. In this post, we'll be focussing on aspects related to the actual purchase, how people buy, and how they pay for these devices.
Smartphone purchase: popular price segments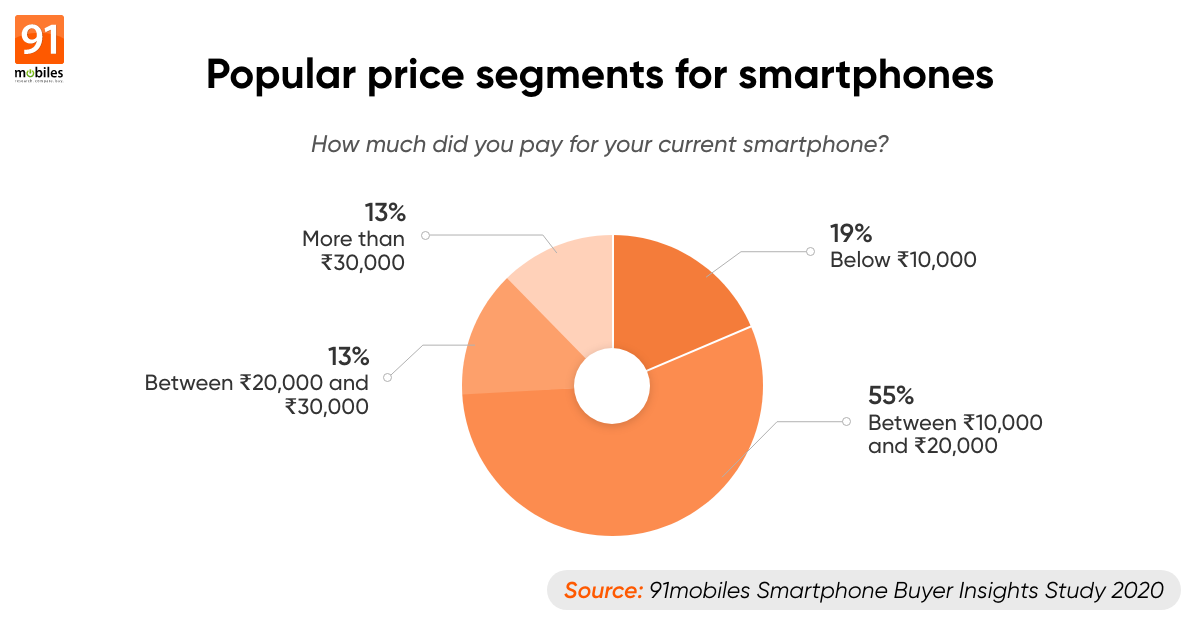 Based on the amounts people paid for their current smartphones, we can safely say that the Rs 10k-Rs 20k price segment is the most popular, given that 55 percent users own smartphones in that bracket. The budget segment, with smartphones priced south of Rs 10k, makes up about 19 percent of users. 13 percent users own smartphones priced between Rs 20k and Rs 30k, while another 13 percent own handsets priced above Rs 30k. Clearly, Rs 10k-20k bracket is where the most action is at, and that's also the most dynamic segment in terms of the smartphone options available. Most smartphone brands like Samsung, Realme and Xiaomi, and others, have some compelling contenders available in that segment.
Smartphone purchase: online vs offline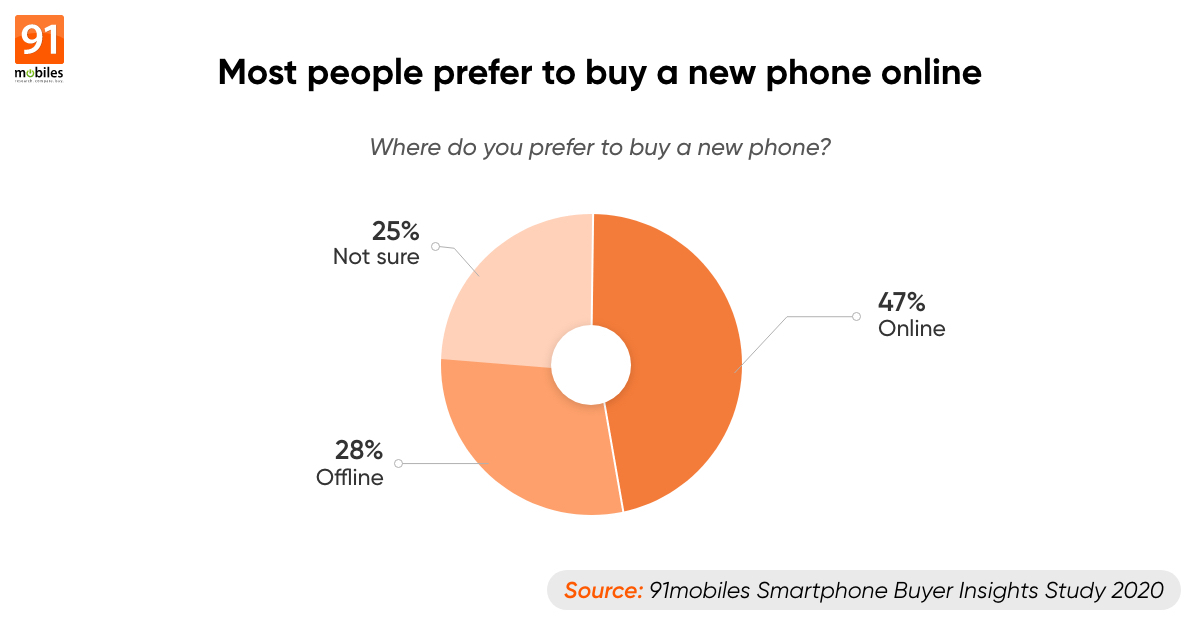 Where are all these smartphones being purchased from? Well, 47 percent of our survey respondents have said they'd prefer purchasing a new smartphone online, as against 28 percent who said they'd buy offline. About 25 percent weren't sure where they'd buy from.
Worth noting is the fact that last year, 44 percent users had said they'd buy online, so a larger chunk of people seem to be now taking the online route. Secondly, our latest survey data is pre-COVID, so there's a good chance that the percentage of people who'd prefer buying a new smartphone through online sources would has increased further. And while 40 percent said they'd prefer buying offline last year, the same number has dropped to 28 percent this time.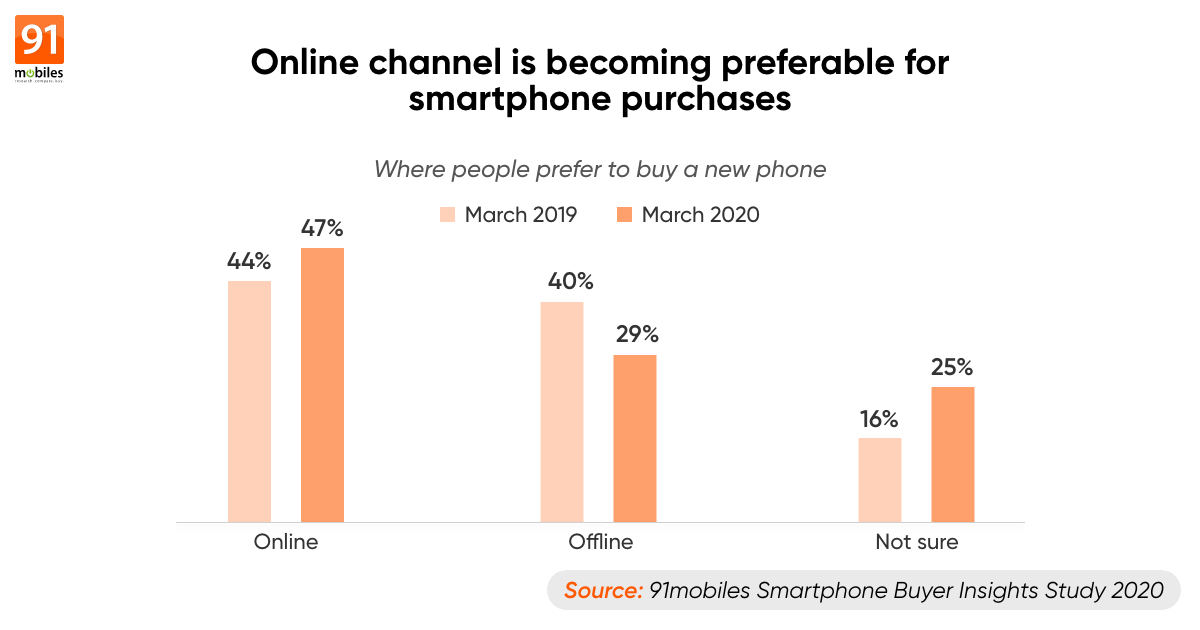 While it's apparent that a larger share of people would want to avoid visiting offline stores in the post-COVID era, there are a few obvious benefits of shopping for smartphones online, explaining why most people prefer this route. For one, there's a perception that prices are lower online, and people can make use of discount offers (such as those available on credit / debit cards of certain banks from time to time).
In fact, when asked where they'd prefer to buy from if the online prices of their preferred smartphone were cheaper by Rs 1,000, no less than 65 percent users said they'd buy online.
Smartphone purchase: preferred modes of payment
Affordability solutions: EMI
Now that we know which price bands are popular and where people prefer buying new smartphones from, let's get to the meat of the story – how they prefer paying.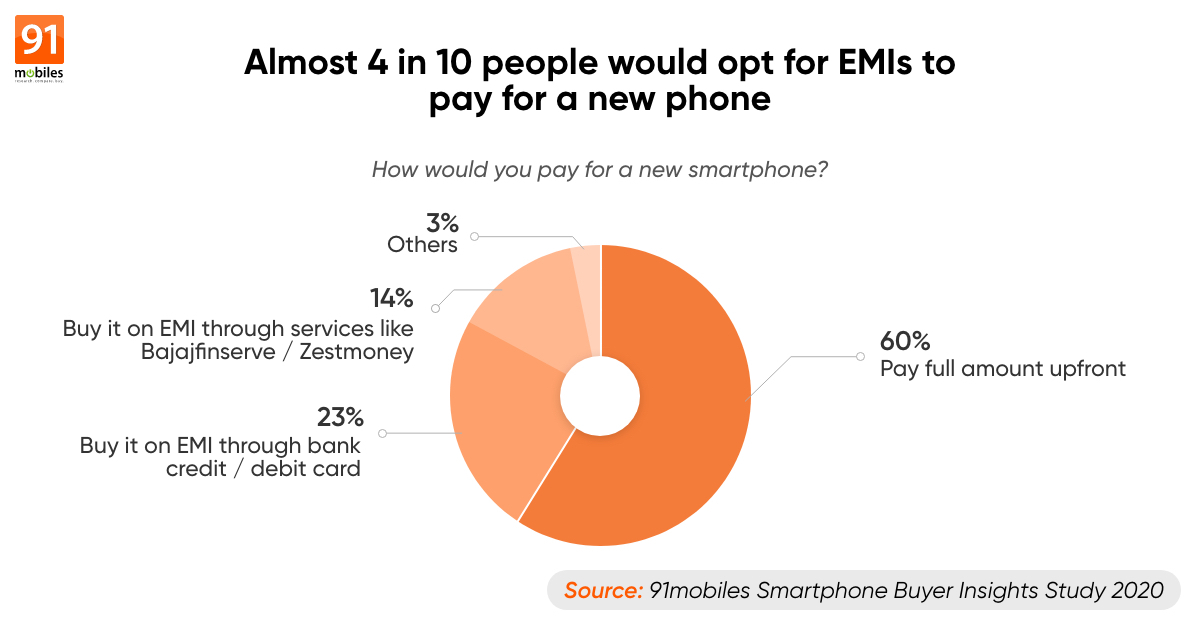 While 60 percent users said they prefer paying the full amount upfront, a significant 37 percent said they'd opt for EMIs. Within this, there are 27 percent who'd opt for EMIs on credit or debit cards, while 14 percent said they'd opt for cardless EMI solutions like ZestMoney or Bajaj Finserv.
Here are a few related points when the data is broken up by factors like age and gender:
Turns out, people aged below 25 are more likely to pay the full amount upfront as compared to older age groups. The theory here is that the younger lot might not have regular sources of incomes, and could be using their parents' money or saved up cash to buy smartphones.
People aged between 25 and 44 are more likely to buy smartphones on EMI. Since most of these are likely to be employed and have a regular source of income, this would make sense.
Men are more likely to buy a new smartphone on EMI as compared to women.
Affordability solutions: renting smartphones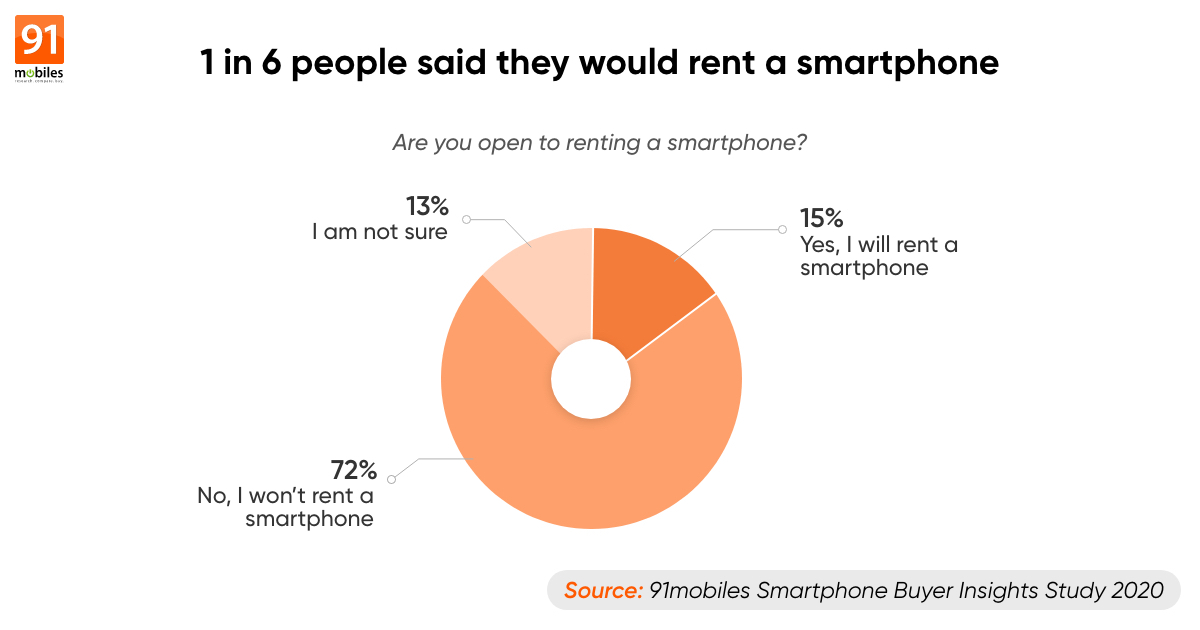 Services like RentoMojo provide smartphones (among other gadgets and appliances) to users on rent, and as part of the survey, we asked users whether they'd be open to renting a smartphone. 1 in 6 users said they'd be open to the idea.
About 30 percent users said they'd be willing to rent a smartphone if they see clear benefits of doing so. These factors include the rent being affordable, the chance to experience premium smartphones without buying them, the flexibility to change smartphones frequently, and the ability to rent smartphones easily.
Other factors: extended warranty and more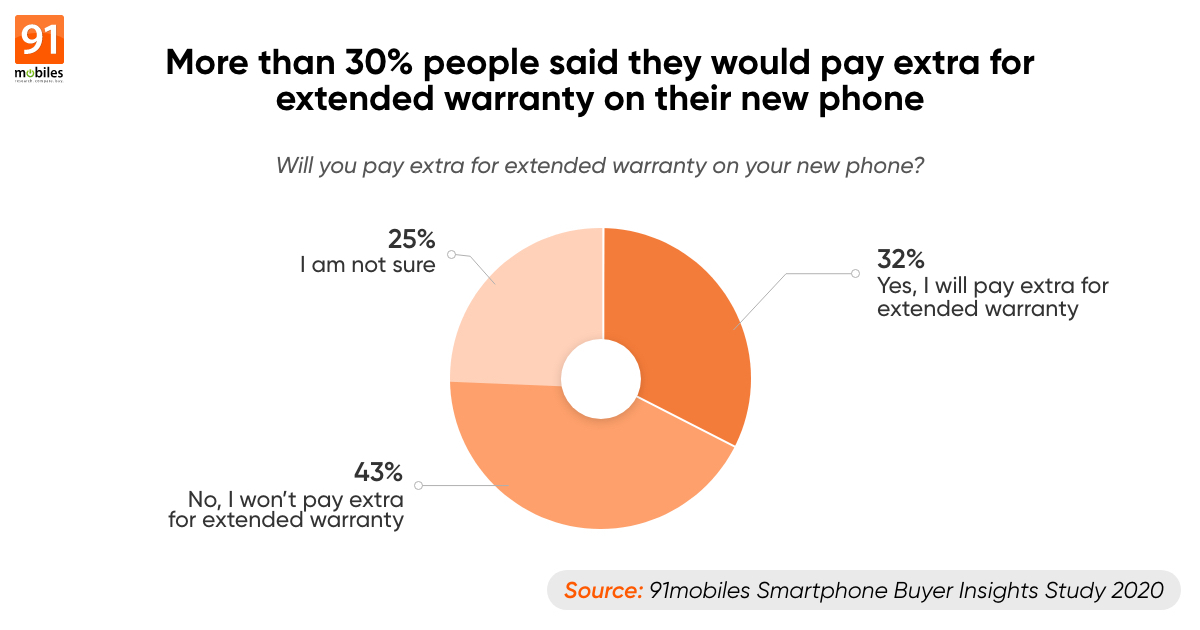 With most brands, and even some e-commerce platforms offering extended warranty on smartphones (on a paid basis), this is an important point to consider. Smartphones are personal gadgets that most users carry with them all the time, and are prone to screen breakage and other types of damage, such as due to liquid spills etc. 32 percent respondents replied in the affirmative when asked whether they'd like to opt for extended warranty on their new smartphone, after being told that the cost of the same is likely to be 5 to 7 percent of the phone's price.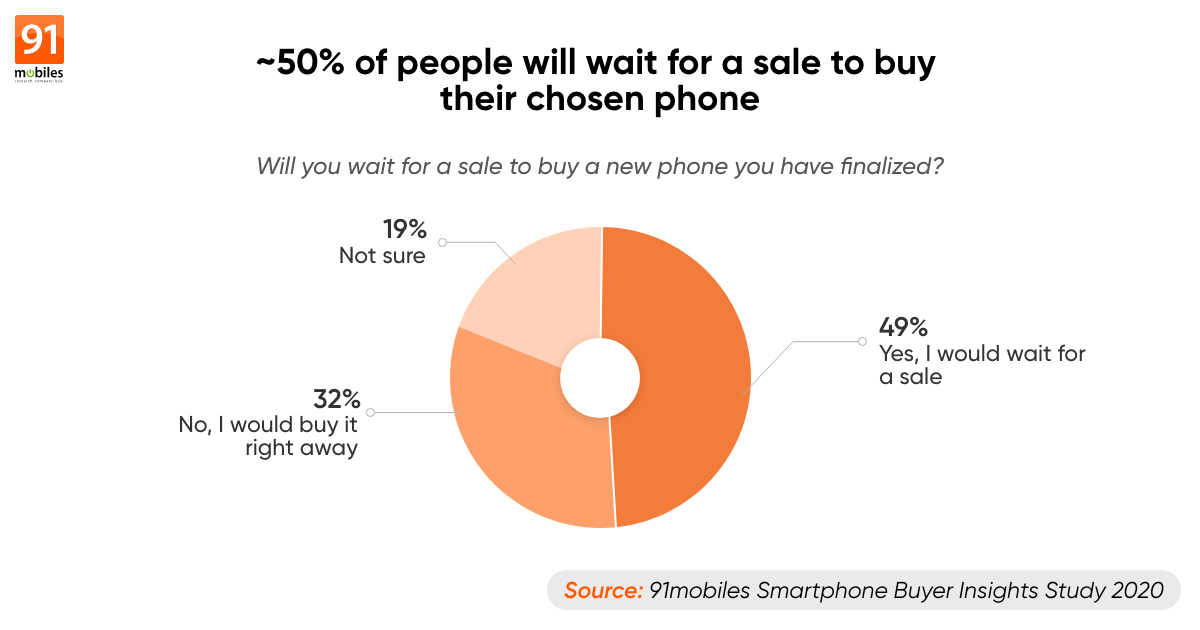 49 percent survey respondents said they'd wait for a sale before buying their chosen phone, so that they can save some money. 32 percent users said they'd buy a smartphone right away, after deciding and shortlisting the one they want. Users aged below 18 years are least likely to wait for a sale, and the obvious reason for this seems to be that the younger lot might be a little more impatient as compared to older folk.

Almost 30 percent users said they'd be willing to get a new credit card just because it offers a healthy discount on a phone they want to buy. This is an interesting tidbit for banks and e-commerce platforms, because they can conceptualise discount offers and target a bigger cardholder base based on this.


Smartphone purchase: what people do with their old devices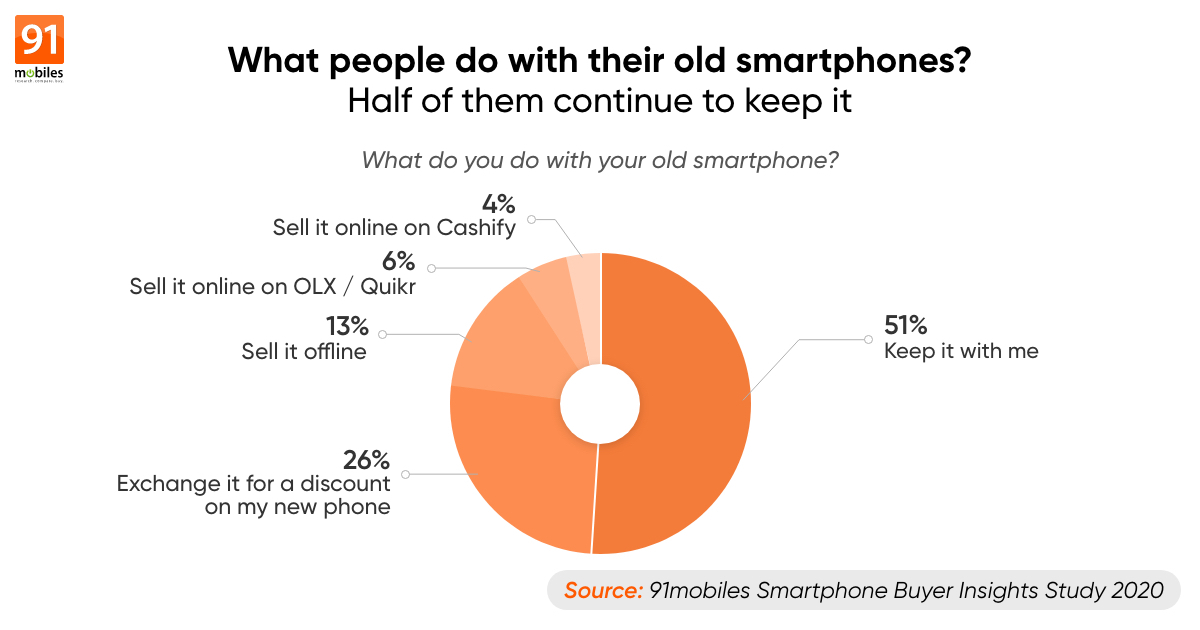 Turns out, more than half of the users want to retain their own smartphones with them, ostensibly to keep them as spare / backup options in case something happens to the new one, or to pass them on to family members. About a fourth of the surveyed users said they'd want to exchange their old smartphones to get the new phone at a lower price. 13 percent said they'd sell their old devices offline, 6 percent said they'd sell on OLX or Quikr, while 4 percent said they'd sell the used phone online on Cashify. On a related note, the data shows that people aged above 35 are most likely to exchange their old smartphones to get a discount on their new device, as compared to other age groups.


Coming next: a full summary of the 91mobiles Smartphone Buyer Insight Survey 2020 with all the key highlights.