Earphones are an essential gadget for everyone, whether it is for listening to music or taking calls on the go. However, there are hundreds of models in the market, ranging from a mere Rs 149 to Rs 1999. For those on a tight budget, there are plenty of options available that offer decent sound quality at an affordable price. In this article, we will take a look at some of the best earphones under Rs 500.
Things to consider when buying budget earphones
Wired: At this price range, you will mostly get wired earphones. If you want to more wireless options, then you should consider increasing your overall budget.
3.5mm jack: Almost all wired earphones at this price range will feature a standard 3.5mm jack. So if you have a device that does not have that port, then you will need a separate cable for that.
Features: Don't expect these earphones to offer features like active noise cancellation or something similar. These are pretty basic and are designed more like stepping stones rather than high-quality audio devices.
Earphones for less than Rs 500 on Croma
JBL T50HI wired earphones
These earphones are a product of JBL, a brand that is well-known for producing high-quality audio products. They come with 8.6mm drivers that deliver powerful bass and clear sound. The earphones have a frequency range of 20Hz to 20kHz, which ensures that you can hear all the details in your music.
In addition, these come with a 1.2 m cable which is tangle-free and comes with an L-shaped 3.5mm connector. These earphones also have a built-in mic to take calls and use the voice assistant on your smartphone.
Zebronics Corolla wired earphones
If you are looking for earphones that have a distinct thump in bass, then check these out, The Zebronics Corolla earphones have massive 14.2mm drivers, along with a frequency range of 20Hz- 20kHz. You also get a multi function button to receive or end calls.
Weighing only 17.2 grams, the Zebronics Corolla Wired Earphones feature a 1.2m long cable that connects through a 3.5mm jack, making them virtually weightless and easy to wear during podcast listening. Additionally, the earphones come with a built-in microphone.
boAt Bassheads 110 wired earphones
Bass Centric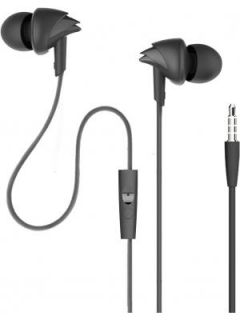 boAt's latest offering, the Bassheads 110, come with a plastic design. These come with 10 mm dynamic drivers and feature a built-in microphone for calls. The noise isolation technology ensures that you don't sound muffled when you are out on a busy street.
These earbuds also have a multifunctional button, with which you can receive and end calls. When playing music, double-pressing the button skips the track you're listening to and triple-pressing the button goes back to the previous track you were listening to.
Hammer S Neckband style earphones
Wireless
These are probably one of the most affordable wireless earphones you can get on Croma. Powered by 10mm drivers, these give you powerful bass response and with Bluetooth 5.0, you can enjoy lag-free experience when watching videos.
Apart from that, you get a 260mAh battery which the company claims can last for up to 30 hours on a single charge. These earphones are IPX4 rated, so you don't have to worry about them during workouts.
pTron Tangent Evo neckband style earphones
Another great option in the wireless earphones segment is the pTron Evo. These earphones come with 10mm dynamic drivers and come with passive noise cancellation. The battery capacity is 165mAh, and the company claims it can last for up to 14 hours on a single charge. When not in use, the buds can magnetically lock with each other for a neat look.
These earphones are IPX4 rated, and come with three multifunctional buttons so that you can control your music, answer and end calls, or invoke Google Assistant.
Croma CREEH2001SWIEP Wired Earphone
Apart from the confusing name, if you are looking for AirPods-style earphones with a semi-in-ear fit, you can have a look at this one. These earphones come with 13mm dynamic drivers and a built–in microphone to manage calls.
These earphones are also the cheapest ones on this list, priced at around Rs 149. The cable length is 1.2 meters, which is adequate for normal use. You can use it for Windows, Android and iOS devices with its 3.5mm audio jack.