"The feature is called Global Media Controls and can be used by beta testers"
Google does a lot of feature testing each month with its Chrome OS beta before debuting them in its stable release. The latest is the addition of a pause/ play button in a small window to control videos running in tabs. Google is currently calling it Global Media Controls and it's in Chrome's Development browser, Canary.

To elaborate a bit, when a user plays a video inside a tab and switches to other tabs, the video and audio keep playing even though the user switches away from it. The beta feature opens up a small window, sort of like what you see in Android's notification bar with YouTube Premium. It allows the users to stop or play the video from anywhere irrespective of the tab in which the video exists.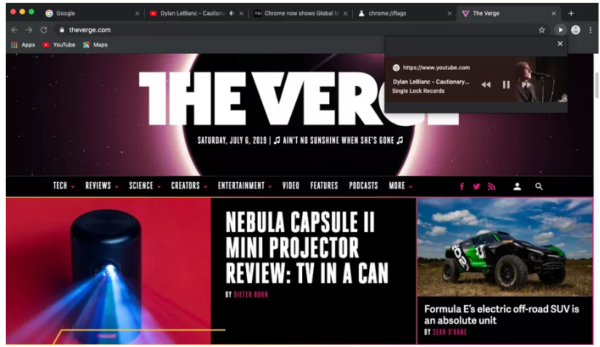 The feature can be enabled from the experiments page – chrome://flags/ – and searching for "Global Media Controls." After enabling the toggle, restart the browser and you will see a play button close to the URL bar. When a video is played, the window will offer controls such as skip forward, pause, play, and details of what's currently playing. It works with not only YouTube but also others such as Vimeo, as well as Apple's podcast pages and Spotify. Now, it's not yet known whether this feature will make its way to the stable channel but it's a neat option to have.

Google has been testing a number of big features that will make Chrome OS an even more appealing user interface. Previously, Google introduced a way to mute a site permanently, an indicator to show what was being played in a tab, and this feature seems like a natural progression of that. Then there's other stuff such as virtual desktops, better sync with Android phones, and media playback controls that are in sync with Android apps.