"JioPhone users will continue to receive incoming calls until April 17th even if their prepaid recharge validity expires"
After Airtel and BSNL, Reliance Jio has now announced that it will be offering some benefits to JioPhone users during the coronavirus lockdown in India. Labelled as a '10x benefits' offer for all JioPhone users, Reliance Jio has announced that it will be offering 100 minutes of complementary calling minutes along with 100 free SMS till April 17th. With India remaining under lockdown until at least April 14th, Jio has also stated that JioPhone users will also continue to receive incoming calls even if their prepaid recharge validity expires in this duration.
Reliance Jio has also highlighted the numerous ways in which individuals stuck at home or in quarantine can make prepaid recharges online. These steps include making recharges for self or peers from the MyJio mobile app, Jio.com website, and a host of digital payment apps that facilitate UPI payments. Users that hold Axis Bank or ICICI Bank accounts will also be able to do SMS banking, details of which are listed on Jio's website. Through these steps, Reliance Jio will hope to give its legion of JioPhone users easy ways to recharge, and even if they cannot, have ways to continue remaining in touch with essential services.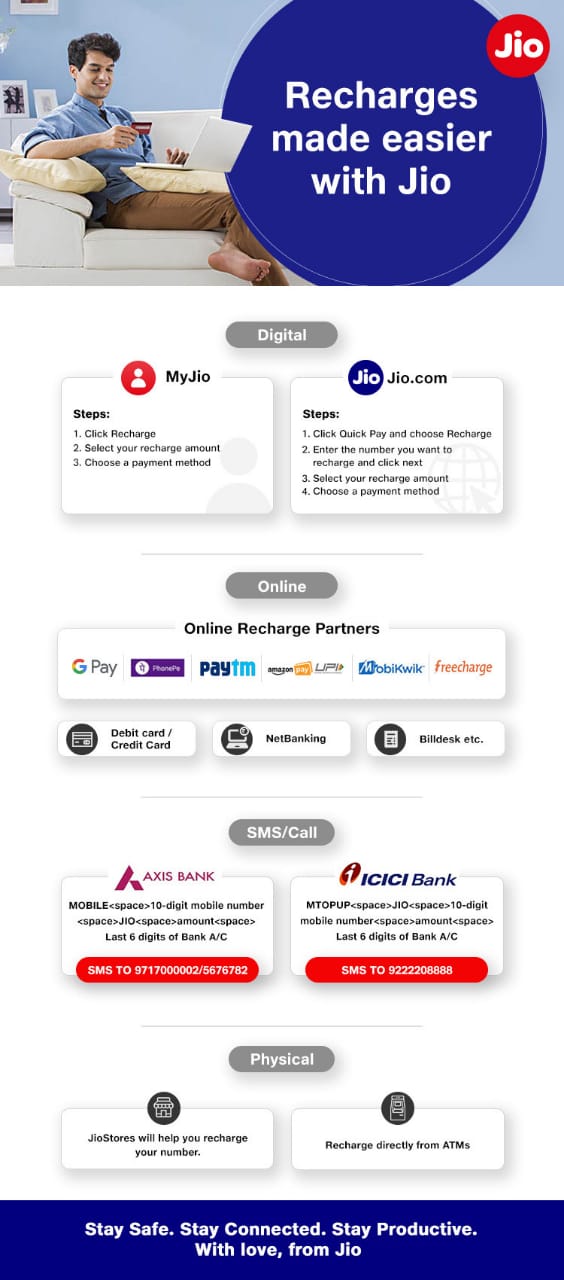 Yesterday, BSNL announced that will will be extending the validity for its prepaid users and will also offer Rs 10 talk time for free during the period of national lockdown. He also announced that connections will not be disconnected for those who fail to do minimum recharges during this period, therefore allowing them to remain in contact, at least during crisis. Bharti Airtel followed suit soon with added credit and extended recharge validity, stating that the move would benefit over 80 million users.
These steps are certain to help users from a lower financial tier, who primarily rely on daily wages to earn a living. With the nation under lockdown barring essential services, thousands of individuals have been left without work until normal services resume. Measures such as these can hence help them contact medical services in cases of emergency, and also remain in touch with close family members.