"The figures shared by Counterpoint are more in line with general market figures than what IDC reported yesterday."
The latest industry report on global smartphone shipments has been published by Counterpoint Research, and while some of its figures are different from what we received yesterday, the overall consensus is in accordance with the rest of the industry estimates. According to the data, global smartphone shipments declined to hit 345 million units shipped in the first three months of 2019, down from 361.6 million units a year ago. This marks an overall decline of 4.6 percent in global smartphone shipments — a margin that more or less all industry figures agree to.
However, the disparity of numbers are quite wide this time around — while IDC claimed that 310.6 million smartphones were shipped in 1Q19, Strategy Analytics stated that the number stood at 330.6 million. The total range of difference in numbers, which is possibly owing to the metrics that each of these analysis firms use to calculate global shipment, sales and other financial data of consequence, varies by a range of nearly 12 percent — a significant margin that has the potential to impact how company stocks respond in the market.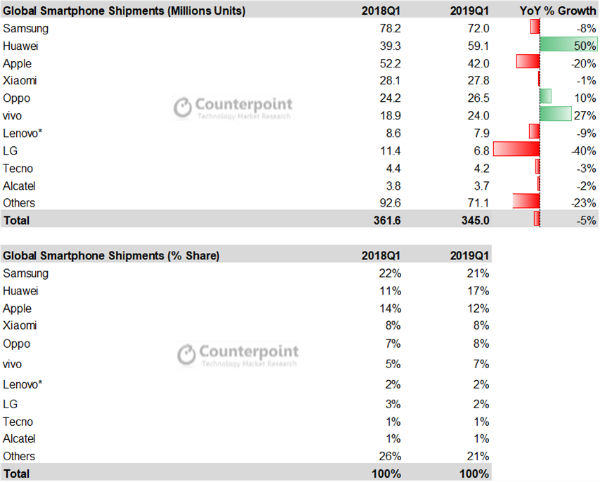 Counterpoint's company-specific figures are in line with what others have disclosed — Samsung's shipments stand at 72 million, while Huawei shipped 59.1 million units. Its measurement of Apple's shipments, meanwhile, is closer to Strategy Analytics' disclosed figures, which is said to be around 42 million units. This sharply contradicts IDC's figures of 36.4 million iPhones shipped — a difference of nearly 20 percent between the market analysis metrics. While Apple itself did not disclose the specific number of units shipped, the Wall Street Journal reported that Apple's iPhone revenue was down by 17 percent, which essentially hints at a proportional decline in unit figures. While the difference of fall in revenue and unit numbers is not necessarily directly proportional, it is a bit unlikely that the disparity will be this massive.
Counterpoint also accounts for Vivo's growth in the industry, which is said to have grown by nearly 27 percent to have shipped 24 million smartphones in 1Q19. LG, meanwhile, has reportedly posted the biggest decline of the quarter, posting shipment figures lower by 40 percent YoY. While the overall trend of the industry is similarly represented through all the reports, it remains to be seen how the rest of the year pans out for the OEMs. As for Apple, the company will hope that its focus on newer markets and the launch of new iPhones would help it lead itself out of a difficult phase with its biggest revenue driver in recent times.