Highlights
Covid 19 vaccine registration for the third phase has begun
Beneficiaries can register via Cowin portal, Aarogya Setu app, and Umang app
There will be no

walk-in registration for people aged 18 and above, per the government
Update: There is no official CoWin app available for download on Google Play Store or App store for Covid vaccine registration. We would advise you to use CoWin portal or Aarogya Setu/ Umang app, which has Cowin portal integration, to register for Covid vaccine and refrain from downloading any such app.
COVID vaccine registration in India for 18+ is now underway. All Indian adults can now register via the Cowin portal, Aarogya Setu app, and Umang app to receive the Covid-19 vaccine starting May 1st. Unlike the first and second phase of vaccination, there will be no walk-in registration for the third phase, which covers people aged between 18-45 years. The beneficiaries will have to pre-book online for a jab of Covishield and Covaxin. While the centre will continue to vaccinate those eligible so far: frontline workers, healthcare workers, and those above 18 years, states and private entities can purchase vaccines directly from the manufacturer for inoculations. Here's everything you need to know about the third phase of the coronavirus vaccination drive, including how to register for Covid vaccine through CoWIN 2.0 in India.
Read more: Covid vaccine centre near me: How to find nearby Covid 19 vaccination centre using Google maps, Cowin, and more
Registration is mandatory for the third phase of the vaccination
All appointments will be booked via the Cowin, Aarogya Setu, and Umang
There will be only self-registration. Unlike previous phases, one person can't book an appointment for another four people
Senior citizens will still be eligible for walk-in facility
Covid vaccine registration time in India
Starting at 4 pm today, i.e. April 28th, every Indian adult can register themselves for vaccination using Cowin platform, Aarogya Setu app, or Umang app. Read on to know how to register.
Covid vaccine registration for 18+: How to register for vaccine via Cowin portal
Registration for Covid vaccine in India via Cowin portal is as follows:
From the CoWIN 2.0 portal's home page, scroll down to the 'Find Your Nearest Vaccination Center' section
Enter the place and address where you live or click on the 'current location' option to get the details of the nearest vaccination centre
Now, click on the 'Register Yourself' button and enter your mobile number to proceed
You'll get an OTP with which your account will be created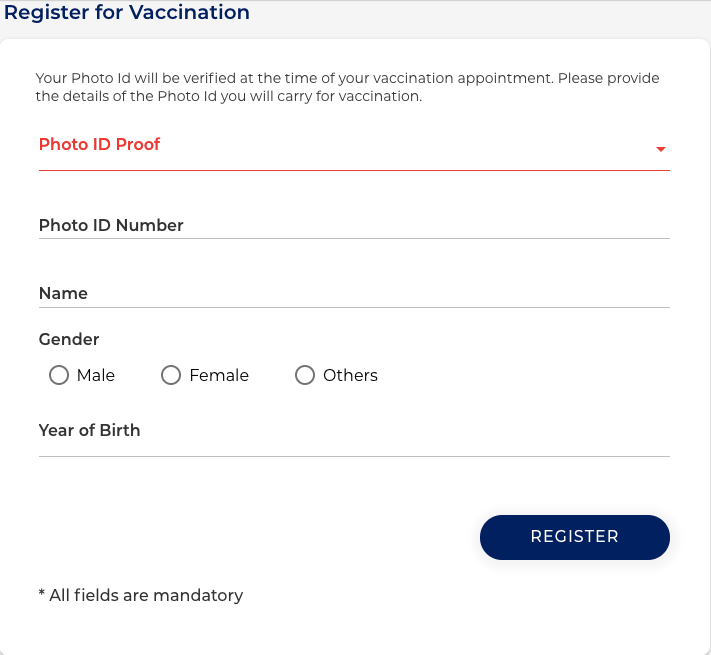 Fill in the details and click on 'Register'

After this, you'll get the option to schedule the appointment
Use the portal's search tool to find the Covid vaccine centre near you. You can search them using a pin or by district
Now, book an appointment. You can pick any day, provided there are slots available. If there are no slots, the page will show 'NA'
Hospitals, where vaccines are paid, will have a small 'paid' sign on top
After you've picked the slot your appointment will be booked. A confirmation message will be sent to your registered mobile number
Visit the hospital, with the hard copy of your ID proof that you used while filling up the form, on the day to get vaccinated.
Beneficiaries will get the option to book an appointment for the vaccination both at the government and private facilities. They can register for the second dose of Covid vaccine via Cowin and Aarogya Setu app. The time interval between two doses of the CoviShield and Covaxin four-eight and four-six weeks, respectively, after the first.
Covid vaccine registration via Aarogya Setu app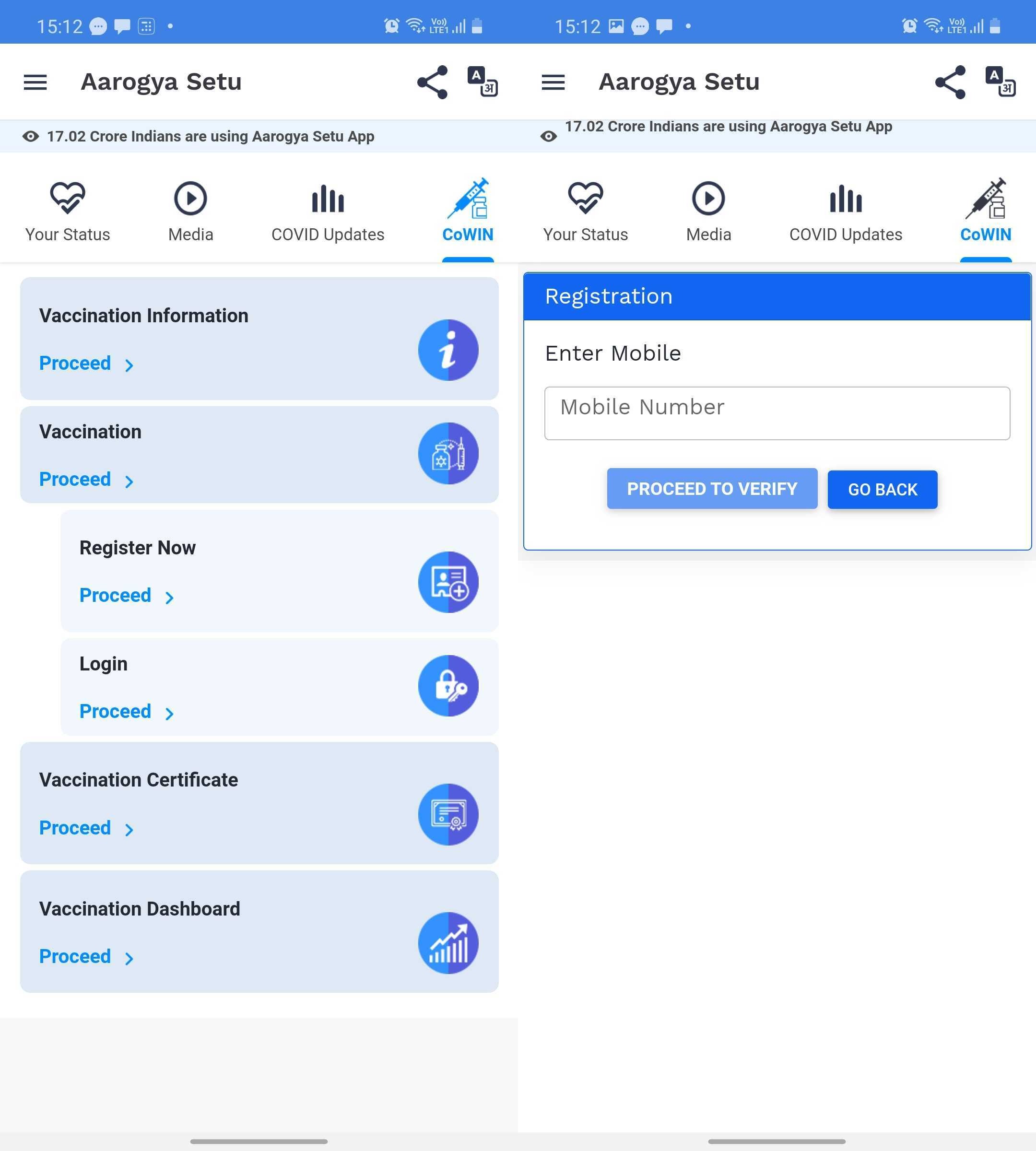 In case, you're not able to register for COVID-19 vaccine via CoWIN 2.0, use the Aarogya Setu app. The government's health service app also allows beneficiaries to register themselves by verifying via a one-time password (OTP).
To do so, tap on the 'CoWIN' option next to COVID Updates from the top menu

Tap on 'Vaccination' second from the list and select 'Register Now'. If you've already registered, select 'Login'

Enter your mobile number and 'Proceed to Verify'

An OTP will be sent to the number

Use the OTP to enter your details, inoculation centre, and more

How to register for Covid vaccine via Umang App
Begin with downloading the Umang app from App Store and Google Play Store on your respective iPhone and Android mobile phone
Fire up the app and set it up by selecting the language, agreeing to 'Terms and Conditions' and logging in using your mobile number
Now, look for the 'Registration for COVID-19 vaccine banner' atop
Tap on it to go to the 'Co-WIN' page where you can self-register as well as download the vaccination certificate
Choose 'Register or Login for Vaccination'
Validate your mobile number again and fill up the form to register for Covid vaccine
FAQs
Covid vaccine on-site registration
On-site Covid vaccine registration for a person between the age group of 18 and 44 is not allowed. All appointments have to be booked in advance through the Co-Win website or the Aarogya Setu app.
CoWIN: Where to get vaccinated?
Around 10,000 private hospitals empanelled under Ayushman Bharat PMJAY, 600+ hospitals under CGHS, and other private hospitals under states will administer the COVID-19 vaccination shots in the third phase. Click on the links to know the nearest government empanelled coronavirus vaccine hospitals and CGHS hospitals.
Covid vaccine price in India
Covid vaccination will remain free for all in the central government hospitals across the country. However, in state and private hospitals, people will have to pay to get a dose Covishield and Covaxin. The prices will be based on the open market. Covishield (the oxford-Astrazeneca) vaccine will cost Rs 400 to states and Rs 600 to private hospitals, per dose. Covaxin, on the other hand, has been priced at Rs 1,200 per dose to the private hospital and Rs 600 to the state.
| | | |
| --- | --- | --- |
| Vaccine price in India | State | Private hospital |
| CoviShield price | Rs 400 | Rs 600 |
| Covaxin price | Rs 600 | Rs 1,200 |

The Covid vaccine price is only for the third phase, as per Centre's 'Liberalised and Accelerated Phase 3 strategy of the National Covid-19 Vaccination Programme'. For people above the age of 45 years, the COVID 19 vaccine price in India will be Rs 250 in a private hospital unless specified otherwise.
States with free Covid vaccine
Assam
Andhra Pradesh
Bihar
Chattisgarh
Delhi
Goa
Gujarat
Haryana
Himachal Pradesh
Jharkhand
Karnataka
Kerela
Madhya Pradesh
Maharashtra
Odisha
Punjab
Rajasthan
Sikkim
Tamil Nadu
Telangana
Uttar Pradesh
West Bengal
These are the states that have announced free Covid vaccination for people aged above 18 so far.
How to search nearest Covid vaccine centre
Co-Win and Aarogya Setu both come with a GPS-enabled setting. The beneficiary can use this setting to search the nearest coronavirus vaccination centre. You can also look for the nearest Covid vaccine centre via Google Maps. For this,
Open Google Maps and search for 'Covid vaccine centre near me'
A result page with contact details of the closest vaccination centres near you will pop up
Tap the one that is nearest to get the direction details,

wait times at vaccination centre, and clarity on documents required and other such information
That said, you can only register for the jab of Covid vaccine via Cowin website and Aarogya Setu app.
Covid vaccine available in India
Only two vaccines are available in India so far
Covishield, which is an AstraZeneca-Oxford University vaccine made by the Serum Institute of India (SII), and

Covaxin, which is

developed locally by Bharat Biotech
Russia's Sputnik, which has been approved in India, is expected to be available as early as in May. The indicated price of a single dose is $10 or Rs 750 per dose.
Eligibility and documents required
The third phase of Covid 19 vaccination will cover everyone above 18 years. A government ID, including a driving licence, Aadhaar Card, and voter ID, is sufficient to get the dose.
Covid 19 vaccine efficacy
The Indian Council of Medical Research (ICMR) has hailed the efficacy of the Covid 19 vaccine: Covishield and Covaxin. Only 2-4 per 10,000 "breakthrough" infections were noted in people who were vaccinated against the disease, per ICMR report. "This is a very, very small fraction. We have seen similar rates of reinfection internationally too from the use of other vaccines," said Dr. V.K. Paul, Chairman, NEGVAC (National Expert Group on Vaccination), the committee that oversees the COVID-19 management strategy.
How to download Covid vaccination certificate
COVID vaccination certificate is available for download via Co-WIN, Aarogya Setu, DigiLocker, and apps. For the certificate,
You must have already received at least one dose of Vaccine

You must have the 14-digit beneficiary reference ID with you

You need to be registered on the CoWIN platform to download the vaccination certification. If the mobile number used to register on CoWIN platform is different from the number used in the Aarogya Setu app and DigiLocker, you'll need to validate it
COVID-19 vaccine timing
The Covid vaccine timings deter state wise. In Delhi, for example, it's from 9 am to 9 pm. You can check Covid 19 vaccine center timing for your state via Cowin and Aarogya Setu app.
When to get the second dose of Covid vaccine?
After the initial 28 days time interval between the two doses of the Covid 19 vaccine, it has now been increased to eight weeks for Covishield and six weeks for Covaxin. This is said to reduce infection from the deadly disease. The government has also advised people to take the second dose of Covishield between six and eight weeks after the first for optimum protection from the virus. A delay beyond the eighth week may leave the beneficiary vulnerable.