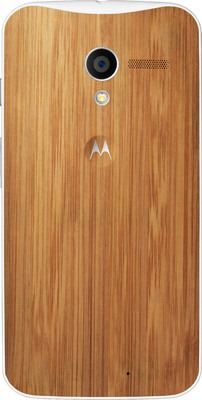 "Rs 4,000 off on the Moto X wood-back variants, just for today"
The Moto X (review) is the dark horse in Motorola's current smartphone line-up… the Moto G and E models may be the ones selling like hot cakes (at least until the Xiaomi Mi 3 arrived to spoil their party), but the Moto X does boast some very useful features. Its Touchless Control functionality hasn't been matched by anything else out there yet, and takes smartphone usage to a different level. The Moto X is also quite notable because of its wood-back variants, normally priced Rs 2,000 higher than the regular white, black or red versions which cost Rs 23,999 each. However, if you've got your eyes set on one of the aforementioned woody options, today could be a great day to take the plunge, as Flipkart is offering them for Rs 4,000 lower than the regular price.
The wood-back options of the Moto X include bamboo, teak and walnut finishes, and these would normally set you back by Rs 25,999. Because of the discount, you can buy one of these for Rs 21,999 today, effectively making it cheaper than the regular Moto X variant. Do note however, that this offer is only for today, so you'll need to make up your minds fast.