Highlights
Dell has launched the new Latitude 9420, 9520, 7520, and 5420 variants along with a new Precision 3560 laptop
There's also new AIO desktops namely the OptiPlex 3090 Ultra, and the Optiplex 7090 Ultra
The company has also released a new UltraSharp 40-inch curved monitor and three video conferencing monitors
Ahead of CES 2021, Dell has unveiled brand new laptops, all-in-one desktops, and monitors to improve productivity in the new age of work from home. The manufacturer has launched the Latitude 9000 series with the latest 11th gen Intel Core processors and added new models to the Latitude 7000 and 5000 series. It revealed two new OptiPlex All-in-One desktop PC variants, and a Precision 3560 laptop as well. For those who're interested in Dell's lineup of monitors, there's a new UltraSharp 40-inch WUHD curved monitor, and Video Conferencing monitors with 24, 27, and 34-inch Curved variants. All of these products will be available this year, and Dell has even revealed the prices for most.
Also read: Vaio to launch a new range of laptops in India on January 15th
Prices of new Dell laptops, AIO desktops, and monitors
The Dell Latitude 9420 laptop will start at $1,949 (approx Rs 1,42,500) and will be available in Spring 2021. Meanwhile, the Latitude 7520 and the Latitude 5420 start at $1,649 (approx Rs 1,20,600), and $1,049 (approx Rs 76,700) respectively. These two machines will be available for purchase from January 12th. The Latitude 9520 doesn't have a price yet, but it should also be available alongside the 9420 in spring later this year. The Precision 3560 will start at $1,189 (approx Rs 87,000) and can be purchase on January 12th.
Coming to the all-in-one desktops, both the OptiPlex 3090 Ultra and the 7090 Ultra can be yours on January 28th while starting at $659 (approx Rs 48,200) and $769 (approx Rs 56,200), respectively.
Lastly, the new monitors from Dell have also received price quotes and launch dates. The UltraSharp 40 Curved WUHD monitor starts at $2,099 (approx Rs 1,53,500) and will go on sale starting January 28. The Dell 24, 27, and 34-inch Video Conferencing Monitors will cost $519.99 (approx Rs 38,000), $719.99 (approx Rs 52,600), and $1,149.99 (approx Rs 84,100) respectively, and will be available starting February 16th.
What's new with the latest Dell products?
Dell hasn't given out all the hardware specifications for its latest laptops, all-in-one desktops, and monitors, but we do have some information. For starters, the Latitude 9420 and 9520 laptops will feature improved speakers, a better web camera, 11th gen Intel Core vPro processors, Wi-Fi 6E, and 5G LTE. They will also get the all-new SafeShutter feature, which can automatically close the webcam when not in use. The Latitude 7520 comes with a 15-inch 4K UHD display and an optional FHD web camera.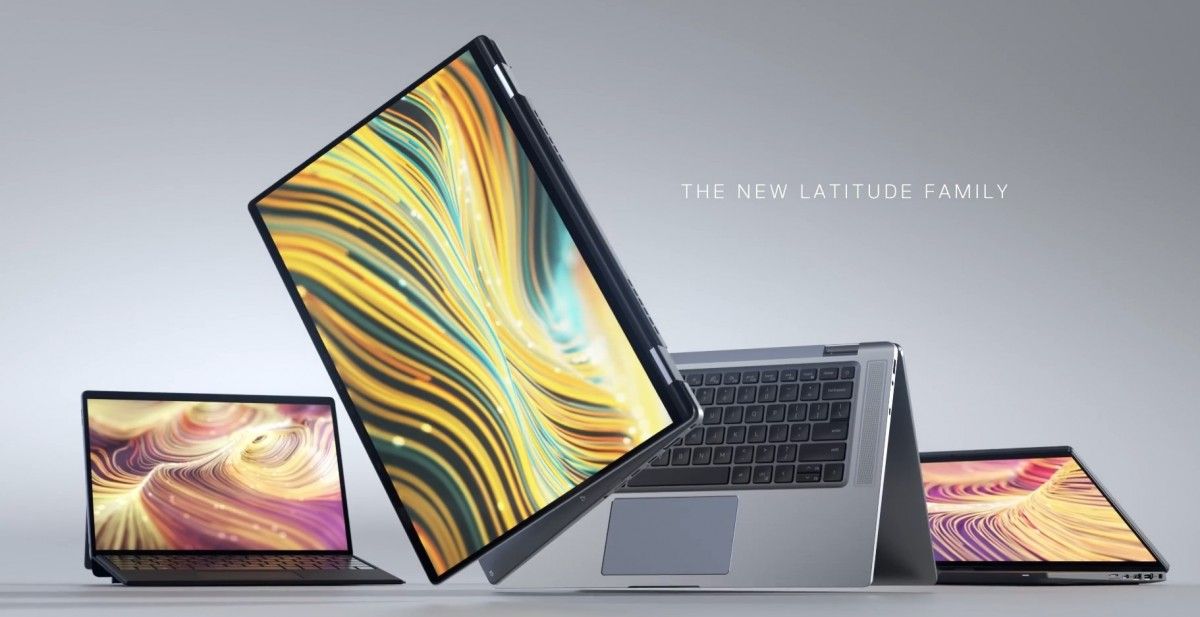 The OptiPlex 3090 Ultra and 3070 Ultra are excellent compact solutions for small businesses and support up to four 4K monitors at the same time. These PCs are modular and are hidden in the monitor stand, which in turn takes less space.
The Dell 34-inch Curved Video Conferencing monitor is the world's first monitor that has been certified for Microsoft Teams. It is also available in 24 and 27-inch variants and features facial recognition for sign-in. Finally, the UltraSharp 40 Curved WUHD monitor is also a world first and offers support for up to 5K resolution. All of the new monitors and Latitude laptops from Dell gain the ComfortView Plus feature that reduces low blue light.