"Despite the small footprint, the Dell OptiPlex 7070 can be configured with up to 8th gen processors, 64GB RAM and 2TB storage."
Dell has launched a unique, modular PC that falls between the build factor of a PC stick and a mini PC. Called the Dell OptiPlex 7070, the unit comprises a slim chassis that houses the processor, memory, storage, wireless modem, ports and interfaces for various connections, and fits right into the display stand of select Dell PC monitors. The overall focus here lies on reducing the overall size and footprint of a typical desktop PC, which the Dell OptiPlex 7070 reduces down to just the display, keyboard and mouse. The OptiPlex 7070 is now available across online and offline stores in India, beginning at a price of Rs 47,999 (plus taxes) for the base configuration.
As for the PC itself, Dell offers a wide range of configurations, despite the compact build. In terms of processors, the PC gets five choices from Intel's 8th gen lineup, including one Core i3 SKU (8145u), two Core i5 (8265u, 8365u) and two Core i7 (8565u, 8665u) SKUs. RAM choices range from 4GB to 64GB, all using DDR4 2400MHz memory modules. For storage choices, the options include up to 2TB 5400rpm, 1TB 7200rpm HDDs and 500GB self-encrypting HDDs, and up to 1TB PCIe NVMe SSDs and 256GB self-encrypting NVMe SSDs, giving users a wide range of choices in terms of the exact storage volume that would suit their purpose. The compact device also offers the choice of a secondary storage device, which range up to 1TB 7200rpm and 2TB 5400rpm HDDs, and 1TB SATA SSDs.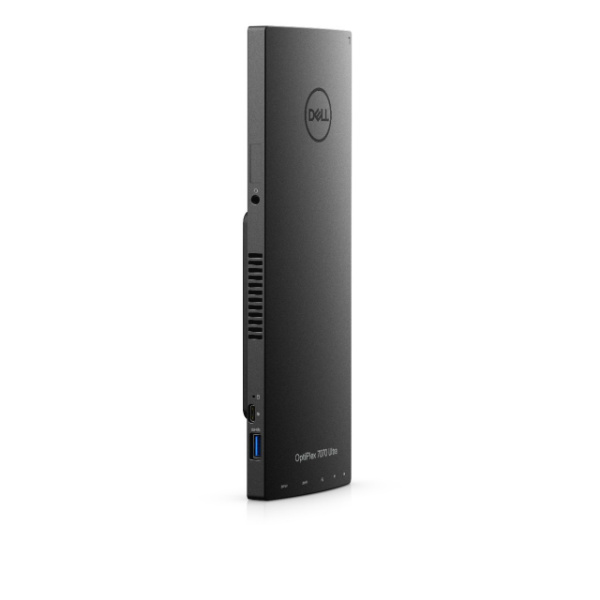 Graphics duties in the Dell OptiPlex 7070 are taken care of by the integrated Intel UHD Graphics 620 chip. In terms of ports and slots, the OptiPlex comes with an Ethernet port, two USB-C 3.1 Gen 2 with DisplayPort compatibility (one with power delivery), two USB-A 3.1 Gen 2 and one USB-A 3.1 Gen 1, along with a 3.5mm audio port. Other slots include a DC power slot, two M.2 slots for wireless cards or added SSDs, and a SATA connector. The in-built wireless modem is also offered in two choices — between Qualcomm's chip with dual-band Wi-Fi 5 and Bluetooth 4.2, and Intel's chip with Wi-Fi 6 and Bluetooth 5.
As of now, the Dell OptiPlex 7070 PC is compatible only with select Dell E Series, Professional and UltraSharp range of displays. The main pitch of the product is in miminal cable configuration, without compromising on the overall possible performance of the super-compact PC. With the refined build and overall design of the product, Dell will hope to appeal to neat desk aficionados, creators and general home users alike, given the wide range of configuration choices on offer.