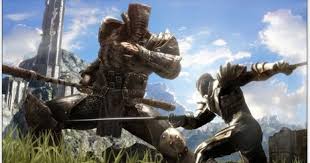 "Epic's own game store went live with four new games – Fortnite, Ashen, Hello Neighbor: Hide and Seek, and Hades."
Epic Games, the American video game developer behind the hit Fortnite, has pulled its Infinity Blade game series from the Apple's App Store citing the difficulties its team could face in foreseeable future to support the game. Along with the three Infinity Blade games, all in-app purchase options have been removed by the developer. However, the studio has assured fans that they will be able to continue playing the game and download them to new devices from an account that owns them.
Epic Games stated that with the development of other projects, such as Spyjinx, it is becoming difficult for them to keep supporting the Infinity Blade series without compromising on their own level of standards. According to the developer, it has always maintained its place in terms of providing a full-fledged support in every game it has published.
"The Infinity Blade series will always hold a special place for me personally and for Epic as a whole. It's always bittersweet to say goodbye, but we are excited for Spyjinx and what the future holds!," said the Global Creative Director of Epic Games, Donald Mustard.
The first Infinity Blade was a significant stage for gaming on iOS 4.1 devices back in 2010 and provided with the kind of actions and graphics that was only possible on Apple at the time. Epic recently launched its own game store, which debuted with four store exclusive games – Fortnite, Ashen, Hello Neighbor: Hide and Seek, and Hades.