The revolutionary way of chatting and keeping in touch with your friends launched by Facebook as Chat Heads can now be be used on iPhone.
Facebook Chat Heads was unveiled by Facebook as a feature for messaging along with Facebook Home on April 4. We did Hands-on with Facebook Home, when it was launched for selected Android Phones on April 12. At the launch, people were speculating whether such a new way of experiencing Facebook on a mobile would ever be launched for iOS. Facebook only answered that Android being an open platform gives them freedom to integrate the functionality deeper into the operating system, and Apple being the Walled Garden will not give them access for such capabilities. Still, iOS users who wanted to use it can rejoice as Facebook has launched the most useful feature of Facebook Home- Chat Heads for them.
Head on to App store to update the Facebook app to the latest version 6.0. This update is being rolled out to iPhone users gradually, it wasn't activated in iPhone we tested on.
Essentially, Chat Heads can be considered as a messaging app, which pops-up a little profile picture in your screen whenever you receive a message from your friends on Facebook. The advantage in this case is that for replying to the message you don't need to close the work you might be doing/ app you might be using on the phone, as simply clicking on the Chat Head will overlay the messaging app on your screen. This saves a lot of time and effort of closing the app and opening the messaging app. Also, if you don't want to reply you can keep the Chat Head lying anywhere on the screen or if you're not in a mood to reply, then you can completely dismiss it.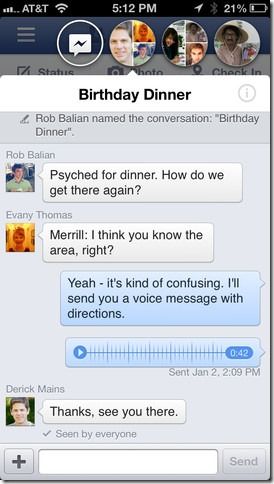 But, as already stated that Apple is famous for its closed eco-system, so this Chat Head feature is limited to the use in Facebook app only. Unlike Android where the Chat Head will always pop-up, no matter what app you might be using, Chat Head in iOS will only pop-up when you're using Facebook native app in the iOS. This is a big disadvantage, since it defeats the whole purpose of Chat Heads, Still, if you're an avid Facebook user, then this might be useful for you. Also, the Chat Heads functionality is independent of Facebook's Messenger app, we hope that Facebook will make it a cohesive experience between its Messenger and Chat Head. Though, understandably Messenger wouldn't require any notifications since you're already chatting.
This update comes for iPhone only, which we hope will be followed by an update for iPad soon. Other than Chat Heads addition, Facebook has also added stickers to messages and Music Feeds, Photo Feeds, and Game Feeds in the app.
So, iOS users, try Chat Heads on your phone and tell us about your experience?
Images Courtesy: Facebook