"While the ubiquitous dark mode for the Facebook app is far from a formal release, the latest reports suggest work is in progress"
Facebook, the world's largest social media company, is among the many Big Tech firms working on a dark mode for its apps. So far, the dark theme has been officially added to WhatsApp beta, the Facebook-owned messaging app. Its photo-centric social media app, Instagram, has also seen the introduction of the dark mode through its app, but strangely, Facebook's own app has so far largely shied away from dark mode. There have been isolated reports that suggest alpha-stage testing, but now, it seems that Facebook is testing the dark mode on its own app more extensively.
Android Police has reported that an app-wide dark mode on the main Facebook app has been showing up for many Android users. However, most of the reports suggest that the appearance of the dark mode was temporary, and showed up only briefly before reverting to the signature blue-and-white theme that we are used to. While this still suggests that an official rollout of the dark mode on the stable version of the Facebook app is still quite far away, it is likely that Facebook has taken to testing the mode more widely, introducing to more users to see how it suits the app.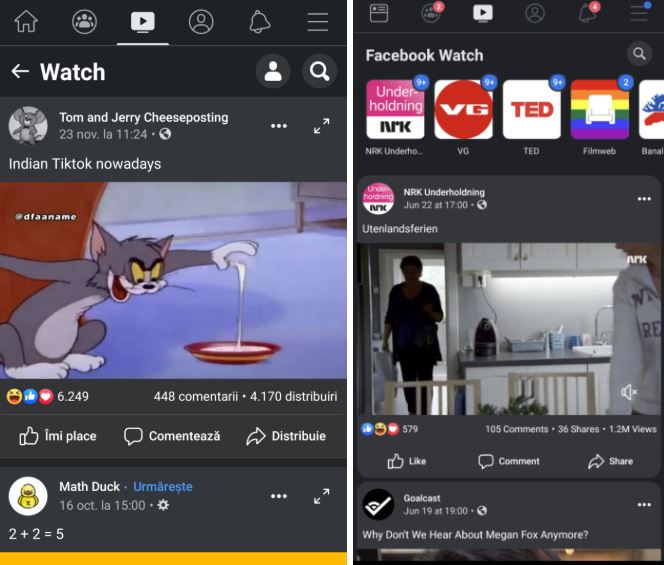 Even during these brief appearances, certain parts of the app still retained the light theme. However, compared to previous reports from 2019, the new dark mode seems to be present in more sections of the app, including the post timeline, the Facebook Watch section, Stories, and more. Facebook's app presents a more complex network of sections, which might be one of the reasons why it is taking longer than many peers in rolling out the in-trend dark theme. Several others, including rival social media platform Twitter, have already rolled out the dark mode across all of their platforms.
Twitter, in fact, has two modes for the dark theme. The 'Dim' mode applies a muted, dark blue theme across all of Twitter's pages and sections. However, if users wish to opt for a full dark layout, they can also choose 'Lights out', which turns the entire app black. It is not yet clear if Facebook would also take a similar approach with its dark theme as well. The 'Lights out' dark mode would seemingly have an advantage in terms of battery consumption, particularly in new generation flagship smartphones with OLED displays. Going forward, it remains to be seen how Facebook rolls out this mode, and when it reaches more users worldwide.