Highlights
Facebook says that the investment underscores its "commitment to India."
Reliance Jio says that the companies will aim to help small businesses going forward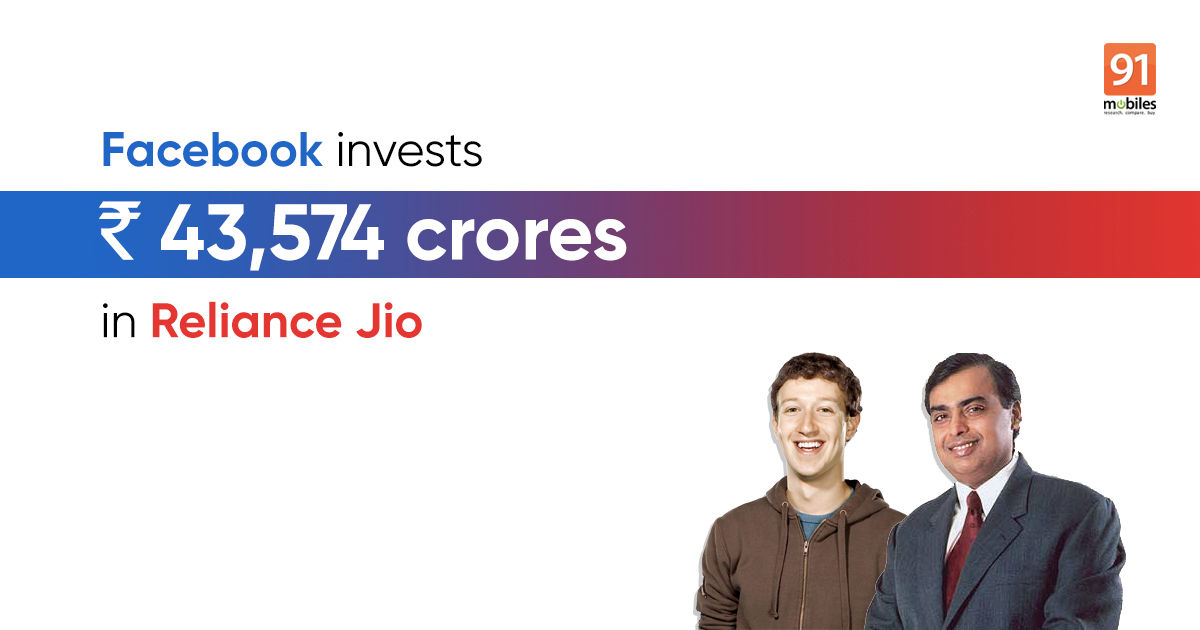 Late last month, a report from Financial Times said that Facebook wanted to acquire a stake in Reliance Jio and that this deal was set to be worth multi-billion dollars. Today, Reliance Jio has announced that Facebook is indeed investing Rs 43,574 crores (roughly $5.7 billion) in the company for a 9.99 percent stake in the telecom entity. Jio in a statement to the media said the partnership's focus will be India's 60 million micro, small, and medium businesses, 120 million farmers, 30 million small merchants, and millions of small and medium enterprises in the informal sector.
Facebook's investment gives Jio Platforms a pre-money enterprise  valuation of $65.95 billion, according to RIL
"The partnership between Facebook and Jio is unprecedented in many ways. This is the largest investment for a minority stake by a technology company anywhere in the world and the largest FDI in the technology sector in India. The investment values Jio Platforms amongst the top 5 listed companies in India by market capitalisation, within just three and a half years of launch of commercial services…" the Reliance Industries Limited (RIL) subsidiary said in its release. On the other hand, Facebook has said that this investment underscores its "commitment to India."
Both Reliance Jio and Facebook have mentioned in their respective press releases that together, the Mark Zuckerberg-led social media giant and the Mukesh Ambani-led telecom giant will be aiming to assist small merchants, micro-businesses and farmers in their economic growth. In its release, Reliance Jio mentioned that in the "post-COVID era, comprehensive digitalisation will be an absolute necessity for revitalisation of the Indian economy." Considering that even after the lockdown ends, most businesses will need to operate online as social distancing will be put into practice at a wider scale than ever, this might just be the perfect timing from Facebook to invest in the largest telecom operator in India.
Notably, both the companies have pointed out how users will be able to use WhatsApp to get services and products from their nearest kiranas via Reliance Retail's JioMart platform as the partnership between the companies goes through. "One focus of our collaboration with Jio will be creating new ways for people and businesses to operate more effectively in the growing digital economy. For instance, by bringing together JioMart, Jio's small business initiative, with the power of WhatsApp, we can enable people to connect with businesses, shop and ultimately purchase products in a seamless mobile experience," Facebook said in its release.
As Facebook has consistently run into trouble with Indian government several times over the years regarding user data and privacy, this new investment might go a long way in improving the social media giant's relationship with the Indian government as well.