Highlights
The FAUG game campaign mode is based on a story inspired by a real-life border skirmish between the Indian and Chinese soldiers
PUBG Mobile India is not available for download in India yet
FAUG doesn't have a battle royale game mode at launch
FAUG finally launched in India today, and in case you are wondering if it will act as a perfect replacement for PUBG Mobile for you, we can decidedly tell you how FAUG is a completely different game from its counterpart. FAUG, which is an action game from Bengaluru-based nCore Games, will not be as polished as PUBG Mobile or even similar in scope to the popular game that is now banned in India. But considering that it is the first game from an Indian developer that has generated this kind of hype, it is only fair to treat the game keeping these things in mind. With that in mind, let's take a look at some of the major differences between FAUG and PUBG Mobile.
Also read: FAUG game released in India: How to download, game modes, download size, and more
FAUG vs PUBG Mobile: Game modes
The primary FAUG and PUBG Mobile difference lies in the game modes that the two offer. PUBG Mobile made a big name for itself with its battle royale game modes, which offer the option to play in a team or as an individual. On the other hand, FAUG currently features just a single-person campaign mode that takes the players through a predefined storyline rather than a unique playthrough each time they play the game. However, nCore Games, the developer behind FAUG, has said that a battle royale mode and online multiplayer modes are planned for the game with a future update. On the flip side, PUBG Mobile doesn't feature a campaign mode.
FAUG vs PUBG Mobile: Combat style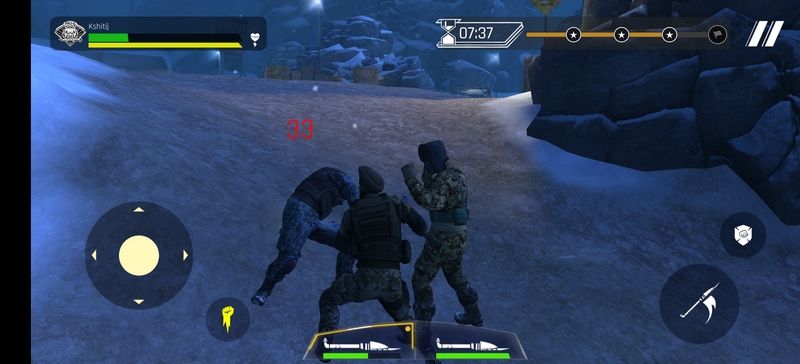 One of the crucial differences between the games is in the combat style. FAUG primarily features a hand-to-hand combat style with a choice of few weapons such as spiked bats, axes, etc.
Due to a bilateral agreement signed between India and China, guns are not allowed during combat in the Galwan Valley and, as the game is based on true-life events, it doesn't feature any guns.
On the other hand, PUBG Mobile is primarily a shooting game with melee attack options available as well. Given the absence of shooting in the main campaign, it will be interesting to see if the battle royale mode of FAUG will feature shooting or not.
FAUG vs PUBG Mobile: Locations
While the incidents in PUBG Mobile take place in fictional locations, the storyline in FAUG takes place in Galwan Valley, which is a real-life place located in the disputed region between India and China. As we mentioned earlier, the story in FAUG is inspired by real-life incidents, while in PUBG — as there is no storyline — there is no connection with real-life incidents.
FAUG vs PUBG Mobile: Availability
FAUG game is now released in India for Android via Google Play Store, but the iOS version of the game is yet to go live on App Store. On the other hand, PUBG Mobile India — the upcoming customised variant of the global version of the game — does not have a launch date in the country yet. Given that FAUG has a headstart in this aspect, if the game gets proper updates soon, it might be able to get a good player base for itself. In contrast, the government just days ago said that the PUBG Mobile band in India is not going to be reversed anytime soon, meaning there are still weeks and months before it becomes a reality in India.