Did you know that India is expected to become the second largest smartphone market in the world this year? Yes, the subcontinent is poised to overtake the US market, trailing just behind China, which has reached a saturation point in terms of the growth. However, what's even more surprising is that the growth isn't coming at the expense of feature phones. In fact, feature phones not only seem to be making a comeback, but even dominate the market share. As per the data tracked by 91mobiles on the phones launched in India in 2016, while feature phones have grown, the number of smartphones launched have actually dropped as compared to 2015.
Related read: The number of phone launches in India fell for the first time last year
Out of the 1,457 phones launched in 2016, the lion's share was of feature phones… 54 percent, to be precise. In comparison, in 2015, the status was the opposite, i.e. the share of smartphones was 55 percent.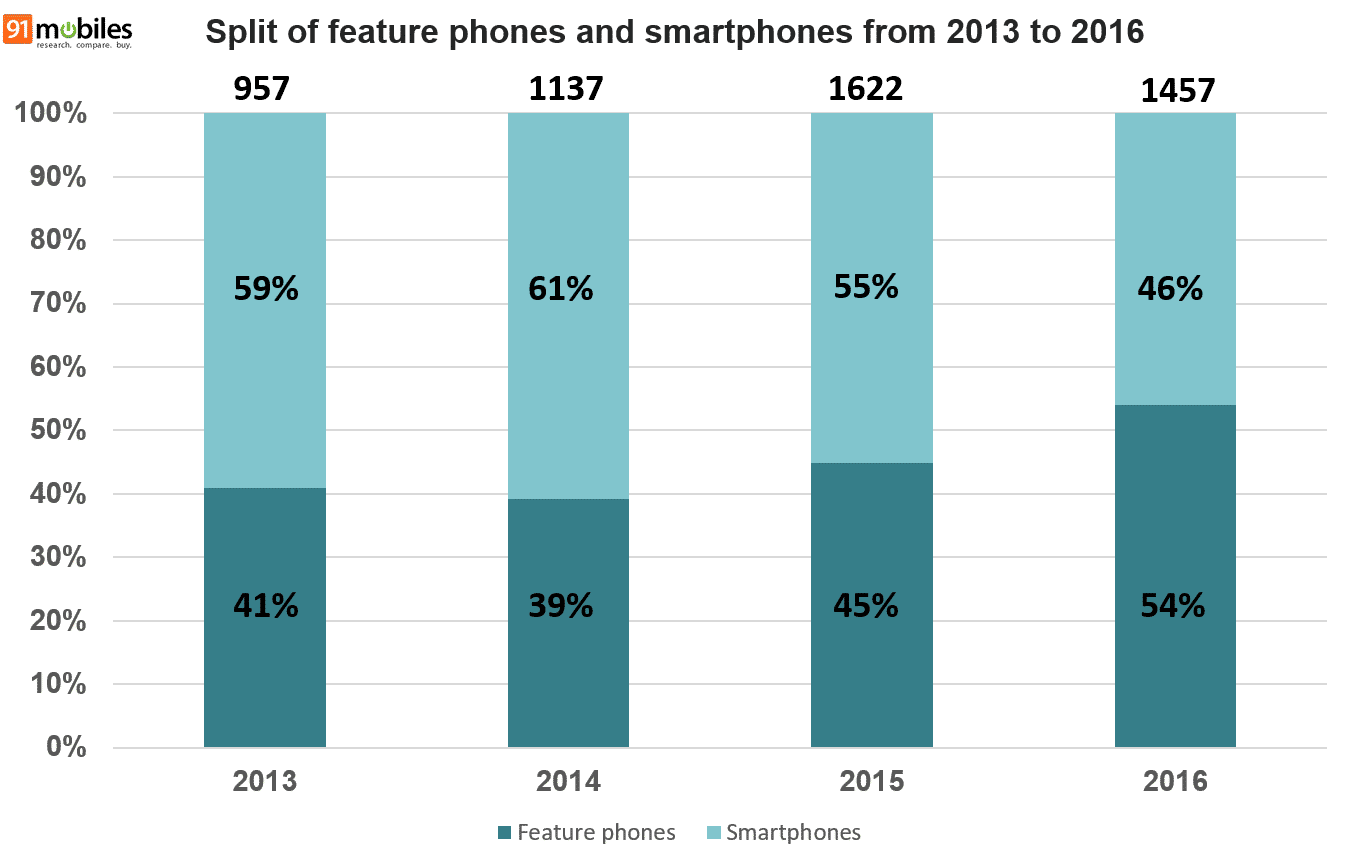 While the split of feature phones and smartphones point towards the former's growing relevance, even in terms of pure numbers, 'dumb'phones have slowly and steadily continued to skyrocket. From 2013 to 2016, the number of feature phones launched in India have more than doubled.
On the other hand, the number of smartphones launched from 2013 to 2016 have seen a relatively tiny increase of 18 percent. What's even more interesting is the fact that the number of smartphones launches have sharply declined between 2015 and 2016 – 895 and 671, respectively – showing a dip of 30 percent.
The data concurs with other analyst reports which consider the Indian market an anomaly when compared to global trends. Talking about shipment numbers, these basic phones still hold 55 percent of the share among total mobile phone shipments. While popular perception suggests that with the rise of mobile broadband, consumers will start moving to smartphones, as per a study conducted by Mobile Marketing Association and Kantar IMRB, almost 85 percent of feature phone users don't want to switch to them. The reasons attributed to the same range from ease of use to long battery life offered by feature phones, not to mention their lower price points.
With Reliance Jio expected to launch 4G VoLTE-capable feature phones soon, we can expect the segment to grow more in popularity – and thus hurting the smartphone sales.
Related read: Five reasons why Jio's VoLTE-capable feature phones could change the game