Highlights
Almost 50 percent survey respondents are planning to buy a new smartphone during festive sales
Almost a third of the surveyed users would prefer buying a Samsung smartphone
In the premium segment, the OnePlus 8T is being considered by 3 in 10 people
In the mid-range, the Samsung Galaxy M51 has been chosen by 40 percent respondents
We all know how fast technology can change, but arguably, the most dynamic sector has to be the world of smartphones. Things in the smartphone arena can change at the drop of a hat, with quite a few factors affecting the fortunes of the brands involved, and many variables at play. Apart from tracking the devices themselves, we at 91mobiles actively track trends, user behaviour, buying patterns and a bunch of other metrics relevant to the smartphone industry in India. And the latest edition of our Great Indian Smartphone Survey will be revealing quite a few insights in the coming weeks.
This time, we will also be adding a few points on how aspects like user behaviour and buying patterns have changed based on the shift brought about by the ongoing pandemic. Before we get into all those insights though, we have a set of points that are extremely relevant now, given the start of the festive season in the country and the associated online sale events. Thanks to Amazon's Great Indian Festival, Flipkart's Big Billion Days (BBD) and other such sales events, Indian consumers are being treated to a mind-boggling array of deals and discounts. The insights we have available to share now are largely centred around how these offers might affect buying patterns. Just so you know, this analysis is based on a survey conducted via Google Forms, distributed to our audience via our social channels, and while the following points are based on 10,000+ responses, we're still collecting more as you read this.
Banking on festive sales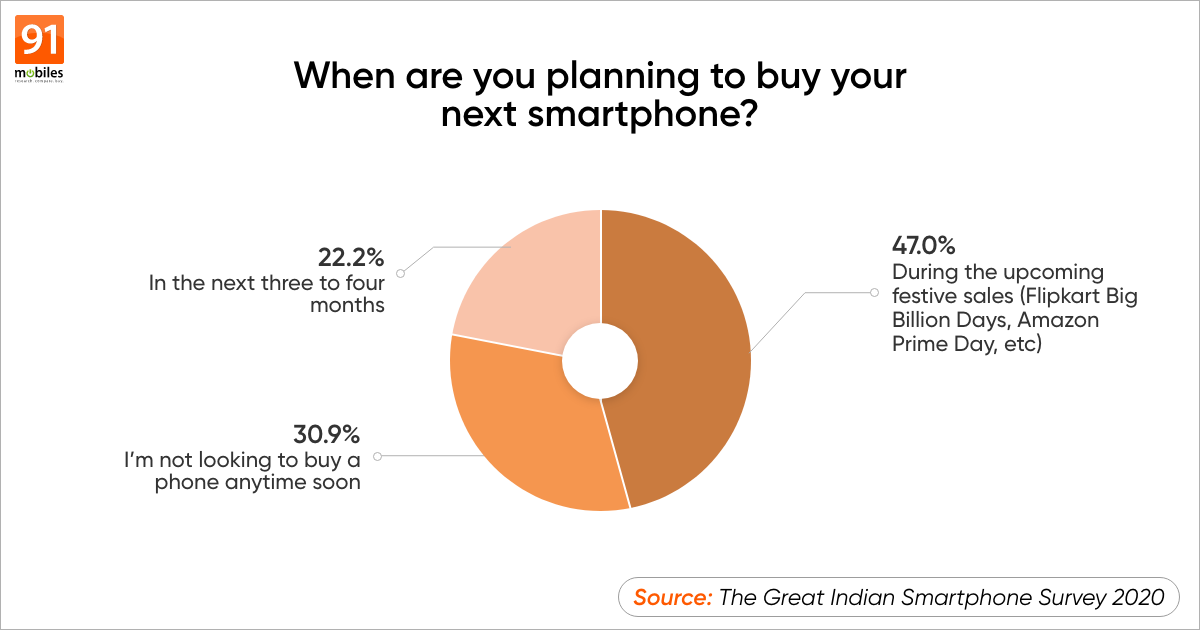 One of the first questions we asked survey respondents was whether they're planning to a buy a new smartphone, and if yes, when is the purchase likely to happen. Almost 50 percent (i.e. 1 in 2) users responded saying they're planning to buy a new smartphone during the festive sales. This is a significant chunk, and shows how massive these sales are likely to be. With a lot of people avoiding offline stores and following social distancing norms, online retail in India has gotten a big boost, and this will affect sales of phones as well. There's likely to be some pent-up demand from people looking to spend, and these online sale events might just turn out to be big beneficiaries. It also helps that this time, we're seeing highly attractive offers on smartphones from Apple, Samsung and others as part of the sales. A little less than a quarter of respondents said they're planning to buy a new smartphone within the next three to four months.
Samsung poised to dominate festive sales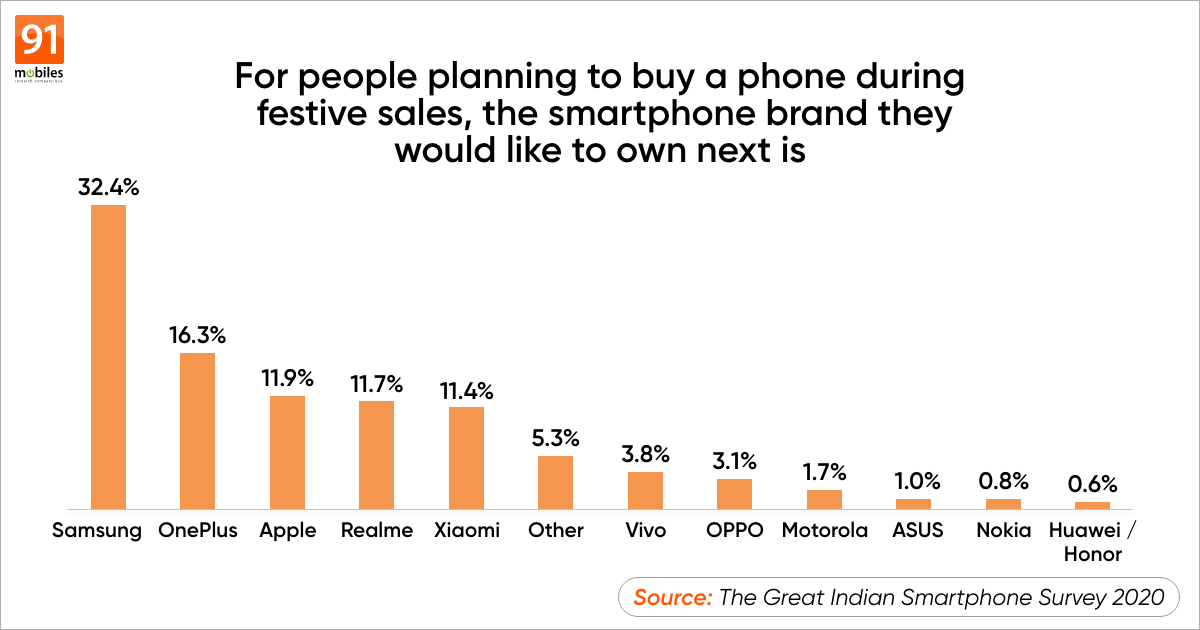 Next up is the data point concerning the smartphone brands people would prefer buying during these sales. And looking at the numbers, it's clear that Samsung leads by a big margin, with over 32 percent users voting for it. Samsung's aggressiveness in launching new models that span various different price points seems to be paying off, and recent introductions like the Galaxy M51, Galaxy F41, Galaxy S20 FE, along with big offers on the existing lineup, seem to adding fuel to the fire. OnePlus follows next with 16 percent votes, and we already know how popular its devices are throughout the year. OnePlus has changed tact this year, and with the new mid-range offering that comes in the form of the OnePlus Nord, and the new 8T flagship, the brand's offerings are understandably high on the user' shopping list. The other brands that are high on the list are Apple, Realme and Xiaomi. Again, Realme and Xiaomi phones are popular around the year, so it's no surprise they're likely to sell smartphones by the bucketloads during the sales. As far as Apple is concerned, the brand has some attractive deals available this time, combined with big price drops on its existing lineup of models like the iPhone SE, iPhone 11 etc.
It's OnePlus and Samsung all the way in the premium league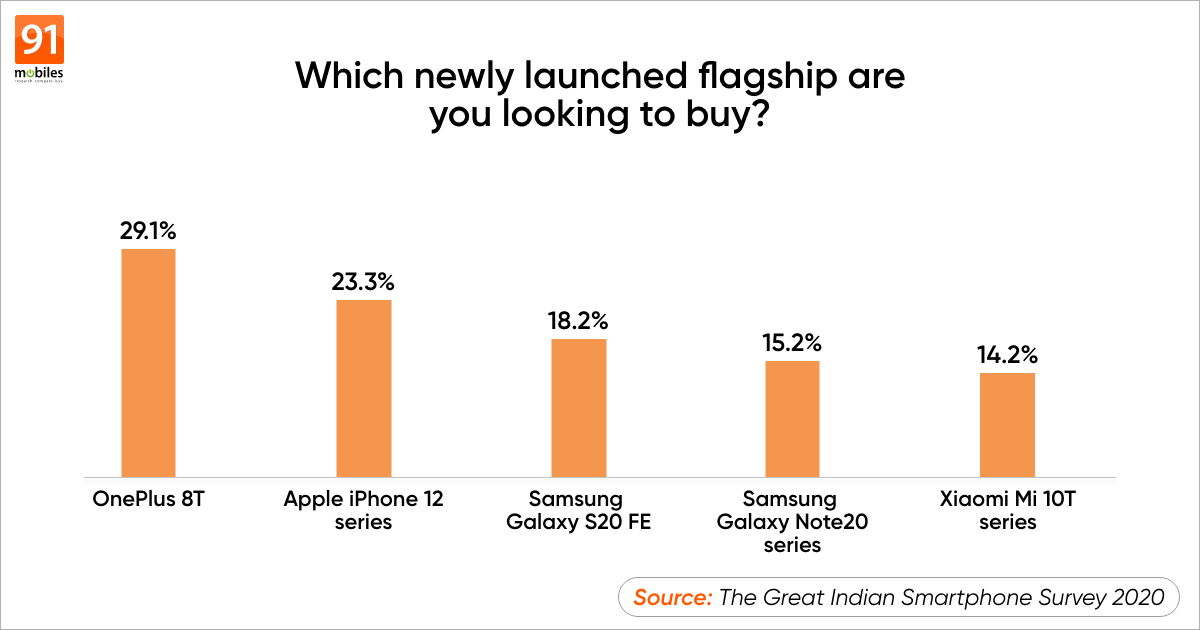 From brands, we'll move on to specific phone models now. Given that quite a few smartphones have broken cover within the past few weeks, we wanted to get an idea about buyer preferences, and the corresponding question was split between flagship and mid-range segments. In the flagship segment, almost 30 percent users chose the OnePlus 8T as their next smartphone purchase. OnePlus of course, has been a user favourite for a while, thanks to the fact that it provides high-end specs at digestible prices. Apple iPhone 12 series follows next, with over 23 percent votes. Notably, Apple has launched four different models this year, for the first time ever. The new range seems to have created quite a buzz, even before these devices become available to buy in the country. The iPhone 11 mini stands out as a compact phone which doesn't involve too many compromises, and yet, is priced attractively too. The Samsung Galaxy S20 FE and the Galaxy Note20 series seem to be in favour as well, with 18 percent and 15 percent votes respectively. Interestingly, if we combine these numbers, Samsung's flagships seem to be topping the charts when it comes to user preferences in the premium category. The new Mi 10T from Xiaomi is high on the list too, thanks to its top-end specs and affordable prices.
Breaking the above numbers by age, we can see that the OnePlus 8T seems to be preferred more by the so-called millennials, while the Apple iPhone 12 series seems to be a hot favourite of the younger lot. As far as the latter is concerned, some of these numbers could be due to aspiration we believe. On the other hand, the Mi 10T range and Samsung's flagships are preferred more by older users.
Mid-range seems to be Samsung's turf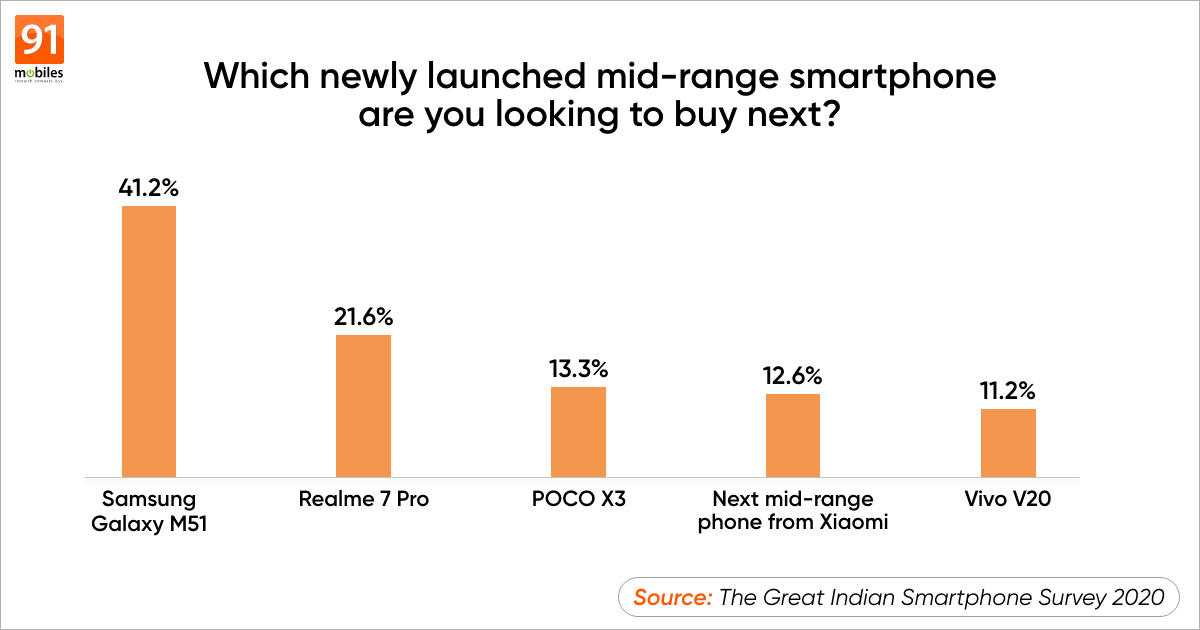 The last data point in these bunch of insights is the one on user preferences in the mid-range smartphone segment. The Samsung Galaxy M51 looks like the clear leader here, with over 40 percent voting in its favour. The first mainstream smartphone in India with a 7,000mAh battery, this phone has other factors going in its favour too, thanks to features like a 64MP quad camera setup, Snapdragon 730G processor and a large Super AMOLED display. Next up is the Realme 7 Pro with almost 22 percent votes… its super fast 65W charging clearly working in its favour. The POCO X3 is also a very popular phone in this segment, and that reflects in the 13 percent votes it was able to collect. The 120Hz refresh rate screen is one of its key highlights. Apart from these, people also seem excited about upcoming mid-rangers from Xiaomi, and the new Vivo V20 which scores high due to factors like its sleek design and powerful cameras.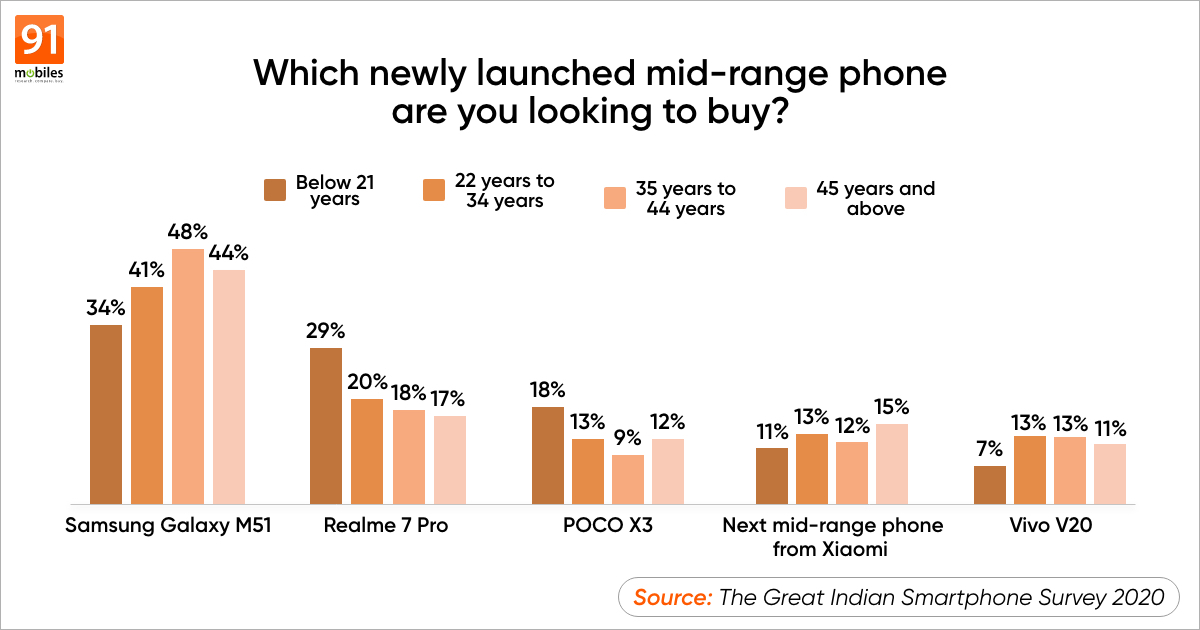 Again, breaking these numbers by age, we see that while the Samsung Galaxy M51 seems to be preferred more by older users, the Realme 7 Pro and the POCO X3 are preferred more by users aged below 21. One reason for this could be the fact that both Realme and POCO are new-age brands that play on value and specs… potentially appealing more to the younger lot. On the other hand, Samsung has been around for years, and its brand name could appeal more to older folks.
Do keep an eye for more insights from our Great Indian Smartphone Survey, heading your way soon.