The Big Billion Days sale – slated to start at noon of October 15th for Flipkart Plus members and October 16th for all customers – is upon us! Flipkart has already announced some crazy deals for a wide variety of smartphones, especially on models from the most popular brands. Those waiting for the right time to buy a smartphone have a lot to look forward to in the sale as your favourite smartphone by realme, POCO, Xiaomi, and Samsung have all been blessed with discounts and offers that make them even more attractive propositions.
That said, we're going to make the job of choosing the best smartphone easier for you by listing out the finest options in each main category. Let's get going then.
The best phones under Rs 10,000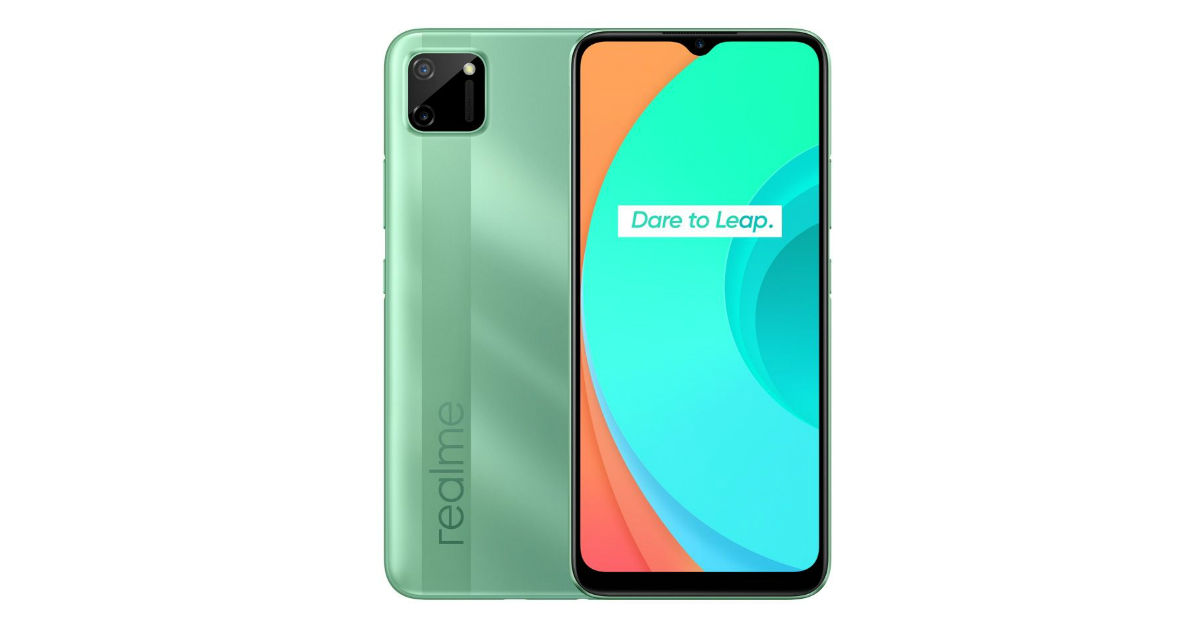 In just a couple of years, times have really changed for the sub-Rs 10,000 category. Take FHD+ displays and 48MP quad cameras for instance. These were the domains of much higher-end smartphones prior to this. You can also grab multiple devices with 6,000mAh batteries in them, which are just what's needed by those who do non-stop calling, video viewing and browsing throughout the day. This category also hosts smartphones with fast processors and up to 6GB of RAM, making them great for playing demanding multiplayer games. The discounts in Flipkart's Big Billion Days sale will allow customers to get phones with these advanced features at rates that were never ever deemed possible.
realme C11 – ₹8,999 ₹6,499
Rs 6,499 is an insane price for the realme C11, which is highlighted by its massive 5,000mAh battery that can support 12.1 straight hours of gaming. The phone also goes for a 13MP + 2MP dual-camera setup that allows you to capture excellent portrait shots. Adding more value for money is the MediaTek Helio G35 chipset with its remarkable performance.
Redmi 9i
Redmi 9i is an attractive package for entry-level buyers thanks to its 6.5-inch HD+ panel that offers a pleasing video-viewing experience. The phone also packs a 5,000mAh battery for long hours of usage. Its imaging duties are handled by a 13MP camera that really captures great detail in your photographs. Usually available at Rs 8,299, the Redmi 9i will be up for grabs at a discount during the Flipkart sale, so stay tuned to find out the new, attractive price of this great smartphone!
realme C12 – ₹10,999 ₹7,999
At just Rs 7,999, the realme C12 delivers a long-lasting 6,000mAh battery that's good for a whopping 47 hours of talktime. It's surprising that the phone also offers a 13MP + 2MP + 2MP triple camera setup at this price. All this is complemented by the splendid performance of the 6.5-inch HD+ display.
realme C15 – ₹12,999 ₹8,499
Available in the sale at just Rs 8,499, the realme C15 is another device in this category with a massive 6,000mAh battery. Not just that; apart from ample juice, it also grants you 18W fast charging support. As for cameras, it houses on its back a 13MP + 8MP + 2MP + 2MP setup, enabling full versatility to photography buffs. A 6.5-inch HD+ panel sits on its front to deliver crisp visuals.
realme Narzo 20A – ₹10,999 ₹8,499
The realme Narzo 20A has been priced at just Rs 8,499 in this sale. At that low price, it offers the ultra-quick performance of the Snapdragon 665 chipset. This is great news for gamers and so is the fact that it comes with a 5,000mAh battery inside it. The realme Narzo 20A also excels in the photography department with its 12MP + 2MP + 2MP rear camera setup.
POCO C3 – ₹9,999 ₹7,499
At Rs 7,499, the C3 is the most affordable POCO phone ever. And it hasn't cut a lot of corners to achieve this price tag either. You get a 13MP + 2MP + 2MP triple camera setup on this device, making it a great photography companion. Underneath the hood, the MediaTek Helio G35 processor and a 5,000mAh battery dominate the specs sheet. That's pretty powerful internal hardware for a phone priced so low.
Great deals under Rs 15,000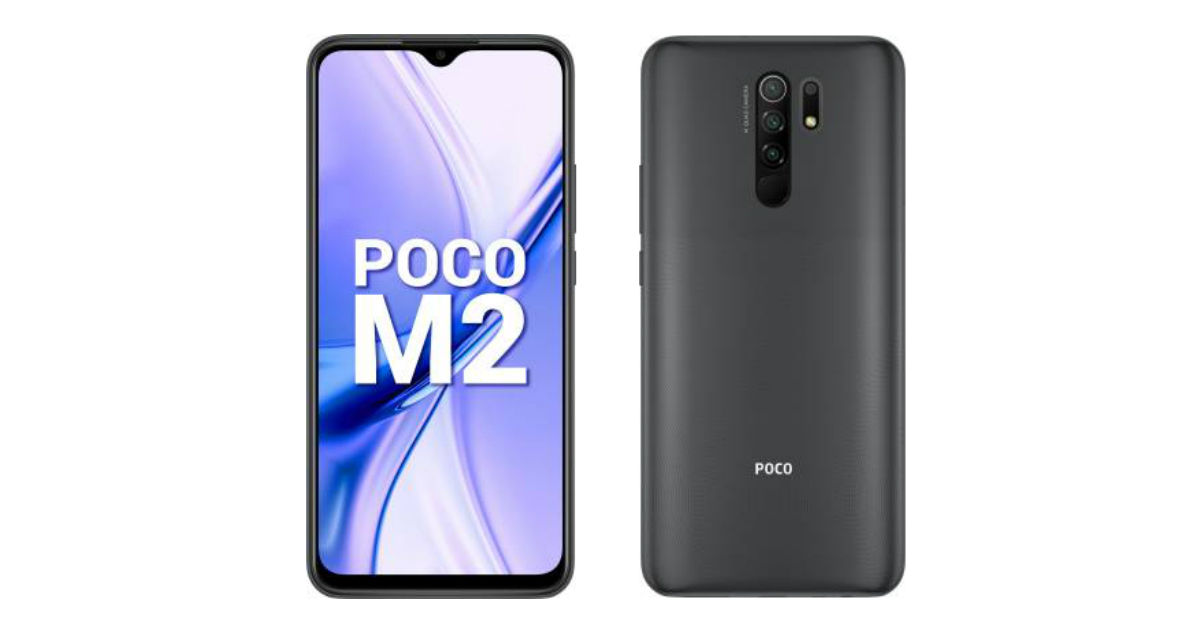 Smartphones priced between Rs 10,000 and Rs 15,000 in the Big Billion Days sale bring jaw-dropping features to the table. These include never-before-seen features in this price range, like 65W fast charging that can fully recharge your phone within an hour's time. In this category, you also get devices with 64MP quad-camera setups for capturing highly detailed and sharp photographs with regular, ultra-wide, macro, and portrait lenses. Moreover, phones with high-end chipsets like the Snapdragon 730G guarantee ultimate gaming performance to their buyers.
POCO M2 – ₹12,999 ₹10,499
At just Rs 10,499, the POCO M2 is the most affordable smartphone with 6GB of RAM. That and the fact that it incorporates the MediaTek Helio G80 processor means great news for those looking for solid performance. Those who consume a lot of content on their phones will be delighted to know that it offers a full-screen 6.5-inch display with FHD+ resolution. There's a 5,000mAh battery inside it as well, for long-lasting usage.
realme 7 – ₹20,999 ₹14,999
The realme 7 is as premium as it gets in this price range. At Rs 14,999, it offers a range of features that are hard to believe for a phone that costs so affordably. Firstly, you get a 64MP + 8MP + 2MP + 2MP rear camera setup that can deliver a versatile imaging experience. Its 6.5-inch FHD+ display offers a 90Hz refresh rate that's aimed at providing a smooth-flowing experience while navigating its interface. And then there's its advanced MediaTek Helio G95 chipset, which gains its power from a 5,000mAh battery (with 35W fast charging) to render the ultimate user experience.
realme 7i – ₹13,999 ₹11,999
Priced at just Rs ₹11,999 in this sale, the realme 7i ships with an incredible array of specs that include a 6.5-inch HD+ display with a 90Hz refresh rate and a Snapdragon 662 processor that guarantees excellent daily performance. It's equipped with a huge 5000mAh fast-charging battery for long-lasting power, while the photos and videos are taken care of by a 64MP quad-camera setup. A 16MP selfie camera also forms part of its offerings.
realme 6 – ₹17,999 ₹13,499
The attractive Rs 13,499 price tag of the realme 6 is made even better by its specs, which include a 6.5-inch FHD+ display with a 90Hz refresh rate for delivering immersive visuals. The highly advanced Mediatek Helio G90T gaming chip powers its operations and delivers top-notch speeds that are apt for your Call of Duty: Mobile sessions. This exquisitely designed phone also has a 4,300mAh battery with 30W fast charging.
realme Narzo 20 Pro – ₹16,999 ₹14,999
At Rs 14,999, the realme Narzo 20 Pro is another solid proposition in this price bracket. Its main highlight is its 65W SuperDart Charge fast charging, which can deliver a 14 percent charge in just 3 minutes. It doesn't hold back in the performance department as well, offering the gaming-focused MediaTek Helio G95 processor. Gamers will also love its 6.5-inch FHD+ display with a 90Hz refresh rate. Lastly, the Narzo 20 Pro's rear surface bears a 64MP quad-camera setup.
realme Narzo 20 – ₹11,499 ₹10,499
Starting at Rs 10,499, the realme Narzo 20 packs a lot of value. It ships with a 6,000mAh battery that's blessed with 18W fast charging support via its Type-C port. That massive battery is complemented by the MediaTek Helio G85 chipset, which makes gaming a smooth experience on the device. The Narzo 20 even houses a 48MP + 8MP + 2MP triple camera setup.
POCO M2 Pro – ₹17,999 ₹12,999
Priced at Rs 12,999, the POCO M2 Pro is indeed the ultimate all-rounder, with its Snapdragon 720G processor and its 5,000mAh battery. This combination will ensure that you can keep playing your high-end games without worrying about charging the phone all the time. And when you do charge it, the 35W fast charging support will juice it up very quickly. The POCO M2 Pro also comes with a 48MP quad-camera setup equipped with the ultimate photography chops.
Samsung Galaxy A50s – ₹24,900 ₹13,999
Samsung Galaxy A50s can be yours for just Rs 13,999 during the Big Billion Days sale. It's an extremely attractive proposition thanks to its 6.4-inch FHD+ Super AMOLED display that's apt for those who watch a lot of movies and TV shows on their devices. It's also a great photography companion thanks to its incorporation of a triple camera setup that includes a 48MP main camera, an 8MP ultra-wide camera, and a 5MP depth sensor. Samsung also packs a 4,000mAh battery into the device.
Exciting phones under Rs 20,000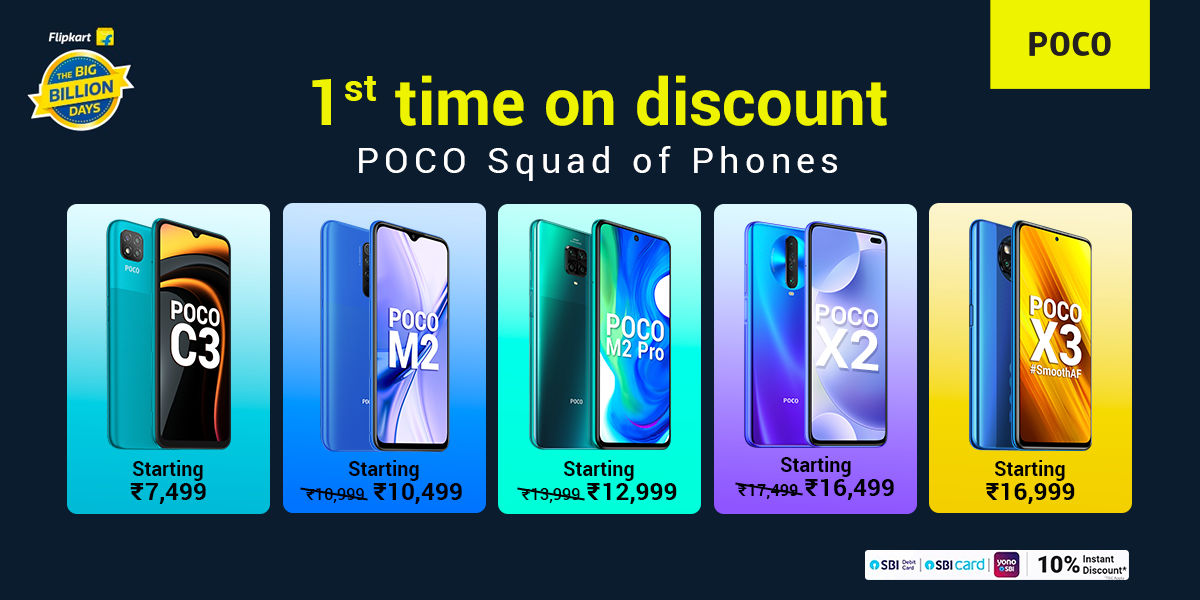 This segment has become very interesting lately – it's got phones with truly magnificent hardware, like the Snapdragon 732G chipset, 120Hz refresh rate, Super AMOLED panels, and large batteries, which makes them capable of running games like Free Fire at maximum resolution. In this range, you'll find phones with 64MP quad cameras bearing the famed Sony IMX 682 sensor. Let's have a look at them.
POCO X2 – ₹19,999 ₹16,499
This is the first time that the price of the POCO X2 has been lowered to Rs 16,499. That's hard to believe since it comes with a 6.67-inch FHD+ display for instance, which offers a 120Hz refresh rate, up to 500nits of brightness, and HDR10 certification. Moreover, it's powered by the Snapdragon 730G chipset that gives it excellent all-round performance. This phone is great for photography buffs as well thanks to its feature-rich 64MP + 8MP + 2MP + 2MP rear camera setup and its 20MP + 2MP front camera setup.
POCO X3 – ₹19,999 ₹16,999
Priced just a shade higher at Rs 16,999, the POCO X3 is a true gaming beast, with its 2.3GHz octa-core Snapdragon 732G processor, Adreno 618 GPU, and up to 8GB of RAM. The other features that gamers would love include its 120Hz display, its stereo speakers, and its 6,000mAh battery with 33W fast charging support. And there's something for camera buffs as well. You get a 64MP quad-camera setup that includes a 13MP ultra-wide snapper, a 2MP macro unit, and a 2MP depth sensor.
realme 7 Pro – ₹20,999 ₹19,999
At Rs 19,999, the realme 7 Pro offers some real bang for the buck. It incorporates premium features like a Sony 64MP quad-camera system and a 32MP selfie camera. It also sports a 6.4-inch Super AMOLED display to deliver crisp visuals with a high contrast ratio. Powering its operations is an ultra-fast Snapdragon 720G chipset with a 2.3GHz octa-core processor and an Adreno 618 GPU. It's also got a long-lasting 4,500mAh battery at its heart that's complemented by the astounding 65W SuperDart charging support that takes it from 0 to 100% in just 34 minutes.
Samsung Galaxy F41 – ₹20,999 ₹15,499
With a price tag of Rs 15,499, this newly launched phone will be making its debut at Flipkart's Big Billion Days sale. Its features are headlined by a 6,000mAh battery that offers long hours of usage and a Super AMOLED display that provides really immersive visuals. The phone also gets a 64MP triple camera setup. The Samsung Galaxy F41 can be purchased at just 70 percent of its actual price using the Flipkart Smart Upgrade plan, powered by Galaxy Forever.
Mind-blowing specs at less than Rs 30,000
You'd be amazed at the kind of spectacular specifications you can get hold of in phones costing less than Rs 30,000. These smartphones are replete with flagship-class chipsets such as Snapdragon 855+, 120Hz refresh rates, and 64MP quad-cameras with 60x zooming capabilities. Here are your best choices in this range during Flipkart's Big Billion Days sale.
realme X3 – ₹26,999 ₹21,999
At Rs 21,999, the realme X3 delivers top-grade performance at a very attractive price. At its heart is the 7nm Snapdragon 855+ chipset with its ultra-fast performance and graphical capabilities. Liquid cooling is also present just in case things get hot during your intense gaming sessions. A 6.6-inch display with a 120Hz refresh rate is one of its other highlights. You'll also find a 64MP quad-camera setup onboard, aside from a dual selfie camera with an ultra-wide lens.
realme X3 SuperZoom – ₹29,999 ₹24,999
The realme X3 SuperZoom starts at Rs 24,999 and differentiates itself from the X3 by offering 60x SuperZoom, allowing you to get incredibly close to your subjects without moving an inch. This is made possible by its specially designed 64MP quad-camera setup. Its front camera assembly includes a 32MP main sensor and an 8MP ultra-wide camera. Just like the regular X3, this phone also runs on the Snapdragon 855+ chipset, but it offers up to 12GB of RAM. Its 6.6-inch FHD+ display with a 120Hz is a delight to the eyes.
Samsung Galaxy A70s – ₹31,000 ₹22,999
Spending just Rs 22,999 will fetch you the Samsung Galaxy A70s. The smartphone is known for its 64MP triple camera that offers the benefits of a Night Mode for excellent videos in low light and the Super Steady Video mode, which stabilises footage shot in bumpy environments. Its visuals are taken care of by an outstanding 6.7-inch Super AMOLED display with FHD+ resolution. As for its battery, it's a 4,500mAh unit that promises a full day's usage without interruptions.
Premium user experience with the best phones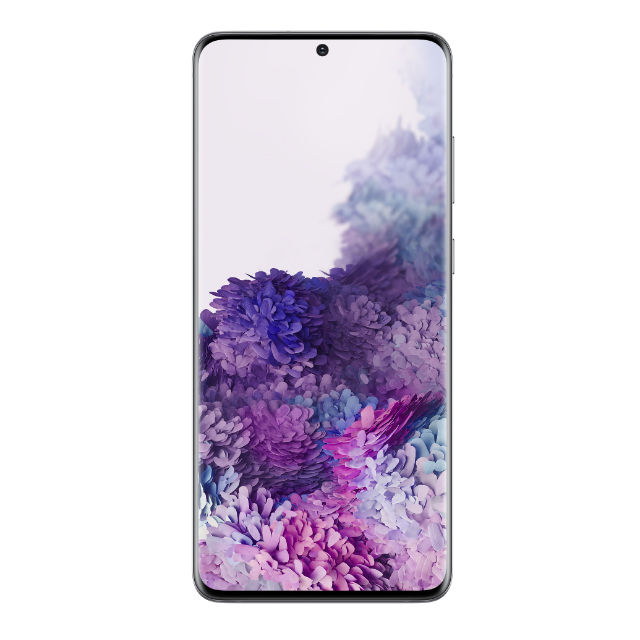 If you really want to grab the best smartphone experience and are ready to spend the amount needed to get that, you're in for a treat. That's because the Big Billion Day sale is home to some really interesting premium smartphones that are being offered at discounted rates. They offer 108MP camera sensors that are capable of capturing the tiniest of details in your photographs. Most of these premium phones employ the all-powerful Snapdragon 865 chipset and they even come with 5G support, making them future-ready. You can even find displays with 144Hz refresh rates in this category. For Samsung phones, the Flipkart Smart Upgrade Plan is available to take advantage of.
Samsung Galaxy S20+ – ₹83,000 ₹49,999
The Rs 49,999 discounted price of the Samsung Galaxy S20+ makes it one of the most attractive smartphone deals of the year. This gorgeous smartphone ships with a 12MP + 64MP + 12MP + TOF camera setup that's capable of offering 30x Space Zoom. It's home to a 6.7-inch QHD+ Dynamic AMOLED 2x panel with a 120Hz refresh rate. The ultra-powerful Exynos 990 toils inside it for delivering flawless operations. Thanks to the Flipkart Smart Upgrade Plan, it can be purchased at as low as Rs 35,198.
Samsung Galaxy Note 10+ – ₹85,000 ₹54,999
The Samsung Galaxy Note 10+ can be snagged at just Rs 54,999 from Flipkart. It's a device that's made brilliant by its incorporation of the S Pen, which enables a plethora of new usage scenarios. Its visuals are gorgeous thanks to its 6.8-inch Dynamic AMOLED display, while superfast performance is guaranteed with its Exynos 9825 chipset. A brilliant 12MP + 12MP + 16MP + TOF camera system rests on its rear surface, offering users plenty of versatility when it comes to photography. The Flipkart Smart Upgrade plan will allow you to get the phone at just Rs 38,998.
realme X50 Pro – ₹39,999 ₹36,999
Priced at Rs 36,999, the realme X50 Pro is equipped with really high-end features, yet doesn't make a huge dent on your wallet. It is powered by the Snapdragon 865 chipset, which means there's 5G support onboard for when the connectivity standard becomes available in India. The phone also adopts a 64MP quad-camera setup with plenty of photography knick-knacks. There's a 4,200mAh inside it, which can be charged at a whopping 65W speed, allowing it to go from 0 to 100 percent in just 35 minutes.
Mi 10T/Mi 10T Pro
The Mi 10T range will finally be arriving in India as part of the Flipkart Big Billion Days sale. Both the phones go for top-notch performance with their 5G-capable Snapdragon 865 chipsets. They grab 6.67-inch displays that offer a whopping 144Hz refresh rates for the ultimate gaming experience. While the regular Mi 10T holds a 64MP + 13MP + 5MP camera setup, the Pro version goes one up and offers a 108MP + 13MP + 5MP system, delivering a top-notch camera experience. Both the phones also grab 5,000mAh batteries with 33W fast charging support.
Sale starts October 15th for Flipkart Plus members
As we said, the Flipkart Big Billion Days sale has kicked off and will run from October 16th to October 21th. Apart from the discounted prices, Flipkart is also giving options such as product exchange benefits and 10 percent instant discount on payments made using SBI credit and debit cards as well as the SBI YONO app. Additionally, there's an assured cashback offer for those who pay using their Paytm bank account or wallet. Attractive no-cost EMI options are also part of the package. Those buying Samsung phones have something more to look forward to in the form of the Flipkart Smart Upgrade Plan that's powered by Galaxy Forever. It allows you to get a Samsung smartphone by paying just 70 percent of its actual value.
With great deals and discounts like these, it's pretty clear that if you're looking for a new smartphone, Flipkart has something for you. Don't miss the incredible opportunity to grab one at a discounted rate, no matter what price category it falls in!