Leading e-commerce platform Flipkart recently conducted a nationwide consumer survey, after the COVID-19 lockdowns, to ascertain exactly what users are looking for in their next smartphone purchase. This was India's biggest survey on smartphones that saw over 2.15 lakh respondents who own smartphones across all major brands and at multiple price points. This was majorly a youth-focused survey with 85 percent of all participants below the age of 35. Let's have a look at the findings of this survey that give us a glimpse into what young India wants from its smartphones.
Top priority – Performance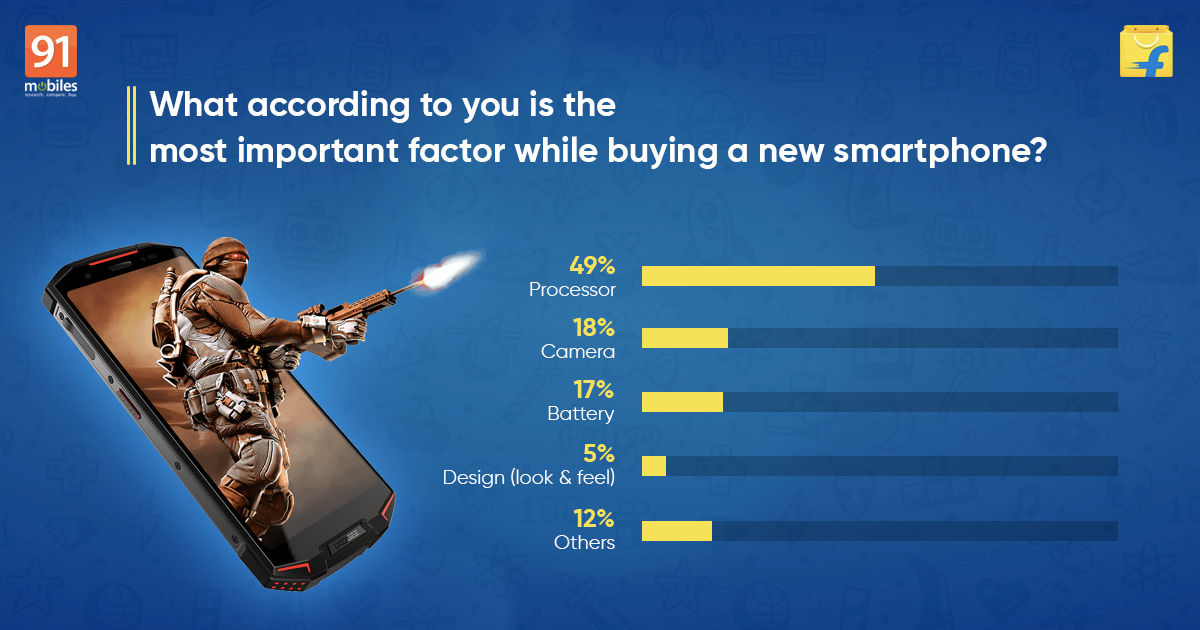 Starting off with performance, Flipkart's consumer survey had 48 percent respondents choosing processor as the priority when purchasing a new smartphone, followed by camera and battery. This comes as no surprise, as rational Indian power users continue to focus on performance-heavy smartphones for their heavy usage. Qualcomm Snapdragon, MediaTek Helio, and Samsung Exynos processors all turned out to be popular considering their latest offerings promise a high level of performance.
In terms of Qualcomm Snapdragon-powered smartphones, the POCO M2 Pro (with Snapdragon 720G), POCO X3 (with Snapdragon 732G), Realme X3 (with Snapdragon 855+), iQOO 3 (with Snapdragon 865), and Asus ROG Phone 3 (with Snapdragon 865+) were the most popular picks.
As for smartphones with MediaTek processors, the POCO M2 (with MediaTek Helio G80) and Realme 7 (with MediaTek G95) emerged as the top contenders. The Samsung Galaxy A50s (with Exynos 9611) and Samsung Galaxy S20+ (with Exynos 990) were the top picks when it comes to smartphones powered by Samsung Exynos processors.
The surge of camera megapixels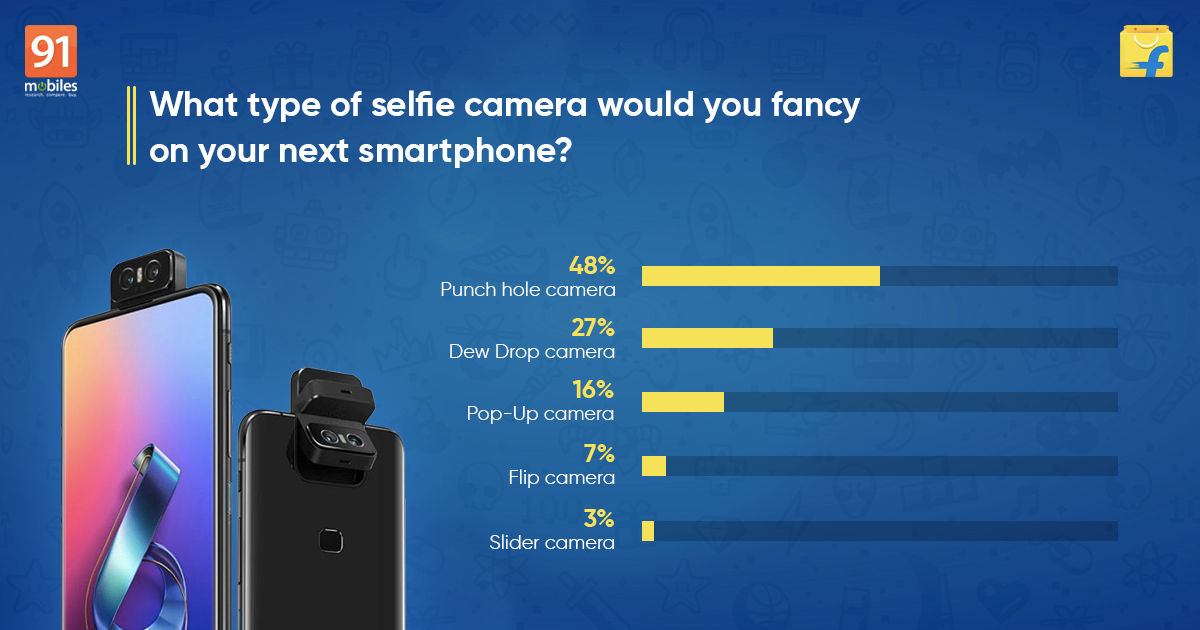 Camera was another smartphone feature on top of the list of users surveyed, with 72 percent respondents saying that they want a higher megapixel camera for selfies. The megapixel race has been on with brands unveiling 48MP, 64MP, and even 108MP sensors in the recent past. It is but obvious for users to be lured in by these incremental upgrades.
As much as 48 percent of respondents in the Flipkart consumer survey voted for the punch hole camera design as the preferred option, compared to just 16 percent for pop-up camera and 7 percent for a motorised flip camera.
In the sub-Rs 10,000 price segment, users demanded night mode, portrait mode, and AI enhancements as top features. The Realme C11 (with a 13MP AI Dual camera with super nightscape mode, and an AI selfie front camera) and Realme Narzo 20A (with a 12MP triple camera with a special retro lens, a super nightscape mode and a 8MP AI selfie camera) on Flipkart offer these features in the same price segment.
In the price bracket of Rs 10,000-20,000, users looked for higher megapixels. This was in sync with what the market has to offer in the last couple of years. The Realme 7 series, Samsung Galaxy F41, Motorola one Fusion+, and POCO X3 on Flipkart come with superior 64MP rear cameras in this budget.
And in the segment of smartphones priced Rs 20,000 and above, optical image stabilisation (OIS) and hybrid zoom were the topmost priorities for users. Realme X3 SuperZoom with 60x superzoom, Google Pixel 4a​ with Astro photography, Vivo X50 Pro​ with Super steady mode, and Samsung Galaxy S20 Ultra and Motorola Edge+ with 108MP camera offer these features in this range. All of these smartphones are among the bestsellers on Flipkart.
Bigger batteries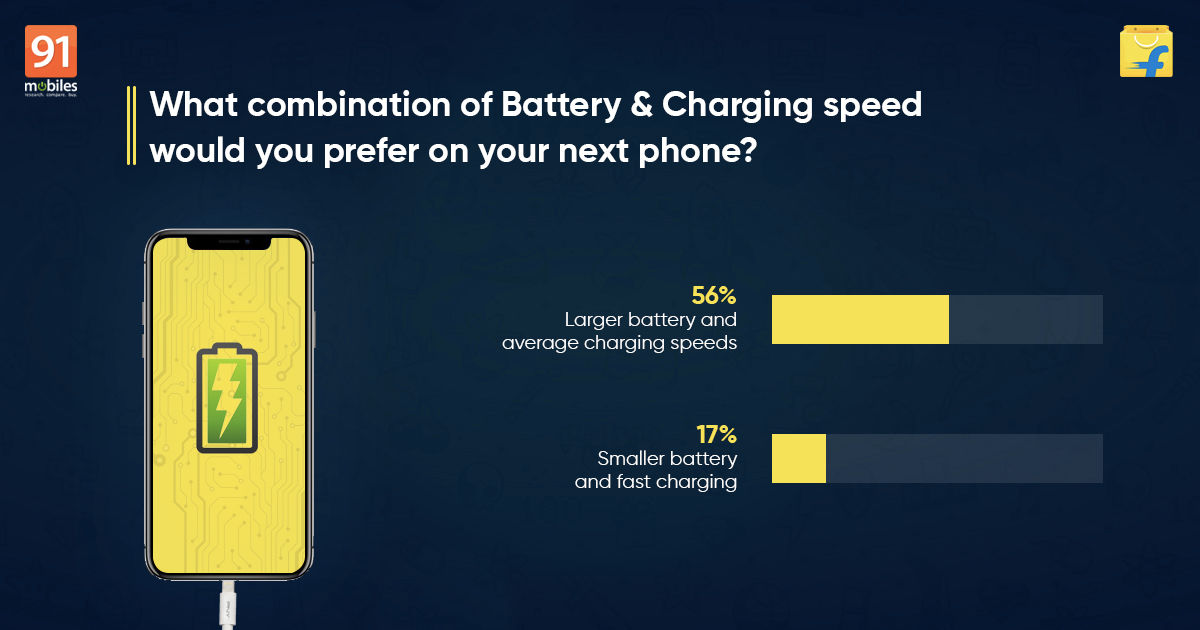 Battery is a feature that is very crucial and dependent on your smartphone usage. It came as no surprise that 56 percent of all the respondents in the Flipkart consumer survey preferred a large battery over a smaller battery with fast charging. A large battery offers the ability to retain charge in the smartphone for prolonged periods of time, eliminating the need for charging it frequently in the first place. Smartphone brands have been upping the game when it comes to battery capacities, with 5,000mAh and above capacity becoming commonplace. Naturally, the top choice were batteries sized between 5000-6000mAh.
In fact, 60 percent of the respondents buying a sub-Rs 20,000 smartphone are looking for bigger batteries, even if that means compromising on charging speeds. However, interestingly enough, premium customers, looking for smartphones above the Rs 20,000 price point, prefer fast charging speeds for a better experience. This means that they are likely to go for faster charging smartphones even if that means smaller batteries.
Flipkart offers a wide range of smartphones, across price segments, that come with batteries sized between 5,000-6,000mAh. These include Realme C12, Infinix Smart 4 Plus, Realme C15, and Moto E7 Plus in the sub-Rs 10,000 segment; Realme Narzo 20, POCO M2 Pro, and Moto G9 in Rs 10,000-15,000 price range; and POCO X3, Samsung Galaxy F41, and Motorola One Fusion+ in the Rs 15,000-20,000 price segment.
Above Rs 20,000, Flipkart also has some great offerings in the form of Asus ROG Phone 3 (30W Hyper charge), Realme X3/X3 SuperZoom (30W Dart charge), and iQOO 3 (55W Super Flash Charge) that unlock superfast charging speeds for an ultimate user experience.
A big highlight from the consumer survey suggested that users looking for smartphones priced below Rs 7,000 consider battery to be the topmost priority, above camera and performance. Entry-level smartphone users prioritise battery backup over any of the other features that smartphones these days have to offer.
Larger displays are the trend
Display was also a big priority for a lot of respondents in Flipkart's consumer survey. 61 percent of the customers prefer a screen size between 6-6.5 inches, owing mostly to the explosion in streaming viewership and mobile gaming on smartphones. With infinity displays going mainstream, and bezels disappearing from mid-range smartphones, you can now get more screen real estate in the same footprint. This means that you are able to enjoy content on a larger screen without compromising much on portability and comfort.
Popular smartphones on Flipkart ​including Realme C12, Realme 7 Pro, Samsung Galaxy F41​, and ​iPhone XR make the cut with displays larger than 6 inches offering the user a lot of screen real estate to work with.
A major chunk, 68 percent, of all respondents voted for an AMOLED display as the preferred choice of display on a smartphone. The interesting part was that the users preferred an AMOLED panel of any refresh rate over an LCD panel with even 90Hz or 120Hz refresh rate. This clearly shows the popularity of AMOLED that has been known to deliver richer colours on smartphones, making it the go-to choice for most. Some great options on Flipkart including Samsung Galaxy F41, Realme 7 Pro, iQOO 3, Samsung Galaxy Note 10+, and Asus ROG Phone 3​ come with stellar sAMOLED display panels to support this claim.
A significant number of respondents, 44 percent, wished for a higher refresh rate on their next smartphone for a better and lag-free gaming experience. With multiplayer battle royale mobile games going viral in India, everyone wants to experience their favourite games on the best possible smartphone display.
The Asus ROG Phone 3 (144 Hz refresh rate and Qualcomm Snapdragon 865+ processor) and Realme X3 SuperZoom (120Hz refresh rate) thus come as good propositions in the premium segment, while the POCO M2 Pro (60Hz refresh rate) and Realme 7 (90Hz refresh rate) are great gaming smartphone options in the affordable segment.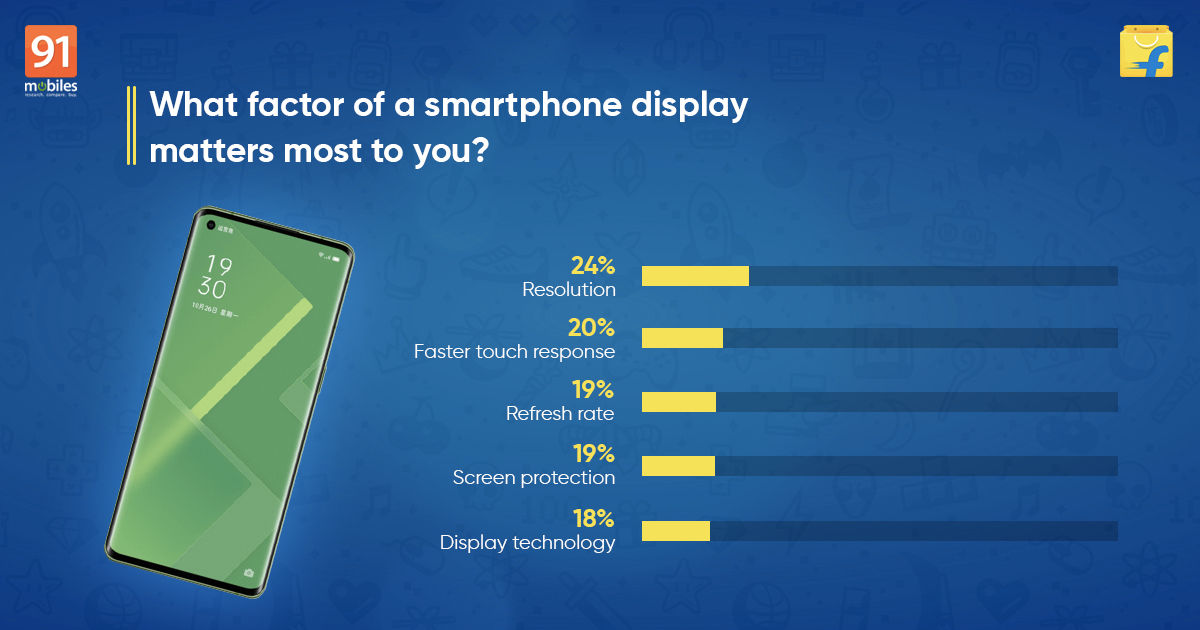 Other aspects of a display were also considered. 40 percent of all customers in the survey prefer an in-display fingerprint sensor compared to only 11 percent who want a rear-mounted physical fingerprint sensor. Other than that, 55 percent of the respondents said that better screen resolution (including full-HD+, Quad HD, etc) and faster touch response were the most important factors when buying a smartphone priced below Rs 15,000.
Smartphones of choice
The consumer survey also revealed the top smartphones on Flipkart across price segments.
In terms of smartphones priced between Rs 7,000-10,000, the Realme C15 and POCO M2 were the top two choices. The Realme C15 comes with a massive 6,000mAh battery and 18W fast charging, while the POCO M2 has a Pixel Perfect 6.53-inch full-HD+ display and 6GB RAM for the best multitasking experience.
In the Rs 10,000-15,000 price segment, the Realme Narzo 20 and Realme 7 were the top picks.
Narzo 20 is another power mammoth from Realme that comes with a 6,000mAh battery and 18W fast charging. The Realme 7, on the other hand, is a great budget option with a 64MP rear camera, MediaTek Helio G95 gaming-focused processor, and 30W Dart Charge charging technology.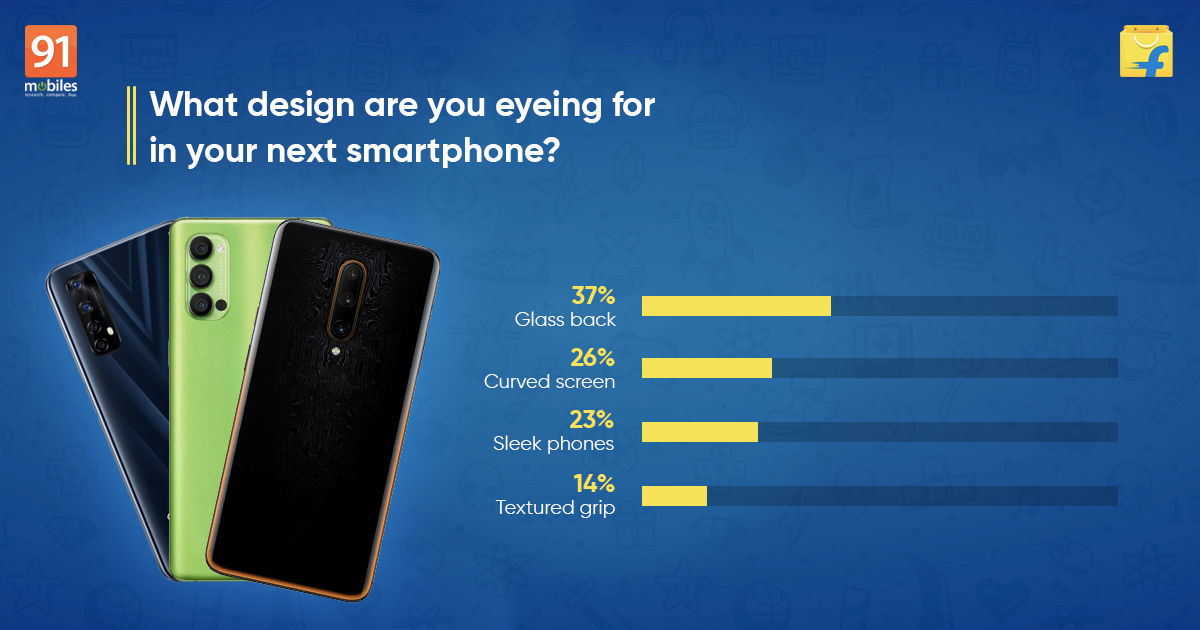 For smartphones priced between Rs 15,000-20,000, users preferred Samsung Galaxy F41 and POCO X3 on Flipkart. Galaxy F41 is the latest mid-range smartphone from Samsung with a 6,000mAh battery and a gorgeous Super AMOLED display. The POCO X3 is a one of the best value-for-money smartphones in India with 64MP quad cameras and a Qualcomm Snapdragon 732G processor at an attractive price point.
Going up the ladder, in the Rs 20,000-30,000 price segment, users loved the iPhone SE and Google Pixel 4a on Flipkart. These both are some of the most affordable premium smartphones from Apple and Google, and offer flagship-level performance at an exciting price point.
And, finally, the most premium segment, for smartphones priced above Rs 30,000, Flipkart consumer survey had users showing love to the ASUS ROG Phone 3 and Samsung Galaxy S20+. The ROG Phone 3 offers the latest Qualcomm Snapdragon 865+ processor and 8GB of RAM, while the Galaxy S20+ comes with the latest Samsung Exynos 990 processor and a 64MP high-resolution rear camera.
Big Billion Days sale starts October 15
The year's biggest online shopping festival, Big Billion Days sale, starts on Flipkart from October 16 and will run until October 21. Early access for Flipkart Plus members will be from October 15. Make sure you keep browsing the Flipkart store for the latest deal reveals and exciting offers that will save you the most money on your next smartphone purchase this festive season!