"The verification process lets users to easily lock down their account to protect their data"
Google has just made G Suite a lot more secure. The search-engine giant has introduced a two-step verification option to G Suite, which lets users easily lock down their account. The method is said to put an "extra barrier" between your business and cyber criminals trying to steal the data. The new verification method is available on both mobile and desktop devices.
The two-step verification process brings three major changes to the table, starting with the new interface. Users will see new illustrations, text, and images to guide them through the process of setting up a security key. Next, the verification method adapts to the browser (Safari, Edge, etc) you are using. Previously, the service provider (Google) was responsible for showing these dialog boxes. As a result, the flow may be different on each browser.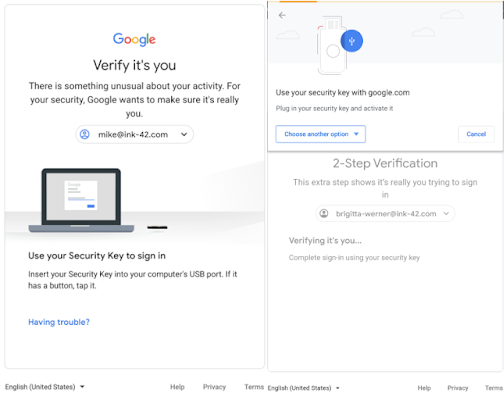 Lastly, Google has expanded Bluetooth security key support. That means a user can unlock the device in other ways and don't necessarily rely on the proprietors Titan key. The feature can be through a flag if you're on Linux. The two-step verification is compatible with all G Suite editions and has started rolling out to users (it'll take up to 14 days for feature visibility). Once updated, the feature will be switched on by default.
In related news, Google is currently testing Gmail like 'Confidential mode' for G Suite. The mode allows senders to add an expiration date to an email and limit the sharing for consumers. There's also an option that requires the recipient to first authenticate themselves via an SMS passcode to view what's inside the message.