Samsung refreshed its mid-range smartphone segment earlier this year with the Galaxy A51 smartphone. The Galaxy A51 is placed perfectly in the mid-range smartphone segment, and comes with a refreshing Prism Crush design, 48MP quad camera, Infinity-O sAMOLED display, and highly capable hardware. As part of the mid-range segment, it faces heavy competition in the market, in which the Oppo F17 Pro is a recent entrant. In fact, Samsung Galaxy A51 and Oppo F17 Pro are two of the hottest contenders right now for the title of the best mid-range smartphone. To figure out which of them is the better choice, we decided to pit them against each other on several criteria to see which option is superior and, thus, the better choice for you. Let's compare the two smartphones and their features to see which one stands out.
Design and display
In terms of aesthetics, Galaxy A51 has a neat back panel design with a rhythmical pattern that it borrows from its more premium siblings in the Samsung Galaxy A series. This – added to the attractive and glossy Prism Crush Black, Blue, and Haze Crush Silver colour options – makes the smartphone stand out amid a crowd of similar-looking smartphones. On the other hand, the Oppo F17 Pro has a fairly standard design that doesn't really strike awe.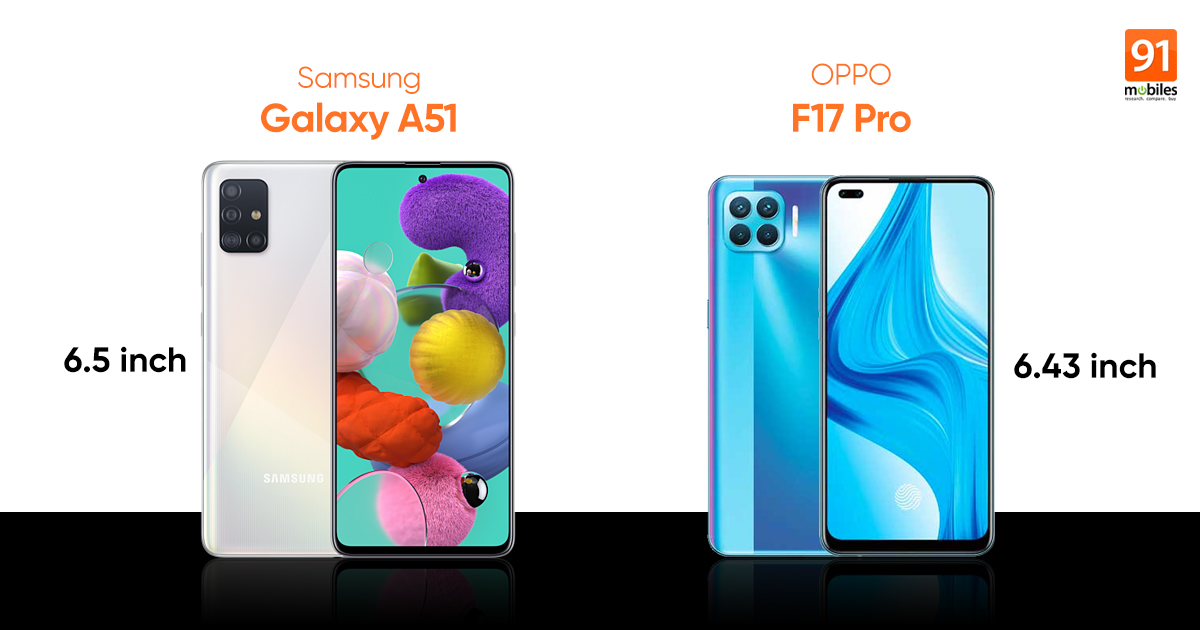 When it comes to the display, the Samsung Galaxy A51 takes home the trophy by quite a margin. While both the smartphones have Super AMOLED panels, the Galaxy A51 has a relatively larger 6.5-inch full-HD+ display, while Oppo F17 Pro gets a 6.43-inch panel. Furthermore, not only does the Samsung Galaxy A51 come with a smaller punch hole for the selfie camera, thereby giving you maximum screen real estate to play around with, it's also centrally aligned to maintain symmetry. In contrast, the Oppo handset's pill-shaped punch-hole notch sticks out like a sore thumb and makes the display look asymmetrical.
Cameras

Both the Samsung and Oppo smartphones in this comparison sport quad cameras on the rear, which has become the norm in the mid-range segment. Samsung Galaxy A51 features a 48MP primary camera, a 12MP ultra-wide-angle camera with a brilliant 123-degree field of view, 5MP macro lens, and 5MP depth sensor. The Oppo F17 Pro, on the other hand, has a 48MP main camera, 8MP ultra-wide-angle lens, and a couple of 2MP mono cameras. It is quite evident that the Galaxy A51 is superior in terms of offering more megapixels for the money, considering it has a 123-degree wider field-of-view on the ultra-wide lens and a larger, higher-resolution 5MP depth sensor. It also includes an additional macro lens that is extremely crucial when getting up close with the subject you are capturing, for example, when taking super clear close-up shots of flowers.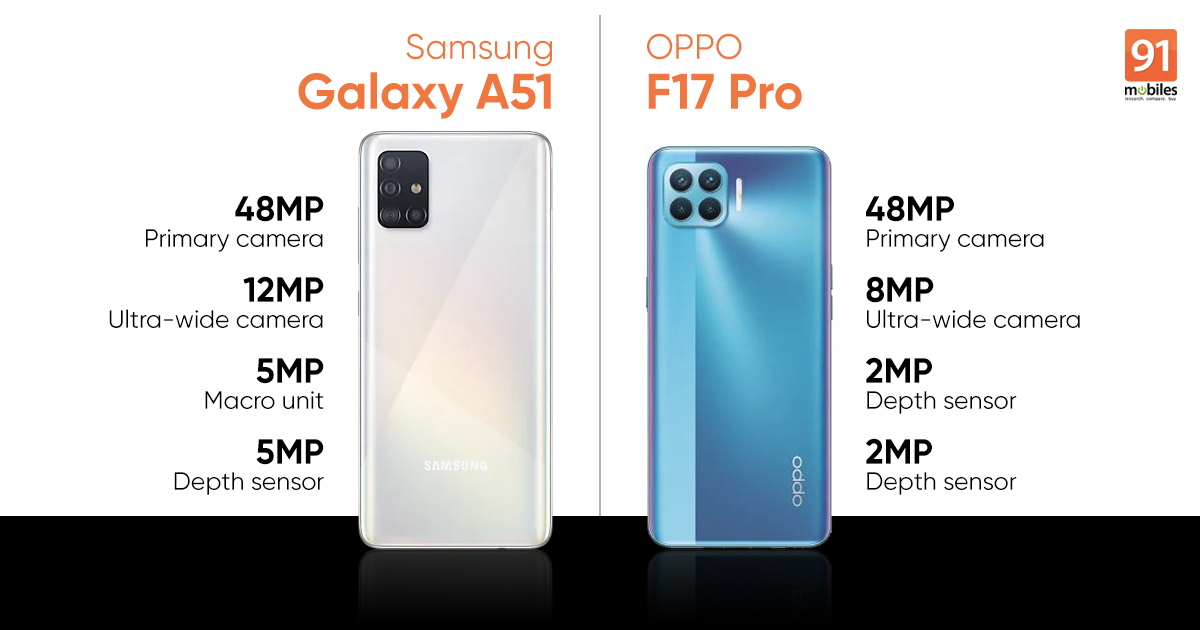 Not to mention, the Galaxy A51 also comes with a plethora of flagship camera features, including Single Take, which captures a single scene in the form of up to 7 photos & 3 videos. There's also the Smart Selfie Angle feature, which detects when there are two or more faces in the frame and instantly switches to a wider shot. Another brilliant feature is Night Hyperlapse, which can create gorgeous timelapse videos even in low light. With the Galaxy A51, you also get to switch camera while recording to get the best of both the front and rear cameras
in one go while making a video. All of these features make Galaxy A51 the natural choice in this category.
At the front, the Samsung Galaxy A51 sports a stellar 32MP selfie camera, while the Oppo F17 Pro comes with a dual 16MP + 2MP selfie camera combo. Despite the presence of two cameras, the F17 Pro is left miles behind when it comes to the number of megapixels and the quality of selfies that the Samsung smartphone offers.
Hardware and battery
Samsung Galaxy A51 packs some serious performance with the powerful Exynos 9611 processor with Game Booster. This is a perfectly capable mid-range smartphone processor and can handle your gaming and multitasking needs with ease. Oppo F17 Pro is powered by the MediaTek Helio P95 processor, which is a common choice among several other mid-range smartphones out there. The Samsung chipset, of course, is dependable for its ultimate performance. Moreover, unlike the F17 Pro, the Galaxy A51 comes in two different RAM variants – 6GB and 8GB – allowing buyers to pick the model that fits within their requirements and budget.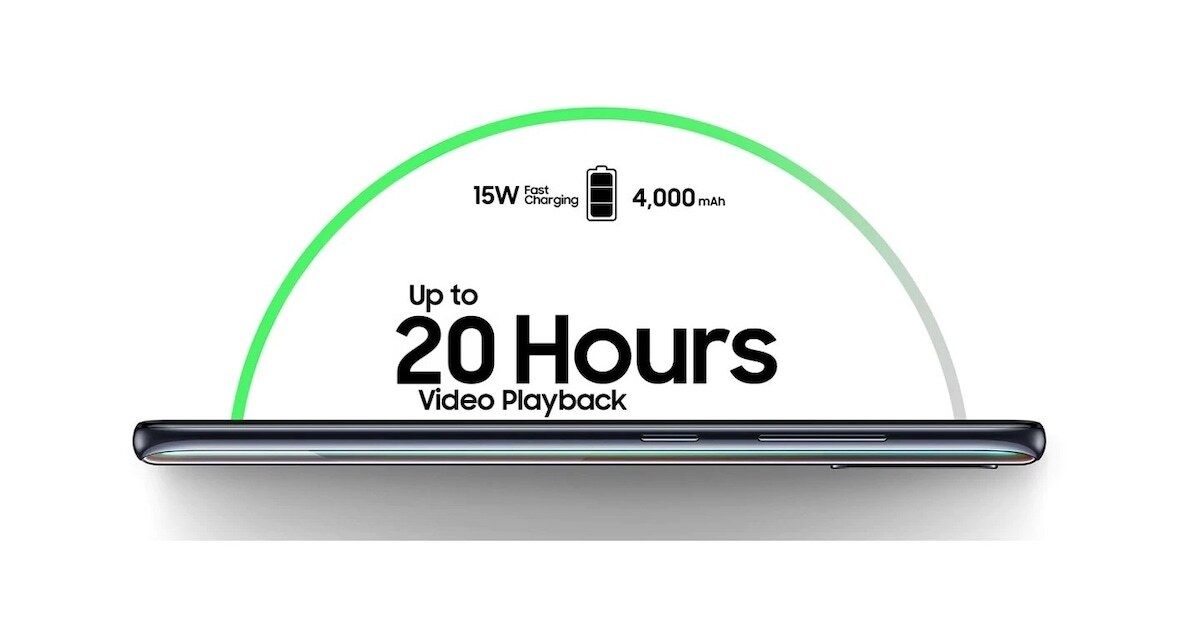 Both smartphones come with 128GB of internal storage, which should be sufficient for most users. However, they also provide you with the option to expand externally via microSD card, which is up to 512GB in the case of the Samsung Galaxy A51.

Moving on to battery, both Galaxy A51 and Oppo F17 Pro once again rank similar when it comes to capacity. While the former has a 4,000mAh unit, the latter has a similar 4,015mAh battery. But beyond the numbers, the Samsung model offers video playback time of as much as 20 hours, making it best-in-class when it comes to battery backup. On the other hand, the Oppo handset has a faster charging speed (30W) than the Samsung smartphone, which comes with support for 15W fast charging.
A host of exclusive features
Apart from sporting top-of-the-line specifications, the Samsung Galaxy A51 has certain exclusive features that give it an extra edge in the mid-range segment. Quick Switch on the Samsung smartphone allows you to create a separate, private space in order to keep personal images, videos, messages, etc, with just a double tap, away from the prying eyes of others. Then, the smartphone also comes with a custom Game Booster feature that takes full advantage of the processor and the RAM to give you the best mobile gaming experience possible.
Similarly, Samsung Pay is one of the most seamless and convenient ways to make payments at retail stores Point of Sale machines in the country. Furthermore, the Samsung Galaxy A51 comes bundled with Samsung Knox, the brand's security suite that ensures your smartphone stays protected from any sort of malware or external access.
These features are exclusive to Samsung smartphones and aimed at improving the smartphone experience of the Indian consumers manifold. Of course, the OppoF17 Pro doesn't offer such a unique user experience customised for the average smartphone user in India.
Bottom Line
Samsung Galaxy A51 seems like the clear winner in this smartphone comparison, because it offers superior hardware when compared with the Oppo model. It has a large Super AMOLED Infinity-O display, a highly capable processor that has been paired with ample RAM, and an enticing camera setup which boasts features like Single Take, Smart Selfie, Switch Camera while recording and Night Hyperlapse. The presence of the smooth One UI software adds the extra oomph to this package, with a ton of great features such as Quick Switch, Game Booster, Knox security, and Samsung Pay!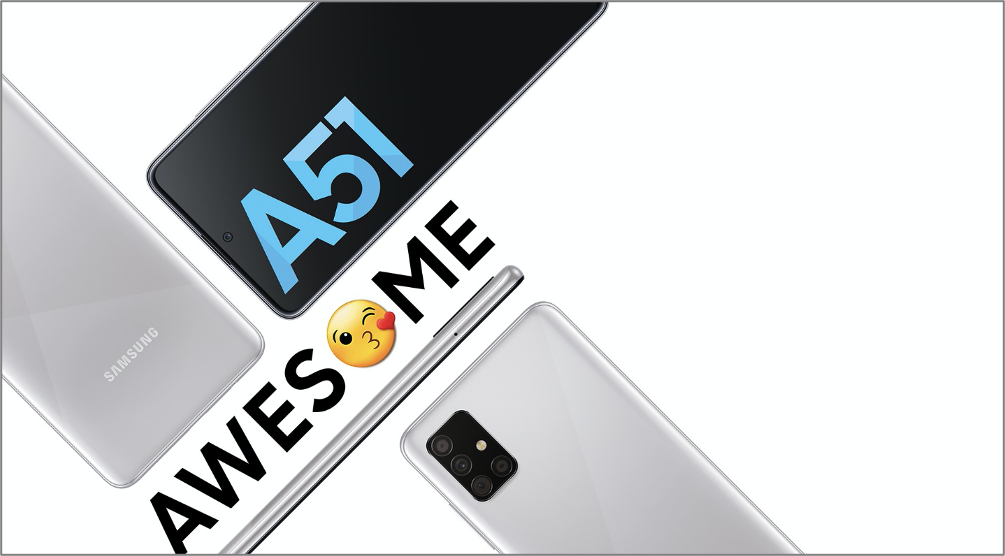 The Samsung Galaxy A51 is priced starting at Rs 22,999 and is available on Samsung.com and most major retail stores and e-commerce players.