"The Galaxy S10 5G lost to Huawei's flagship in the photo test mainly due to the zoom capabilities of the latter"
Huawei's P series devices have gotten so much better at camera performance that each new refresh manages to get top honours on DxOMark. The Huawei P30 Pro (review), which is the latest in the line, also topped the charts in rear camera performance at least, with a score of 112 taking the reins from the Mate 20 Pro (review). Now, the famous benchmark has also put Samsung's Galaxy S10 5G through its paces and, as it turns out, the latest handset from Chaebol has also received the same score – 112. However, there are differences in the way these two heavyweights perform and DxOMark has made that clear in its detailed report.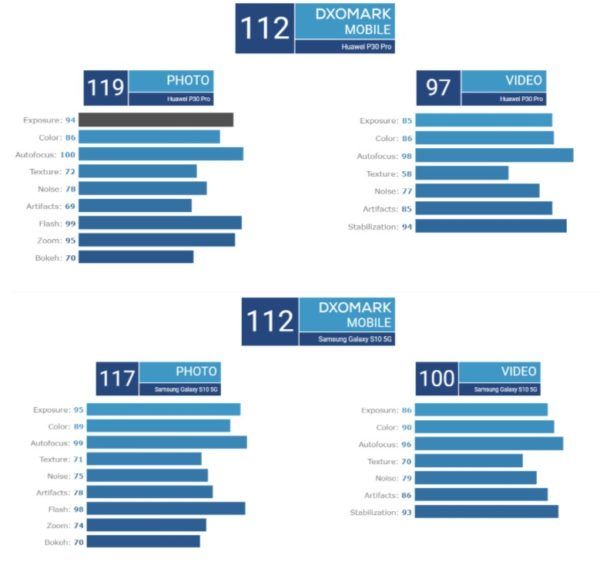 Breaking the score down, the Galaxy S10 5G received a score of 117 in photo quality alone while the P30 Pro beat it with a score of 119. Most of that leading edge is due to the zoom capabilities of the P30 Pro, which are just not present on the Samsung phone. Interestingly, the video test is where Samsung has the upper hand with the Galaxy S10 5G getting 100 points, while the P30 Pro is rated at 97. As you'll see in the image, most of that difference is in the superior noise control and texture rendering capabilities of the S10 5G. This is because the handset captures video at 4K in default mode.
The Huawei P30 Pro also supports 4K video recording but not at 60fps, instead, it has 30fps. It's also worth noting that DxOMark hasn't factored in the ToF sensor in their rating but it's a good feature that buyers should keep in mind. The P30 Pro also lags behind the S10 when it comes to selfie shooting capabilities. The handset recently got a score of 89 points whereas the S10+ leads the line with a 96 point score right now.