"The new Dell G5 is the first desktop in Dell's G series, while Alienware Aurora R9 introduces its new Legend industrial design."
Gamescom 2019 has begun, and alongside all the hot gaming titles getting their world premiere, the week-long annual gaming conference is also playing host to a bunch of gaming PCs, peripherals and other components. Worldwide PC giant Dell is one of the biggest names here, introducing a slew of new products under both the Dell and Alienware brands. The new launches include the first gaming desktop under the Dell G series of products, the Dell G5. This was also accompanied by a Dell gaming monitor.
Under the iconic Alienware brand, the new launches include the Alienware Aurora mid-tower gaming PC and cabinet, which also introduces the all-new Alienware Legend industrial design language. While this itself is noteworthy, the bigger and more striking launch came in the form of the Alienware AW5520QF gaming monitor, bearing a massive, 55-inch display panel. Alienware also introduced three other gaming monitors, and a range of Alienware gaming keyboard and mice — all aimed at hardcore gaming and celebrating the 10th year anniversary of the gaming brand's community efforts, Alienware Arena.
Dell G5 desktop
Beginning with the Dell G5 gaming desktop, the all-new gaming PC takes several cues from Alienware's specialised design language. These bits include aspects such as blue LED lighting and clear window side panels on the PC's cabinet, all of which can be availed with the PC as configurable extras. Moving beyond the cosmetic elements, the gaming performance of the Dell G5 gaming desktop has been kept modular by Dell, giving users the ability to configure the PC with a wide range of components. This also makes the PC upgradable in future, and the design enables tool-less access to the PC's internal components, which should ease the upgrade process.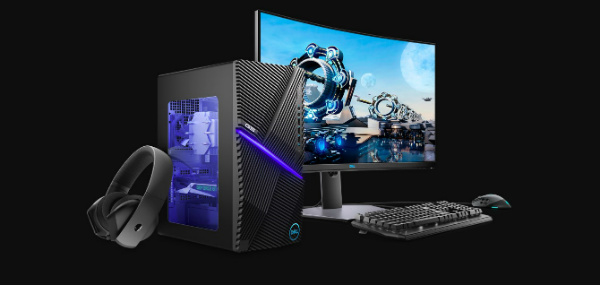 In terms of performance, the Dell G5 gaming PC can be configured with up to 9th generation Intel Core i9 K-series gaming CPUs, while the graphics choices range from NVIDIA's GTX 1660Ti up to RTX cards, as well as graphics workhorses from AMD's stable. The top configurations will also support 2K gaming with G-Sync enabled on display. Alongside the pre-configured RAM and storage options, the Dell G5 features additional PCIe slots inside for adding extra storage or graphics firepower, should a future upgrade be required.
Dell has also added a modular heat management unit, which lets users tweak the thermal management performance — accessible via the software control centre once the PC is booted up. However, the PC does not offer liquid cooling and instead relies on air cooling with thermal pipes, which can be a bit underwhelming, especially in peak configurations. The top variant that can be availed in the Dell G5 PC includes the Intel Core i9-9900K processor, the NVIDIA RTX 2080 graphics card, 64GB DDR4 memory, 1TB PCIe M.2 SSD, and two 2TB HDDs. This, however, would be quite expensive, unfortunately, the pricing details have not yet been disclosed. The basic configuration features 9th generation Intel Core i3-9100, 8GB DDR4 memory, AMD RX 560X 4GB graphics and a single 1TB 7200rpm HDD, prices of which begin at a steep-ish $629 (~Rs 45,000). The Dell G5 desktop is already available in the US, with India launch details awaited as of now.
Alienware Aurora R9 mid-tower gaming PC
Apart from the snazzy new design language, the all-new Alienware Aurora R9 is not radically different from its predecessors in terms of the configuration madness that you can get yourself lost in. For reference, the peak configuration of this sleek, outlandish gaming PC comes with a water-cooled 9th gen Intel Core i9-9900K, 64GB DDR4 HyperX memory, 4TB NVMe SSD storage, and either dual-NVIDIA RTX 2080 or a single RTX 2080Ti graphics solution.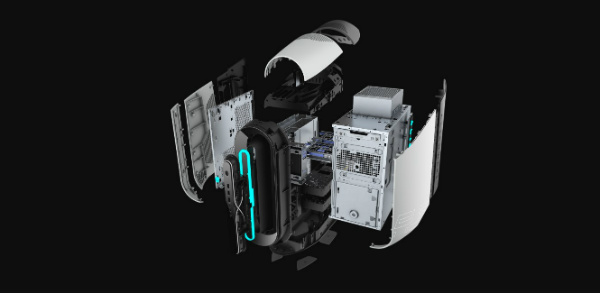 That, though, would come with dizzying price labels for sure, since even the basic configuration — 9th gen Intel Core i5, 8GB DDR4 memory, 1TB magnetic HDD and an NVIDIA GTX 1650 — would cost a cool $969.99 (~Rs 70,000). To be fair, Alienware has always commanded a premium price based on its design and finesse and still managed to build a stable legion of fans and followers across the world, so if this sounds like something down your alley, it certainly qualifies as a "budget" overhaul of the Alienware gaming PC experience.
Like the Dell G5, the Alienware Aurora R9 is also available in the US now, and any launch details for India (along with official pricing) should be released soon.
Alienware, Dell gaming monitors
The undisputed king of the hill here is the headline-stealing Alienware 55-inch UHD gaming monitor. For gaming geeks, the monitor offers a 120Hz variable refresh rate panel even in this massive 55-inch size, along with 0.5ms response time, low input latency, 98.5 percent DCI-P3 colour gamut coverage and AMD Radeon FreeSync to prevent frame tear and interpolation. Given that you'd pay a bomb for this, Alienware has also thrown in a few extra goodies, such as AlienFX ambient LED lighting, an on-screen display control panel for quick access and a remote control for added command.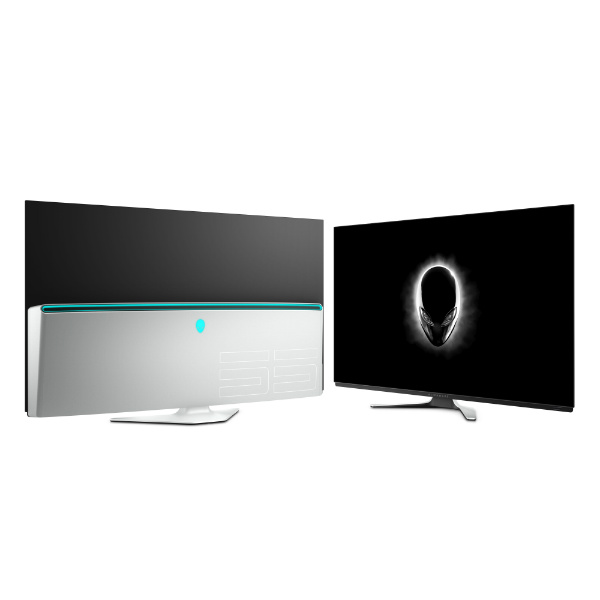 The display also comes with built-in speakers, but Dell's signature Waves MaxxAudio enhancement is not particularly thrilling, so that might not be a really exciting bit. The monitor premieres in the US on September 30th, and if you'd want this at home, be prepared to shell out a staggering $4,000 (~Rs 2,90,000) — a fair bit more than one of Sony's mid-premium range 4K LED BRAVIAs.
Other Alienware monitors announced include a 34-inch curved widescreen QHD 21:9 monitor with NVIDIA G-Sync, available next week in the US at $1,500 (~Rs 1,10,000), and a 27-inch full-HD IPS monitor with AMD FreeSync — to be sold in the US from September 17 at $600 (~Rs 43,000). There is also a fourth monitor, and the only one under the Dell brand — a 32-inch curved QHD IPS monitor with AMD FreeSync, available next week at $600 as well. While we doubt that the flagship Alienware 55-inch monitor would land up in India, local launch details for the rest should be announced in the near future.
Alienware gaming peripherals
In the Alienware gaming keyboards and mice range, the flagship is the AW510K — featuring low-profile Cherry MX Red mechanical keys with full gamer programmable support and per-key RGB LED lighting, priced at $160 (~Rs 11,500). The AW310K, meanwhile, is a pretty solid purchase, featuring standard Cherry MX Red keys, programmable macros and dedicated audio control at $100 (~Rs 7,200).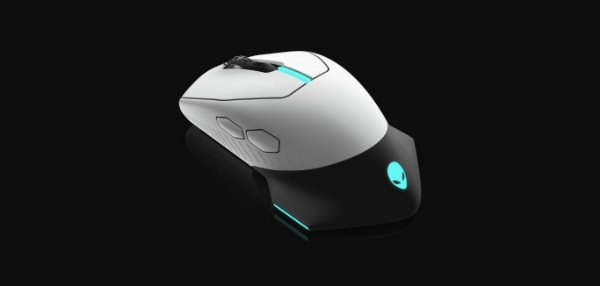 The flagship Alienware AW610M gaming mouse features a 16,000dpi optical sensor, wired/wireless connectivity, 350 gaming-hour battery life, customisable scroll wheel, seven programmable buttons and RGB LED lighting, priced at $100. The other mice include the AW510M wired RGB mouse at $75 (~Rs 5,400) and the wireless AW310M wireless mouse at $63 (~Rs 4,500).