The Information technology research and advisory firm Gartner recently did some study on the changing technology. The firm identified some noticeable changes and reveals 2012 Hype Cycle for Emerging Technologies, as it did last year. According to Gartner's, the Special report for 2012 will provides strategists and planners with an assessment of the maturity, business benefit and future direction of more than 1900 technologies, grouped into 92 areas. Apparently, this report helps individuals and business enterprises in tracking the technologies and provides guidance on when and where to adopt them in their respective businesses. On top of chart, the peak of inflated expectations are Big data, 3D printing, activity streams, Internet TV, Near Field Communication (NFC) payment, cloud computing and media tablets.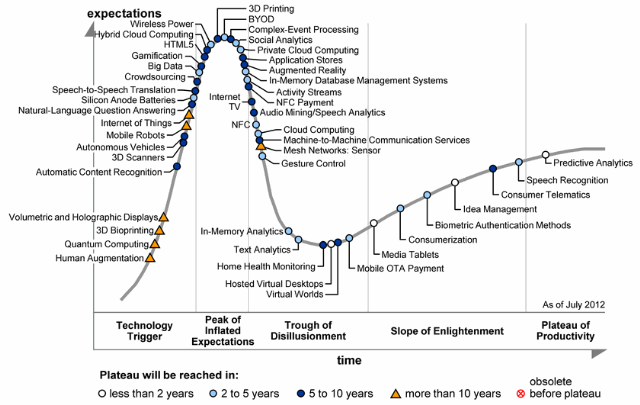 In the recent times, the 3D printing has gained more popularity. The hype was so big that this Additive manufacturing can change the world. Shaping a product from Digital form to solid object state (model) is absolutely an eye-catching technology. Combined with 3D scanning, it may be possible to scan certain objects with a smartphone and print a near-duplicate. Similarly, the NFC (Near-Field-Communication) Payment and Cloud computing can create wonders in the coming years. Related technologies will also impact the payment landscape, albeit more indirectly.
Though the above Hype Cycle presents technologies individually, we can consider looking in groups and identify the capabilities and make a trend analysis. The 'tipping point technologies' referred to each technologies are like once they mature, the scenario can come together from a technology perspective. As we see in the above payment example.
"Gartner's Hype Cycle for Emerging Technologies targets strategic planning, innovation and emerging technology professionals by highlighting a set of technologies that will have broad-ranging impact across the business," said Jackie Fenn, vice president and Gartner fellow. "It is the broadest aggregate Gartner Hype Cycle, featuring technologies that are the focus of attention because of particularly high levels of hype, or those that Gartner believes have the potential for significant impact."
"The theme of this year's Hype Cycle is the concept of tipping points. We are at an interesting moment, a time when many of the scenarios we've been talking about for a long time are almost becoming reality," said Hung LeHong, research vice president at Gartner. "The smarter smartphone is a case in point. It's now possible to look at a smartphone and unlock it via facial recognition, and then talk to it to ask it to find the nearest bank ATM. However, at the same time, we see that the technology is not quite there yet. We might have to remove our glasses for the facial recognition to work, our smartphones don't always understand us when we speak, and the location-sensing technology sometimes has trouble finding us."
For more details on this topic, visit Gartner Special report