As a new member of the range of portable speakers from Genius, Inspan Infotech has announced today the arrival of the SP-i177 Portable Speaker.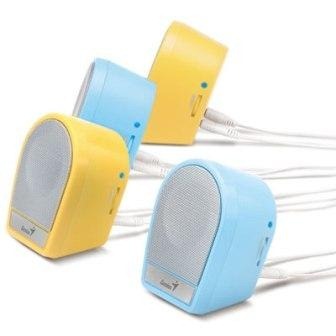 The newly launched Genius SP-i177 speaker uses a digital amplifier of D-class along with a 40mm speaker which the manufacturer claims will assist the unit to achieve a more deep bass sound. The portable speaker from genius also arrives with a built-in Li-ion battery which the company claims to be capable of providing a playback for around 8 hours. This new music enhancer has also got a volume knob for the adjustment of volume.
The SP-i177 portable speaker from Genius can be used with any cell phone, notebook, iPad, iPod, iPhone, CD Player, MP3/MP4 player to hear loud music. One does not need an adapter to connect the portable speaker with the device with which it is being used, as it possesses a 3.5 mm standard jack for audio input. It has also got a link design that allows the user to connect it to other portable speakers in order to listen to loud music even when he/she is on the go.
Genius SP-i177 is available in Sky Blue and Bright Yellow lively color options and comes accompanied by a USB cable for quick charging and a pouch for storage out of the box. It is available with a price tag of Rs. 1,100 with a 1 year warranty. Thus, it may be on the top of your shopping list if you are looking for an affordable audio accessory with portability features.