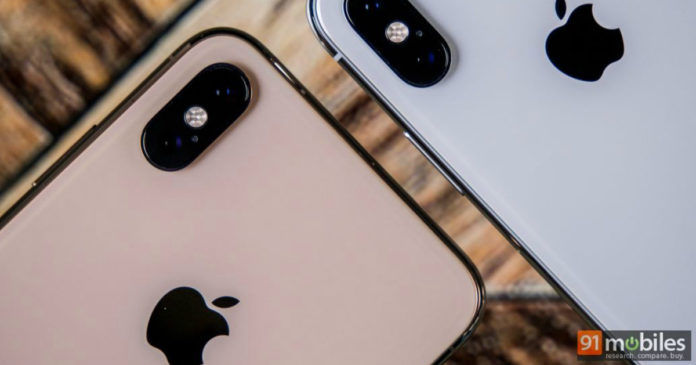 "Apple saw 11.8 percent YoY decline in sales in Q4 2018, while Huawei and OPPO grew as demand for smartphones became stagnant across the world"
Gartner's report on global smartphone sales for the last quarter of 2018 has been released, illustrating the largely stagnant smartphone markets across the world. The report reveals 408.4 million smartphone units being sold to end-users in Q4 2018 — a meagre growth of 0.1 percent over the 407.8 million units sold in Q4 2017. The biggest loser in terms of the leading OEMs, as one would expect given the recent turn of events, was Apple, also followed closely by Samsung.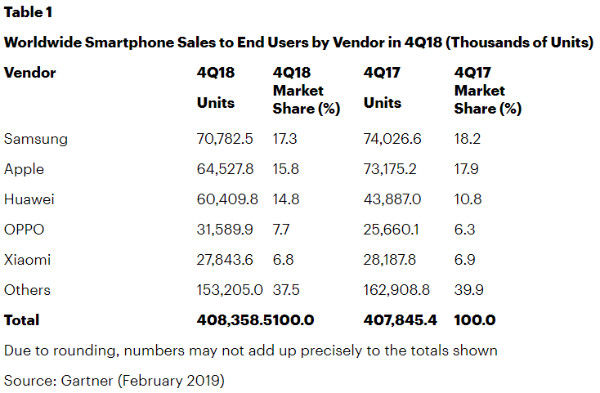 In Q4 2018, Apple registered 64.5 million smartphones sold to users, accounting for 15.8 percent of the total market. In contrast, it had sold 73.2 million smartphones in Q4 2017, which had then accounted for 17.9 percent of all smartphones sold across the world. This represents a decline in sales by 8.6 million units, or 11.8 percent year-on-year decline — a pretty large margin that would have any company concerned with serious intent.
Apple's misfortunes in China have compounded misery on their overall slowdown, coupled with the lack of serious innovation, a sense of stagnation around iPhones and the meteoric pricing of the new iPhones. This has been further added to by a host of leading Chinese OEMs such as Huawei, Xiaomi and OPPO, who have brought out compelling smartphones even in the premium segment, offering a more interesting set of features at a still-lesser cost. The impact is clearly visible in Gartner's report.
In Q4 2018, Huawei sold 60.4 million smartphones across the world, a staggering 37.6 percent YoY increase over the 43.9 million units it had sold in Q4 2017. This saw it take up 14.8 percent market share in the last quarter of 2018. OPPO ranked fourth among OEMs for the quarter, selling 31.6 million units to seize 7.7 percent of the market — a rise of 5.9 million units (23 percent) YoY. Xiaomi, meanwhile, held on to its fifth position in the market with 27.8 million units sold, despite registering a decline of 400,000 units (1.4 percent YoY).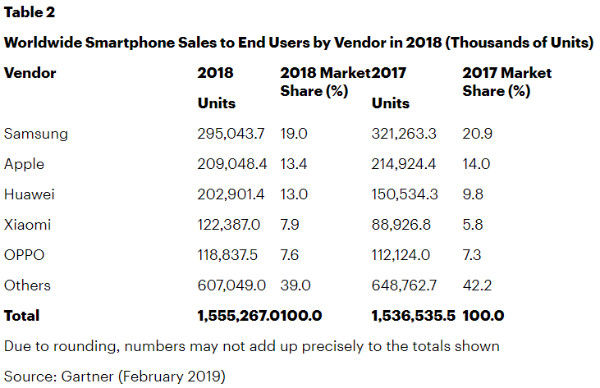 The smartphone sales figures show a similar picture in terms of 2018's overall global sales. Despite an 8.2 percent decline, Samsung still held on to the position of the world's biggest smartphone vendor, selling 295 million units and seizing 19 percent of the market. Apple ranked second with sales of 209.1 million units and 13.4 percent share of the market, an overall decline of 2.7 percent from its 2017 performance. While Huawei is still third in the global market, it is now much closer to Apple, having sold 202.9 million units and captured 13 percent of the market. In contrast, it had sold 150.5 million units and captured 9.8 percent of the market in 2017. Xiaomi leapfrogged OPPO into fourth place with 7.9 percent of the market, while OPPO itself is almost neck-to-neck with Xiaomi with 7.6 percent of the market.
It remains to be seen how the likes of Apple and Samsung react to the market in 2019. Samsung has shown major intent with its latest flagship devices launched a couple of days ago, while Apple will also hope to do the same in a bid to revive its hardware fortunes.