"Apple and Samsung both saw a decline in smartphone sales as demand for premium smartphones was lower than expected"
A new report from Gartner states that the global smartphone sales in Q1 2019 has declined by 2.7 percent compared to the last quarter. A total of 373 million smartphones were sold to end users during the first quarter of 2019. Samsung maintained the lead in the global market share, and Huawei managed to stay in second place. Despite not having a presence in the US, Huawei has been slowly increasing its market share globally.
Apple managed to grab on to the third spot on the list, but still saw a decline in sales. It sold about 44.6 million units in the first quarter of the year, which was a 17.6 percent decline compared to last year Q1. As per the report, consumers are still not very interested in premium smartphones — The demand for premium devices was lower than that of basic mid-range smartphones. This will affect big brands such as Apple, whose only business is selling premium $1,000 smartphones. Even Samsung was affected by the lower-than-expected demand and saw an 8.8 percent decline in smartphone sales.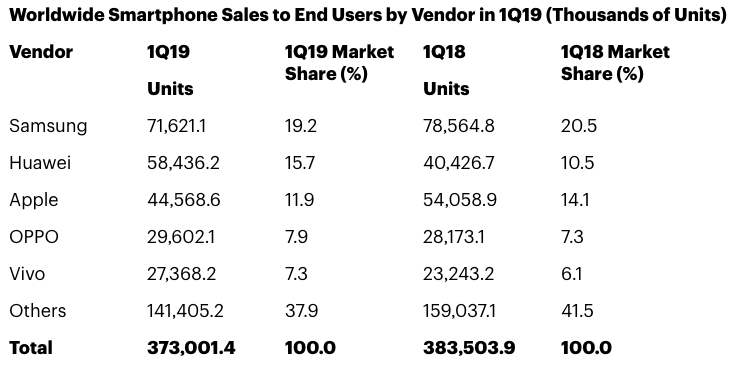 In Q1 2019, Samsung had a market share of 19.2 percent, which was lower than its market share in the same quarter last year. Brands such as Huawei, OPPO, Vivo and Xiaomi were the only ones to see a growth in market share compared to last year. Huawei sold a total of about 58.4 million devices in the quarter. Smartphone sales in the US during Q1 2019 saw a decline of 15.8 percent, while China saw a 3.2 percent decline.
The report states that the price cut for iPhones did help in improving the demand, but it wasn't enough to see growth in this quartesr. Apple users aren't motivated enough to buy a newer iPhone as there isn't much innovation. The latest iPhone XS and iPhone XS Max aren't selling as well as the iPhone X, and people with the iPhone X aren't upgrading. And if they are, customers are choosing brands that offer similar features for lesser price. Chinese brands are giving tough competition to Apple and Samsung. They offer bezel-less displays, pop-up cameras, in-display fingerprint scanners, fast charging, and more for about half the price.