"According to IDC, the advent of 5G and new, quirky form factors like foldable phones and in-display cameras will boost shipments in 2019 and onwards"
Latest data from IDC's Worldwide Quarterly Mobile Phone Tracker has revealed that global shipments of smartphones in 2018 will decline by about 3 percent year-on-year. The slump in shipment and sales is being projected ahead of growth forecast for the year 2019, through 2022. However, the rate of growth of phone shipments is slated to remain slim, and IDC forecasts state that it will remain in the low single-digits.

Among reasons contributing to the growth in steadily saturating markets, IDC states that the influx of development in mobile technologies, the rise of 5G networks and the increasing amount of unique form factors and design elements in smartphones will contribute to overall growth, despite the ongoing US-China trade war impacting certain sectors. Against the overall 2017 figure of 1.47 billion for smartphones shipments, 2018 is expected to see a total of 1.42 billion smartphone units shipped — a drop of 3 percent in total shipments.
In 2019, IDC expects a growth of 2.6 percent in 2019, and the growth rate will remain considerably linear through 2022. By then, IDC estimates total shipment of 1.57 billion smartphones. China, the world's largest smartphone market that represented 30 percent of all smartphones shipped despite a sizeable drop, has been forecast to decline in shipment numbers by 8.8 percent in 2018. IDC's report states that shipments will largely remain flat through 2019, eventually turning towards growth by 2022. The US, too, is expected to recover, with IDC projecting 2.1 percent growth in shipments in 2019.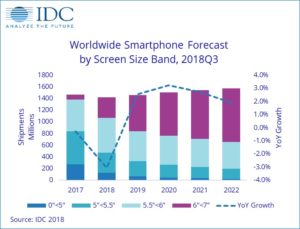 Melissa Chau, associate research director at IDC's Worldwide Quarterly Mobile Phone Tracker said, "What we consider a so-called normal size smartphone has shifted dramatically in a few short years and while we are stretching the limits with bezel-less devices, the next big switch to flexible screens will test our imaginations even further. While this category of device is still nascent and won't see major adoption in the year ahead, it's exciting to see changes to the standard monoblock we are all so used to carrying."
As for the divide between devices, Android's market share of shipments have remained largely flat at 85 percent, with a higher projected growth going forward. For iPhones, however, the rise in the average selling price of a device has accounted for a projected 2.5 percent decline in 2018 and growth projections going forward remain very slim.