"Dynamic email basically makes emails more interactive in Gmail"
Earlier this year, Google introduced a new feature called dynamic email for Gmail users. Till now, the new function has been available to Google's G Suite subscribers and on the desktop version of Gmail. Today, the company has finally started rolling out the dynamic Gmail feature to all users of the emailing service. It basically makes emails more interactive in Gmail. The central idea behind the new functionality is to let you do more from one tab in Gmail by eliminating the need of switching to multiple tabs.
As per Google, with the new feature, your emails stay up to date so you're always seeing the latest information. The functionality lets you take actions directly from within an email, like RSVP-ing to an event, filling a form, browsing a catalogue, or responding to a comment. Take commenting in Google Docs instead of getting an individual email notification whenever someone mentions you in a comment, you will find an up-to-date thread. So you can easily reply to a comment, right within the email.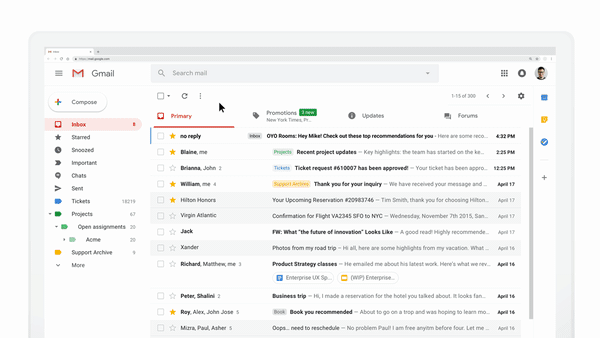 With dynamic email, you will be able to browse recommended hotels from OYO Room, and view their details in just a few clicks right in the email, instead of opening a new tab. You can respond to a meeting without opening another website. Notably, apart from these, other businesses like Booking.com, Freshworks, redBus, and more have started utilising dynamic email to make their user's email more interactive.
Google has announced that dynamic email for Gmail has been rolled out gradually, so you may not find the feature right away. The search titan has also mentioned that it could take up to 15 days for the new function to appear for you.