"Dark theme will be available to devices running Android 10 and iOS 11 or above"
After initial testing, Google has started rolling out a Dark theme to Gmail for both Android and iOS devices. The theme will be available to all devices running Android 10 and iOS 11 or above. Gmail for Android will automatically switch to the dark theme based on the system default setting – users will also have the option to manually change the theme by going to Settings > Theme and selecting "Dark." Gmail for iPhones, on the other hand, has a similar procedure, but only for handsets running iOS 13. Customers with iPhones running iOS 11 or 12 will have to enable Dark theme by going to Settings > Dark Theme.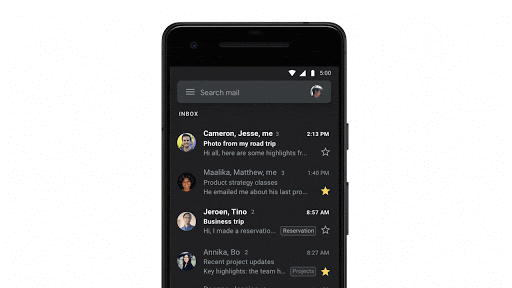 Google says that the update is being pushed out to the end-users and in the next 15 days, all users will be able to access the feature. The dark theme can be enabled/ disabled within the respective Gmail app settings and is available to all G Suite editions as well. "Earlier this year, we launched the new Gmail on mobile to help you get things done quickly, such as viewing attachments or searching for a specific email. We're further enhancing the Gmail experience on Android and iOS devices by introducing dark theme support," the company said in its blog.
In related news, Gmail for G Suite recently received a new feature that is said to proofread the emails you draft for all the spelling and grammatical mistakes. The feature will show the errors in real-time and Gmail will autocorrect them if the spelling mistake. Users will get inline spelling and contextual grammar suggestions in their draft emails as they type. Gmail will also throw suggestions for every incorrect sentence or word. The spell-check and grammar correction features will be on by default and can be disabled individually from the settings.