Highlights
Taiwanese EV maker Gogoro along with Indian startup Zypp Electric has launched a pilot project in India
The project aims to test battery-swapping technology in the country for B2B applications
The project commences in December 2022 across six Indian cities
Taiwanese EV maker Gogoro along with an Indian startup, Zypp Electric, yesterday announced a pilot study project on battery swapping applications in India. Gogoro also previewed its electric scooters which may be launched in India shortly. The project will be conducted across Gurugram, Delhi, Noida, Bengaluru, Faridabad, and Ghaziabad and will utilise Gogoro's tried and tested e-scooters to achieve the same. This marks the entry of Taiwan's largest EV two-wheeler maker in India.

Gogoro could also introduce its electric scooter lineup in the Indian market for private buyers later given that the scooters carry a premium value quotient. Gogoro could later introduce its Gogoro S1 and Gogoro Viva e-scooters in India.
Gogoro electric scooters in India
Gogoro will primarily look at B2B relations and will analyse the feasibility of an EV-as-a-service platform for last-mile deliveries. The tests will begin in December 2022 starting with NCR. The test scooters will be equipped with 1.6kWh Gogoro Smart Batteries and will be swapped and charged at Gogoro Network GoStations. The rider is expected to stop by at such a station when the battery runs out of charge and swap it out for a charged unit at the station. This reduces the effective charge turnaround time to just 6 seconds according to the company.
At first, the company will deploy about 100 scooters per 6 stations and will analyse the data that it collects during the process to develop a course for further expansion. The battery charging cradles are modular and can be expanded to accommodate a larger number of batteries depending upon requirements. The charging stations will also have an electricity backup time of 64 hours to protect their functioning in case of a power outage.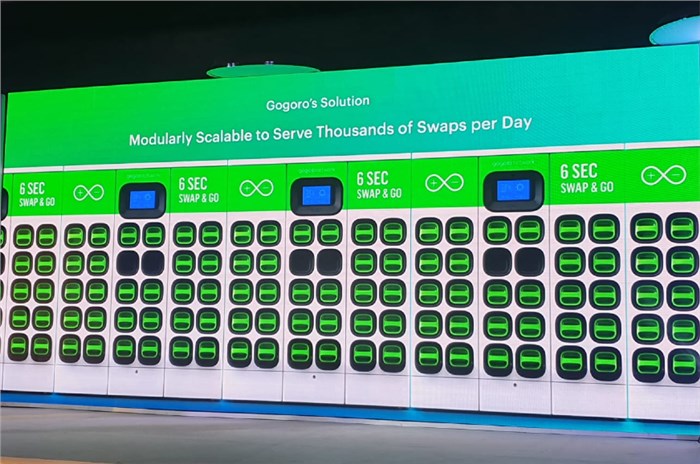 While a timeline for public launch has yet not been disclosed, what is reassuring is that Gogoro is aiming for high levels of localisation to keep the economics in check. The company has also partnered with Foxconn to develop and manufacture some its components with monetary investments already underway.