"Google's new Camera Go app offers a simple user interface and the ability to capture portrait photos on entry-level Android Go phones"
While HMD Global was announcing a slew of new phones including the Nokia 1.3 Android Go smartphone, Google quietly launched its Camera Go app. How are the two related? Well, the Camera Go app is a new and improved camera app designed for Android Go smartphones such as the Nokia 1.3. Android Go, as you may be aware, is a stripped down version of Android made for entry-level smartphones, and Google has launched apps like YouTube Go, Gmail Go, Maps Go and so on in the past that are optimised to run smoothly on such entry-level phones. Google has now announced the Camera Go app that touts a simple and clutter-free interface. It'll be deeply integrated into the phone's camera module, with an ability to click portrait images. The Camera Go app will be available on the Nokia 1.3 and more Android (Go edition) devices soon.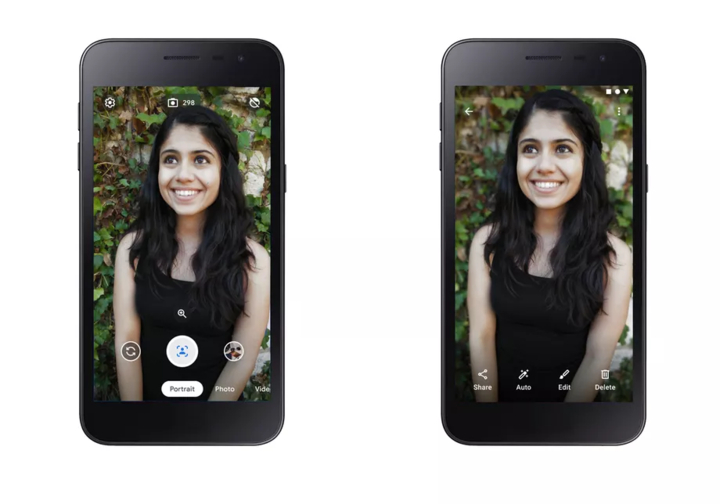 "Camera Go is deeply integrated into the phone's operating system, and is not just photo filtering on top," explains Arpit Midha a lead product manager for Android. The app will bring the ability to shoot portrait photos on entry-level devices. It's also said to track phone's storage, inform users how many photos or video storage space is left and suggest ways to clear space. "That's a first in this class of devices," says Midha. "It democratizes photography for the entry-level."
Additionally, Google announced that its Android Go, which was announced a couple of years ago, has reached over 100 million monthly active users. The software is a stripped-down version of Android designed to run on inexpensive devices with the lowest powered chipset and mediocre RAM. "Our goal for Android (Go Edition) is to bring the best mobile computing experience to our users based on their local interest, needs, and context," added Midha.
Nokia 1.3 specifications
The Nokia 1.3, to recall, is an Android (Go edition) smartphone. It ships with a 5.7-inch HD+ display with 1,520 x 720 pixels resolution and a 1.3GHz quad-core Qualcomm Snapdragon 215 processor coupled with 1GB RAM and 16GB internal storage. The handset rocks an 8MP rear camera with dual-LED flash and a 5MP selfie shooter on the front. It measures 147.3 x 71.2 x 9.4 mm and weighs 155 grams. The Nokia 1.3 price is set at EUR 109 (approx Rs 8,800) and it will be available from April 6th in European markets. There is no word yet on the Nokia 1.3 price and availability in India.