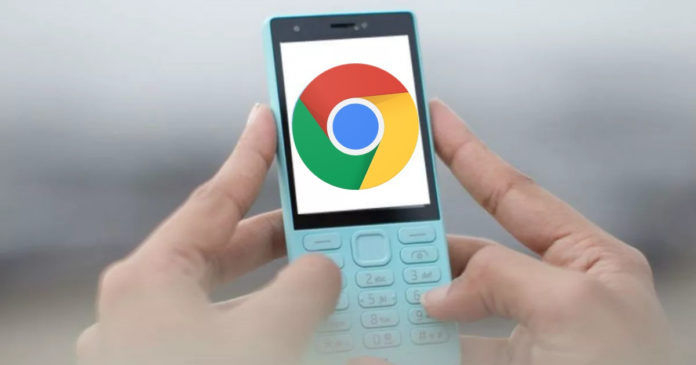 "This version of Chrome browser will work on a new version of Android Oreo that's designed for feature phones"
Google is reportedly working on a Chrome browser for feature phones, which do not have a touchscreen. 9to5Google has managed to find some screenshots that showcase the new browser. This isn't the first time that such a version of Chrome has surfaced online. The new discovery also confirms that Chrome browser is being developed for a new version of Android Oreo.
Smart features phones is a growing market and most manufacturers ship their devices with KaiOS. However, Google working on a 'touchless' version of Chrome could mean that the company is building an Android version meant for feature phones. Not sure if that would be a good idea, since Google and KaiOS are already partners. Anyway, let's take a look at the all new version of Chrome for feature phones.
A recent commit for this version of Chrome contained new screenshots that showcased the design of the app. While these screenshots are no longer available online, 9to5Google did manage to save one of them. As you can see from the above image, the Chrome browser features a redesigned New Tab page. Also seen, is the All Apps section with suggested articles below it. The All Apps sections features shortcuts to recently visited websites.
In the top left corner, you will also see the Android System notification for Android 8.1 Oreo. This means that this version of Chrome is running on Android Oreo, but it doesn't appear to be regular Oreo or even the GO edition. Google has already updated the Android Go version to Android 9.0 Pie, so it is strange that the company has built this app for an older OS. As mentioned earlier, it could be possible that Google might ship a custom version of Android Oreo that is meant only for feature phones. This OS could include apps such as Chrome, YouTube Lite, Maps and others. Google's I/O conference is scheduled for May 7th, and we could see an announcement for Chrome for feature phones at the event.