"The new integrations are aimed at making the Hangouts platform more efficient in the facing of rising competition from official chat apps."
Google is reportedly set to roll out new features to its Hangouts messaging platform, whose present avatar is set to go into retirement this October. As a result, the new, revamped Hangouts is set to keep integrating new features. It begins with Hangouts Chat, which will get integration of features similar to what we have already seen in the Hangouts chat window, integrated into the G-Suite.
Going forward, Hangouts Chat will see closer integration with Gmail, which adds a host of functionality and features into the service. It will be seen in the same position as the previous Hangouts messaging service, and now include separate features options for People, Rooms, and Bots — three sections that serve self-explanatory functions. Rooms essentially work as chat rooms, opening up into a full view of the chat windows by replacing the area where emails would be conventionally situated. In the expanded view, the most beneficial bit are group conversations, which will apparently not feel as claustrophobic as before. It will also give users more room for threaded conversations, and thereby facilitate easier work conversations through the new interface. Personal chats will still open up as the small pop-out windows at the bottom edge of the display. However, just like before, they too can also be expanded into a larger window, for easier chats.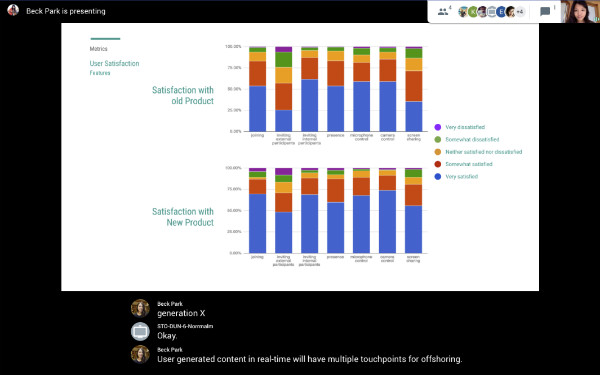 In terms of Hangouts Meet, which can become an essential conversation tool for presentations and live streams. One of the biggest new additions that are said to be coming up is the live captioning feature, which makes use of Google's speech recognition capabilities to aid audio-visual disabilities. This will seemingly allow every user with any form of disability, along with users who do not natively speak English, to follow a press conference with more convenience. Furthermore, Meet will reportedly allow public live streams, making it easier for tasks such as shareholder broadcasts in small and medium organisations. Up to 1,00,000 people will be able to join the stream, while another improvement to Meet will allow video conferencing with up to 250 people — yet another useful tool for organisation-wide communicability and remote, off-campus operations.
The new features to Hangouts are expected to be rolled out soon, and the new avatar of Hangouts is already available in beta, to G-Suite subscribers who have signed up to be a part of the beta development. With the new service, Hangouts aims to be a direct rival to apps such as Slack and Asana, and increase the utilitarian appeal, while making the most of Google's minimal, Material Design philosophy in its interface.