"The Hangouts Chat icon is likely to appear alongside Calendar, Keep, and Tasks"
Google refreshed its Gmail for web last year with a new design and a bunch of other features such as the quick-access side panel. The panel gives users quick access to widgets for Calendar, Keep, and Tasks. It has since been added to G Suite apps like Drive and Docs. And now, Google seems to be working on a new widget for Hangouts Chat for the side panel.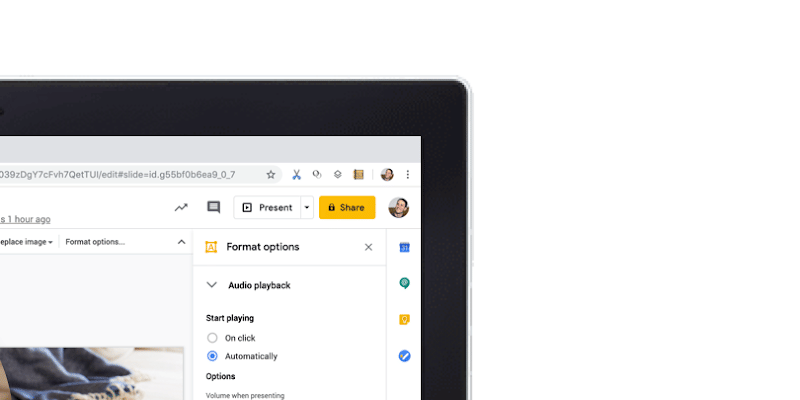 The G Suite blog, while announcing the MP3 and Wav audio support for Google Slides, has spilled the beans on Google's plan for Hangouts integration. A screenshot included with the announcement inadvertently reveals the functionality of the chat icon on the side panel, which is not currently available. As seen from the image (above), the Hangouts appear alongside Calendar, Keep, and Tasks on the side pane. Google seems to be testing the feature internally as of now, with a possible roll out for the public in the near future.
It's worth mentioning that Gmail already has Google chats (the now defunct GTalk) integration on sidebar online. Users can see a list of conversations, start new ones, and open several chat windows at the bottom of their screen. Although the feature is conveniently placed, Google may shift it to Gmail's quick-access side panel for a uniform look across the services. The side panel has been designed to give users "quick access to other G Suite products without leaving what you're working on." Speculations are Google could announce the new Hangouts chat integration from the sets of Cloud Next developer conference next week.