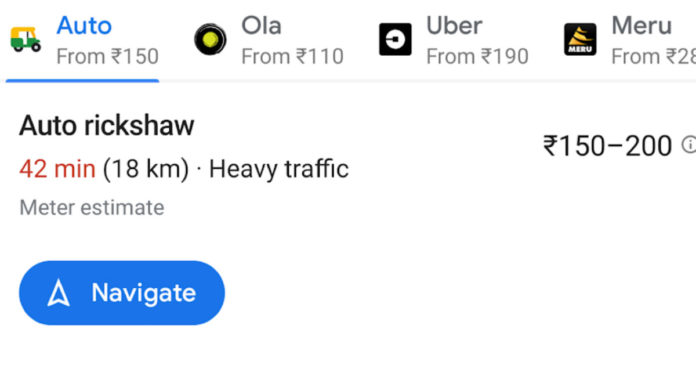 "The addition of auto rides on Google Maps will not only show likely routes with shortest transit times, but also display an indicative fare for the journey"
Google has added a new feature in Google Maps for Android to support for auto rickshaw rides in the Delhi area. The feature is already available for access now and is a part of the v10.6 update to Google Maps for Android. While Google Maps for iOS has not been given auto rickshaw ride support now, although the company may roll it out for iPhones and iPad at some point in the future.
The feature is a part of Google Maps' public transit options, and will show up once a user checks for the various commuting options between two locations. The public transit options show a user the number of conveyance options available as a standalone method or in combination with each other, the total time taken in each route, and the possible amount of fare that might be charged.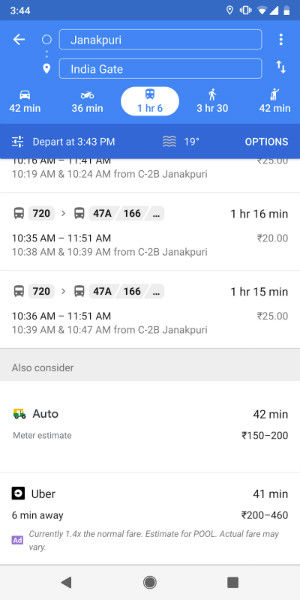 The options right now include bus routes, local trains, metro trains, and the multiple cab rental services, including Uber, Olacabs, and others. The move will be a welcome one for all commuters in Delhi using public transport to reach their workplaces. While many use auto rickshaws, the lack of metered journeys mean constant bargaining and overcharging by the auto rickshaw drivers. Google has used the official auto rickshaw fare model laid out by Delhi Police to calculate rough fares per trip, and this will help new commuters in the city to travel wisely and prevent paying significantly more fares.
While such problems persist everywhere in varying proportions, New Delhi is particularly reliant on auto rickshaws, which do not comply to the metered fare and instead quote a fixed fare of their own choosing. The update is now being rolled out only in Delhi, although it is not yet clear if the area of coverage will also include the National Capital Region areas of Noida, Gurugram, Faridabad, and Ghaziabad as well.