"The Street View feature in Google Maps gives additional street info directly in the Maps feed, but it is not sanctioned in India on grounds of security"
Google Maps for Android just got a bit better, bringing to the already excellent location, mapping and navigation service an added layer of street sights recorded by Google's navigation car. While this can help local exploration enthusiasts to gain insights on places before visiting them, the feature is unfortunately not sanctioned to work in India. Nevertheless, users across the world should be receiving the update, and 91mobiles can confirm that the feature has rolled out to many users in India as well.
In 2016, the proposition to set up the Google Street View network in India was vetoed by the Indian government, citing issues of national security. Hence, despite making initial appearances, Google's iconic apparatus fitted cars were never seen in India, and Street View could never officially launch in India. Google Street View offers a processed real world feed of particular lanes and/or buildings in 3D static images. This allows users to see how a particular place looks like, and choose to visit it accordingly. More than regular usage, Street View can be particularly useful for touring cities that one may not have ever visited before.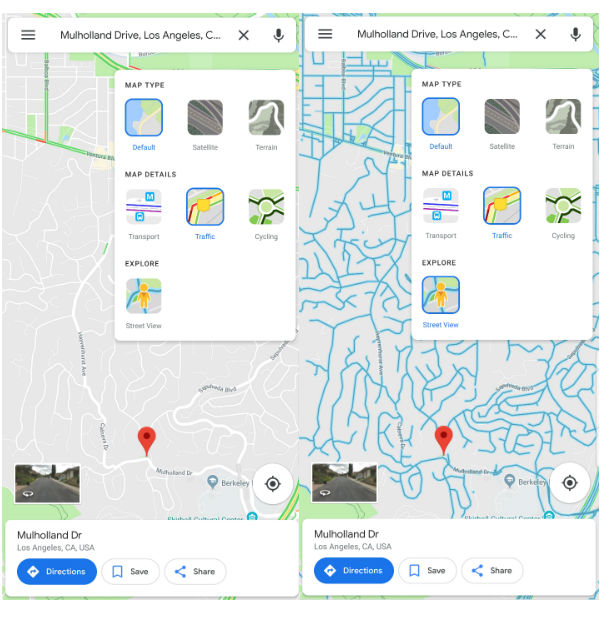 Alongside the standalone app for the service, Google Street View can now be accessed directly through the Google Maps app. To use Street View, users are required to tap on the three-tile icon inside the app, which is placed below the right edge of the search bar. Tapping on it brings out the various views that can be formatted on Google Maps. Alongside the options for choosing terrain view and live traffic information, 'Street View' can be seen at the bottom of the panel. Given that streets in India show no difference with Street View switched on, one good way to check whether your Google Maps app for Android has received the update is to select any location in a nation that allows Street View, such as USA.
Google Maps has steadily grown in popularity to become the de facto navigation app for most smartphone users, including even on iOS. With its new set of features, Google is attempting to keep its lead in the navigation industry intact. Rivals such as Apple, while having improved their products, are placed quite far behind Google Maps in terms of daily active users, and given the diversity of features on Google's platform, the lead looks likely to continue.