"The Google Maps app now lets you compare fare from various cab hailing services"
Google has updated the Google Maps app with support for fare estimates and pickup times from more cab hailing services. Expanding upon a partnership with Uber that was already in place since November 2014, Google has added more ride services to the Maps app – Ola Cabs in India, 99Taxis in Brazil, Hailo in the UK and Spain, mytaxi in Germany and Spain, and Gett in the UK.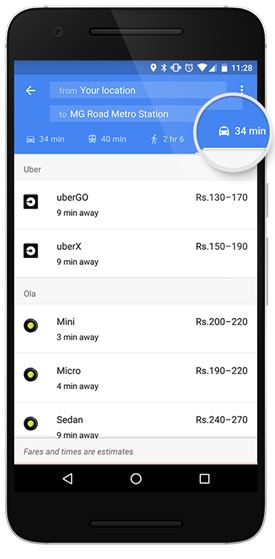 The updated Maps app shows a new fourth tab – ride sharing. In this tab, when you enter a destination and choose how best to get there, the app will show you ride options from the aforementioned taxi services .
In the new ride hailing tab in the Google Maps app, you'll see fare estimate for each service that's available in your area as well as the ETA for your pickup provided you have the respective apps installed on your phone. Tapping on one of the options in the tab will directly open the respective app. This update is being rolled out on Android starting today, and should soon reach iOS as well.