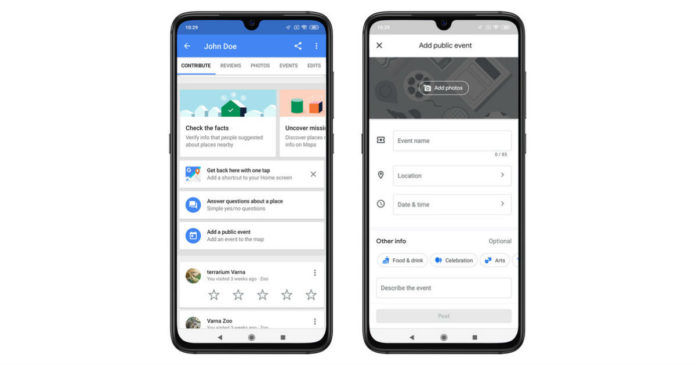 "The ability to add temporary public events on Google Maps can be a powerful tool for independent performers, but has a potential risk of misuse"
A new Google Maps feature is being seemingly rolled out to users in phases, as per reports across the internet. Alongside place and navigation reviews, the new feature will allow users to create public events, which will appear on the Maps app. This would be a pretty neat move by Google in its bid to make its navigation software more powerful and flexible.
As noticed by SlashGear, the update allows you to create public events of any kind, similar to how users would create events on Facebook. The feature can be accessed from the 'Your Contributions' tab on Google Maps and users will be able to see a new tab for 'Events' in this section. Tapping on it will show all the past events that you have created as well as giving you the option to create a new event from this page. This will take you to the subsequent event creation page, from where you can add details about your event and publish it on Google Maps.
Once created, the event will show up alongside all standards locations, landmarks, and places of interest that have been pre-existent on Google Maps. It will be visible to anyone who accesses that particular region and expire from public view once the event is over. Users will also be able to delete any event that may have been created wrongly, or with errors. However, PhoneArena notes that the ability to delete a created event does not appear to be present for the version that they tested.
We, meanwhile, could not find it on either of our Android or iOS devices. It is likely that Google is undertaking a phased rollout of this feature and, right now, only a few users on Android devices have access to it. While we eventually expect both iOS and PC versions of Maps to get this feature, Google will have its task cut out to manage the feature efficiently. The ability to create public events can be a powerful tool for content creators and independent performers to gather a crowd and flaunt their work in public.
However, it also gives the possibility of misuse by individuals with vile intentions. It is probably because of this that Google is selectively making the feature available to users right now, prior to it being rolled out globally. Such a tool can have socio-political and security implications and Google will need to tread carefully regarding introducing this feature to the public.