"Google will now become a subsidiary of Alphabet and will continue to operate as a separate entity"
In a post on Google's official blog, Larry Page has announced that Google as we know it has undergone some major restructuring. Page, along with Sergey Brin, have formed a new holding company called Alphabet. While Page moves from being Google's CEO to Alphabet's CEO, Brin has taken over the role of Alphabet's President. Google will become a separate identity functioning under Alphabet, comprising of of services like Search, Ads, Maps, Apps, Android, YouTube, etc, and will be headed by none other than Sundar Pichai, formerly Senior Vice President of Android, Chrome and Apps.


.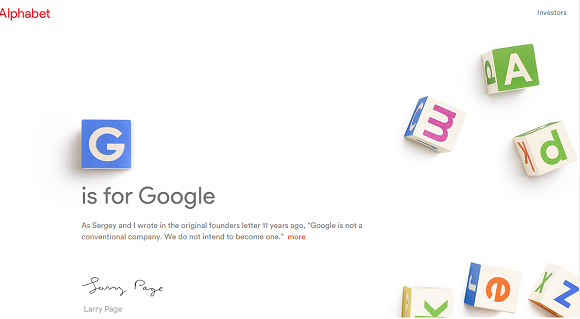 The move has come into effect in order to streamline Google's various businesses under a single umbrella brand. All of Google's other businesses will now operate as separate entities under Alphabet, including Nest, Calico, Sidewalk, Capital and Ventures. All the shares of Google will now become equivalent to those of Alphabet and the shareholders will get the same rights as they did in Google. We expect more announcements regarding Google's subsidiaries in the near future.
Contrary to popular belief, Alphabet's new home on the web isn't alphabet.com, but abc.xyz.