"New hardware sets from Logitech and Acer will offer improved solutions for Hangout Meet so that it can offer a healthy and successful video conferencing experience on an enterprise level."
Google has announced new partnerships to foster creativity in Hangout Meet, which would bring more options to make this solution better. The software giant is making collaborations with Logitech and Acer to fulfil the hardware requirements of the Meet. Logitech would help Google to develop a portfolio of pre-configured video solutions for Hangout Meet, whereas Acer would introduce a device specifically designed for the software.
Google Hangouts Meet was launched back in 2017 as a relaunched version of Hangouts to focus more on business people to have face-to-face meetings. In the same year, Google introduced a dedicated hardware solution to simplify the video conferencing.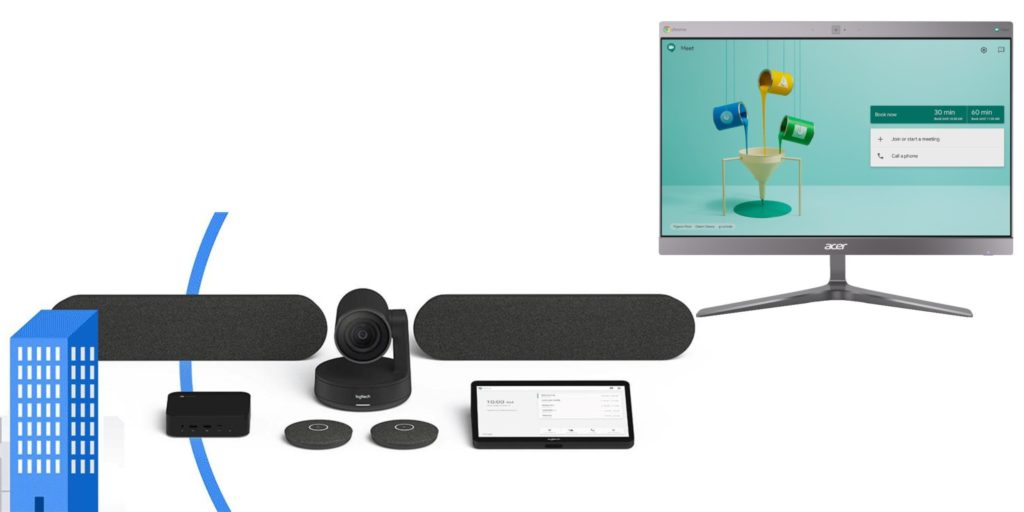 The current hardware package is powered by Chrome OS and includes a speaker mic, 4K camera sensor and ASUS chrome box. It also has a touchscreen controller to make it simpler than the previously launched remote solution.
Now, Logitech would offer three new bundles for different numbers of people and include the pre-configured chrome box, touch screen controller and the conference camera. The Huddle room bundle, which is ideal for two to four people would be provided with a Logitech Meetup camera with microphones and speakers. The medium one is ideal for more than six people and would come with a Logitech Rally soundbar, mic pods and a Rally Camera. The last but not the least, the Large room bundle could provide the solution for more than 12 people and would be offered with two soundbars and two mic pods. The Huddle room bundle comes with the price tag of $3,000 (roughly Rs 2,15,115) and would be launched in spring.
Meanwhile, Acer would introduce a 24-inch all-in-one device called Acer Chromebase for Meetings 24V2. The device would come with a wide 100-degree field of view camera, which could be used for 1-2 person huddle rooms and video phone booths. It would be equipped with an extra USB-C port to make things better. The Acer Chromebase for Meetings 24V2 could be purchased from this summer at the price of $999 (roughly Rs 71,633).