Highlights
Google Photos will no longer offer free unlimited storage after June 1st, 2021
The company will start charging for storage after the free 15GB account storage
Photos and documents that are uploaded before June 1st will not be counted against the 15GB space
Google Photos has allowed users to upload unlimited free photos at 'high-quality' for the past five years, but things will change come June 1st, 2021. The company announced on Wednesday that all new photos and videos backed up in high quality will count toward the free 15 GB of storage that comes with your Google Account. This comes with other Google Drive policy changes such as counting Google Workspace documents and spreadsheets in the same storage cap.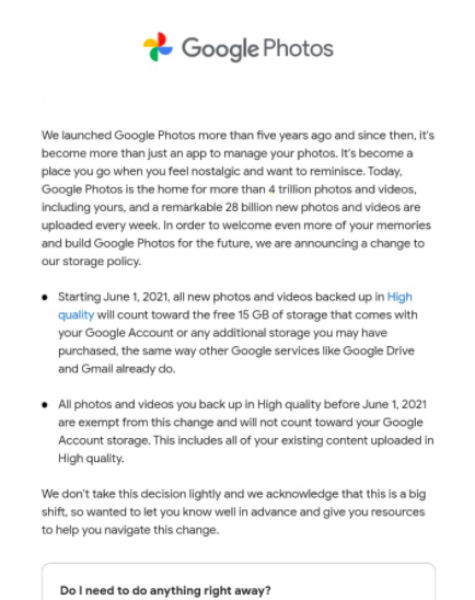 Should you worry about Google's new storage policy?
All photos and documents that are uploaded before June 1st, 2021 are not accounted for against the 15GB space, so you don't have to worry about your existing backup. Basically, you can continue to use Google Photos to back up as many high-quality photos and videos as needed. Google will reach out to users after June 1st, 2021 to remind them that they're nearing their storage limit.
Google says that it offers more free storage than the competition, including iCloud that gives just 5GB free cloud storage, and the company also claims that over 80 percent of Google Photos users won't hit the 15GB cap for at least three years. Google is also including new storage management tools into Google Photos, including ones that make it easier to find and delete photos. The company will also show estimates of how much longer a storage tier will last in terms of time instead of gigabytes.
However, Google mentions that it plans to delete data from accounts that are inactive or haven't logged in for at least two years, which sounds more alarming than anything else. The company adds that it will also delete content across Gmail, Drive, and Photos if you're over your storage limit for two years. This essentially means users will have to buy more storage eventually if they want their data to stay safe.
Notably, Google already counts 'original quality' photo uploads against the storage cap and now taking away the 'high-quality' uploads may affect the service's main selling point. However, Pixel users can still upload high-quality photos for free even after June 1st, 2021 without being counted against the storage cap. While it may not be as good as the original quality, it's still a bonus over non-Pixel users across the globe.
Google in a statement said, "Today, more than 4 trillion photos are stored in Google Photos, and every week 28 billion new photos and videos are uploaded. Since so many of you rely on Google Photos to store your memories, it's important that it's not just a great product, but also continues to meet your needs over the long haul. In order to welcome even more of your memories and build Google Photos for the future, we are changing our unlimited High-quality storage policy."