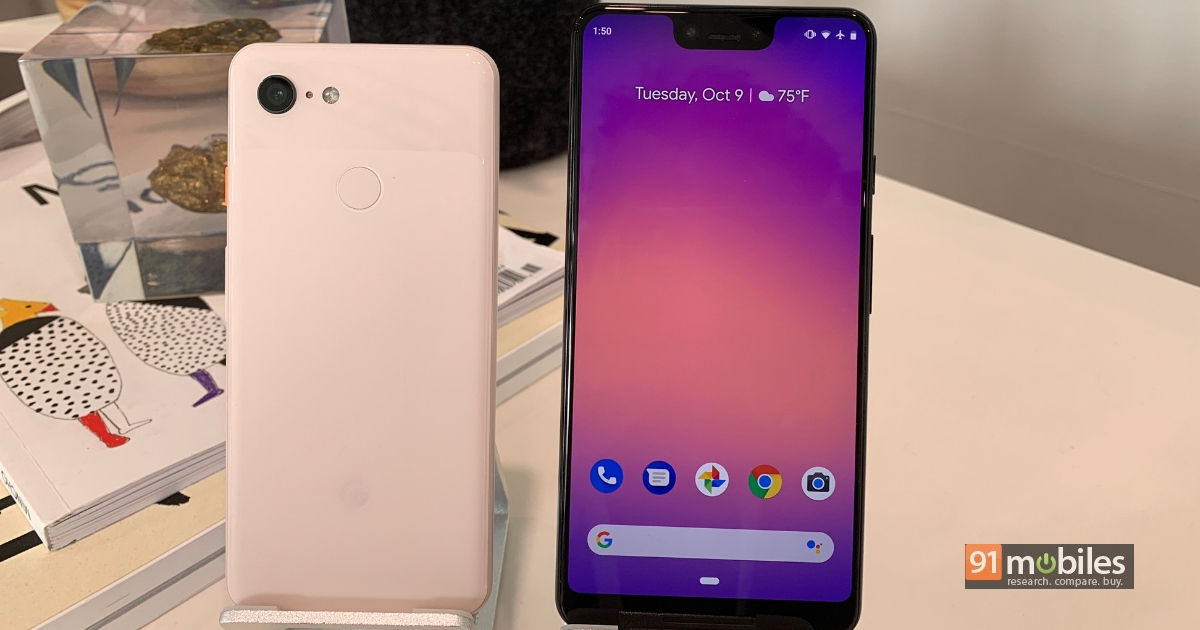 "The new Pixel duo boast features that look quite interesting, and more importantly, useful as well"
The smartphone world is accustomed to rumours, speculations and leaks around upcoming devices. Anyone who follows this segment would be used to seeing reports popping up online from time to time, especially in the weeks leading up to the official unveiling. But there are leaks, and then there's the "Great Pixel 3 XL leak"… something which will find a place in the annals of smartphone history for sure. While Google has just unveiled its Pixel 3 and 3 XL officially today, we've been seeing unboxing videos, camera samples, high-res hands-on images etc of the 3 XL since weeks now. Basically, no other smartphone has leaked out to this extent, and so much in advance. So much so that some conspiracy theorists came up with the idea that Google might have leaked out the details intentionally, and kept the real device under wraps. As it turned out, the conspiracy theories were just that – theories.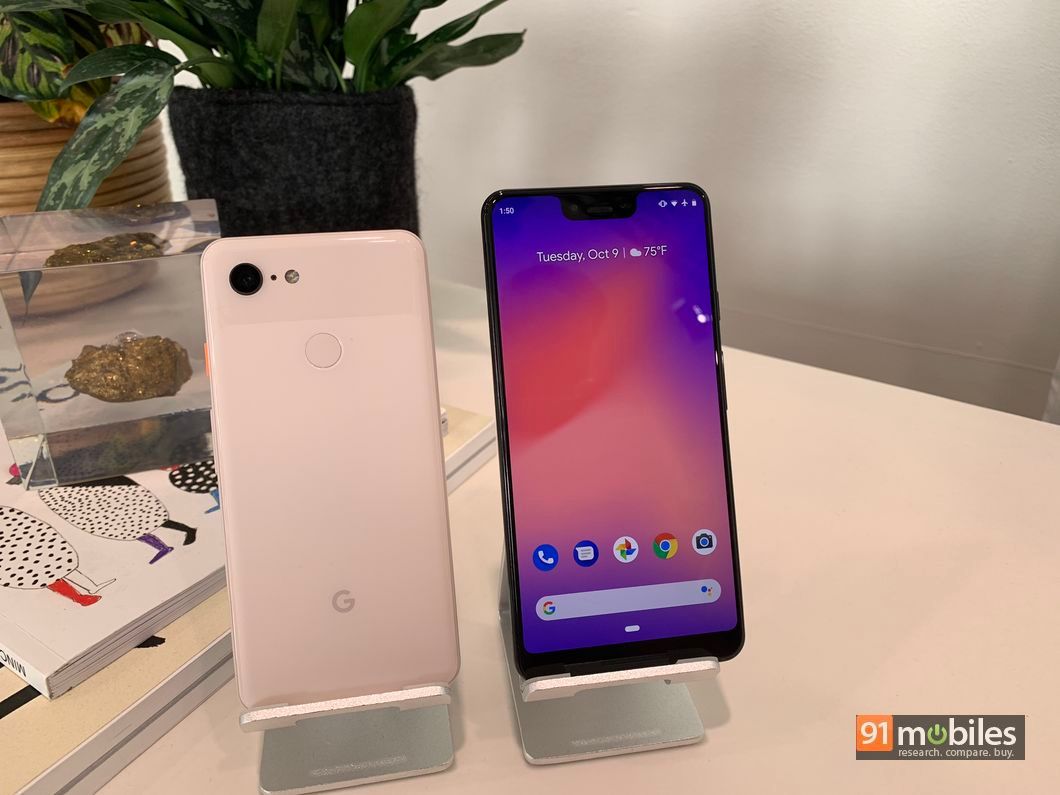 The Pixel 3 and 3 XL are officially out, and look exactly like the devices we've seen in leaks. Both phones sport bezel-less designs, but its only the larger sibling, the 3 XL, that bears a display notch. The notch itself has been at the centre of a mini storm ever since first images started appearing online, since it seems to extend much lower than most display cut-outs we've seen earlier on other phones. Now 'ugly' is a strong word, and not really the one we'd want to use here, but the notch does look a tad unsightly, especially when put next to other phones that follow the latest trend of the so-called waterdrop display notch.

Related read: Top features of the Google Pixel 3 XL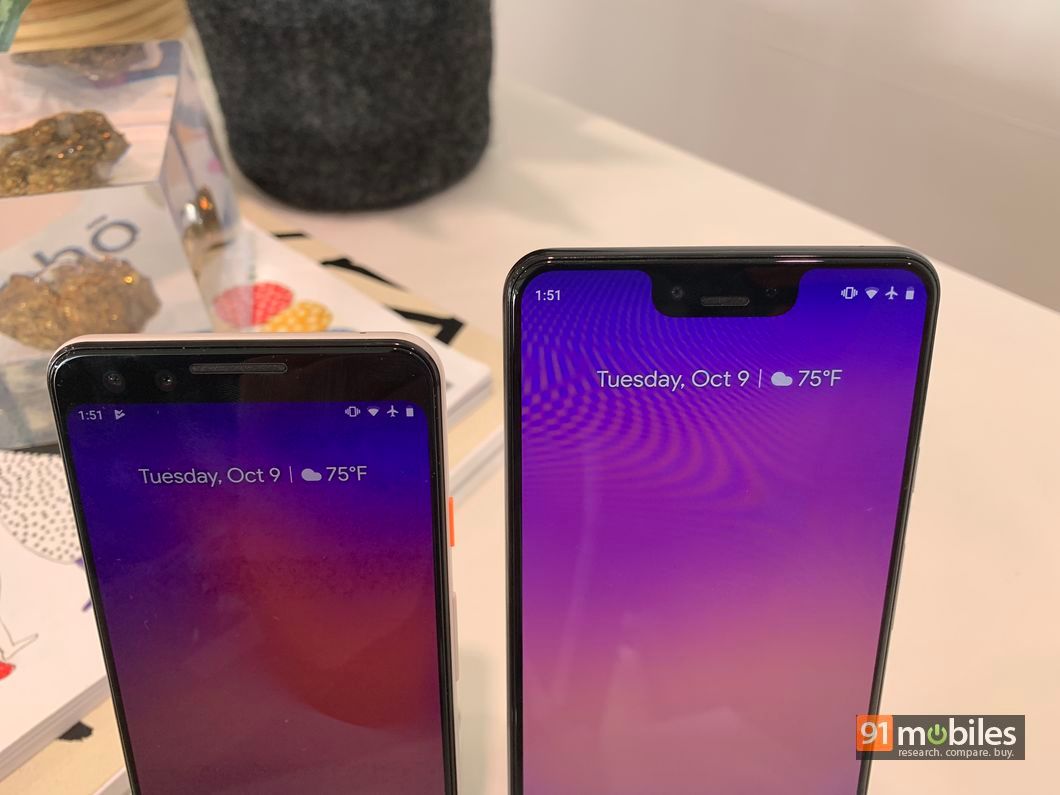 The notch on the 3 XL accommodates not one, but two front-facing cameras… along with the earpiece and the usual sensors. Of course, the notch-less Pixel 3 also has the same dual front cameras above the display. This is interesting, since the heavy lifting for photography is still handled by a solitary camera at the rear on both siblings. While Google is sticking to a single 12.2MP camera at the back, it has chosen to equip its latest smartphones with dual 8MP snappers at front, with one of them utilising a wide-angle lens for group selfies.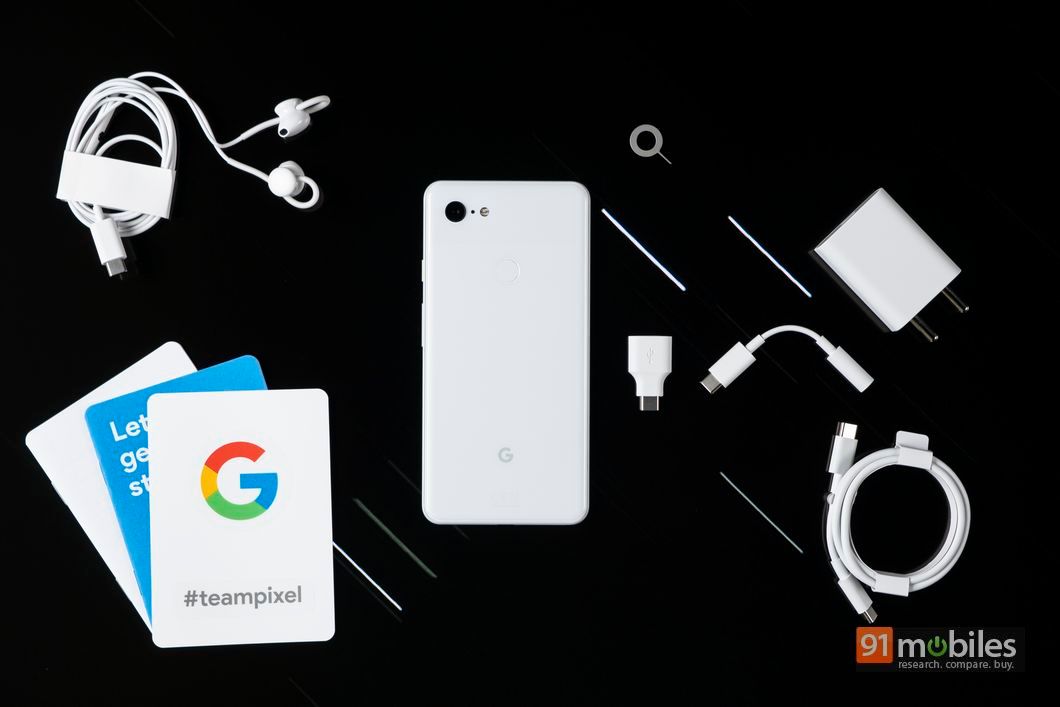 Apart from the phone, the retail pack includes a USB-C 18W power adapter, a quick switch adapter that helps migrate data from your older phone, a USB-C to USB-C cable, and a pair of wired Pixel USB-C earbuds. And since there's no 3.5mm socket on the phones, you also get a USB-C to 3.5mm adapter.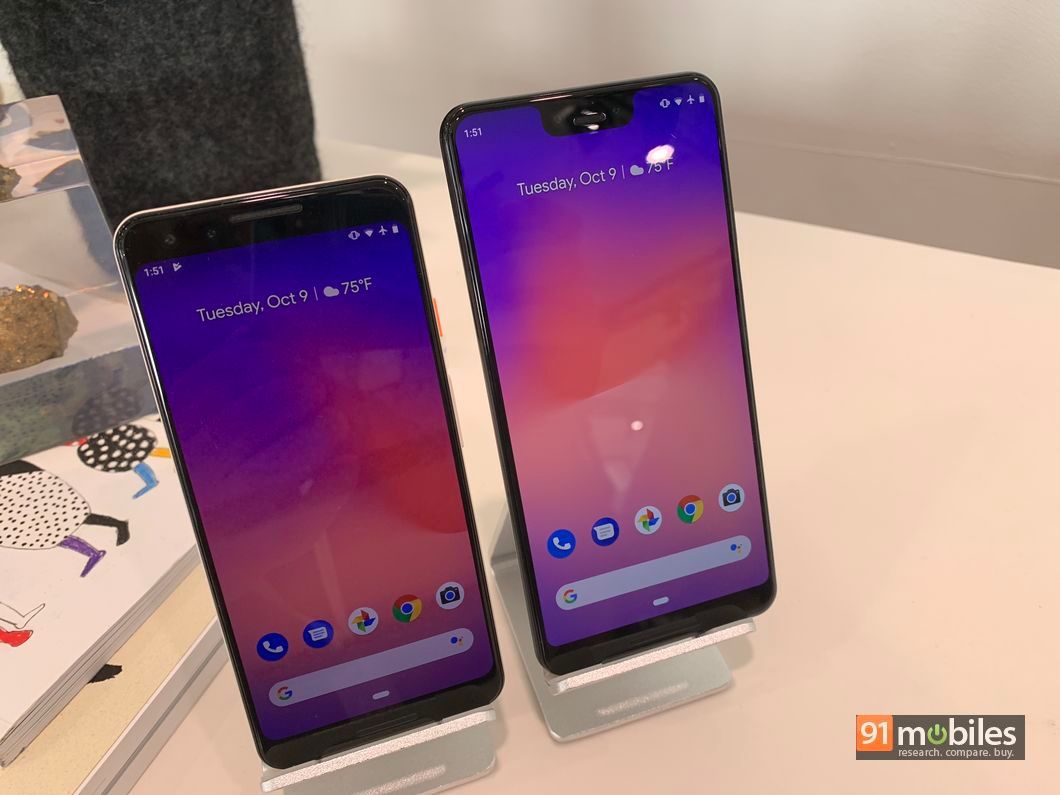 The Pixel 3 is the smaller device of the two of course, and sports a 5.5-inch FHD+ OLED display (18:9 aspect ratio). In comparison, the Pixel 3 XL rocks a 6.3-inch QHD+ OLED screen, with 18.5:9 aspect ratio. The screens on both devices support HDR, and look quite sharp overall. The always-on displays show time and date, along with icons for notifications, and can be tweaked for output by choosing between Adaptive, Natural and Boosted modes. Barring the difference in size and the display notch, both siblings use the same design language, with a similar half gloss half matte finish at the back as last time. However, this time the entire rear panel is made out of glass, and you know what that means. Yup – you guessed it right. Wireless charging is on board. Both phones are boast IP68 rating, and are impervious to water and dust. Design wise, you may not be able to distinguish the new Pixel 3 dual from last year's models, especially from a distance. Worth mentioning that the matte finish on the lower half of the new phones closely resembles the brushed metal finish on the Pixel 2 and Pixel 2 XL.
In terms of controls and port placement, the single nano-SIM slot has now moved to the bottom, which is also where you'll find the USB Type-C port. The right spine is home to the volume rocker and power key. The speaker is placed below the screen, and since the earpiece on top also doubles up as a speaker, the Pixel 3 siblings offer stereo sound.
Flip to the rear and you'll see the solitary camera lens on top left, along with a flash. A circular fingerprint scanner placed closer to the middle, while there's a 'G' logo towards the bottom.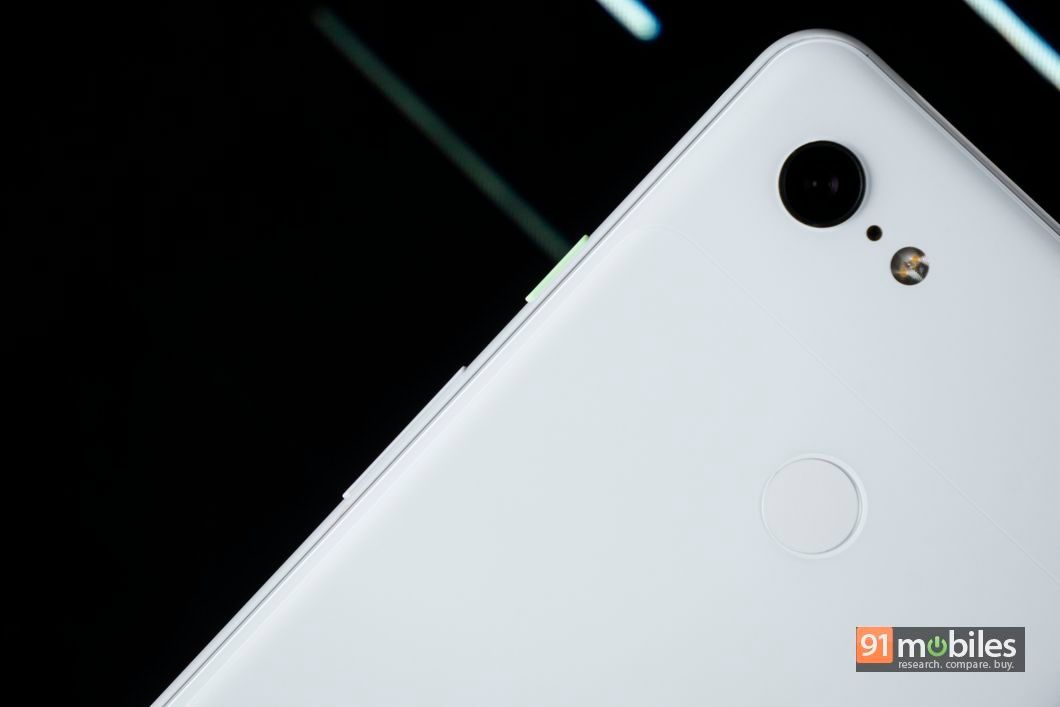 Inside both devices purrs Qualcomm's latest and greatest, the Snapdragon 845, along with either 64GB or 128GB non-expandable storage depending upon the variant. RAM is still 4GB… which is interesting, since Google seems to be the only Android smartphone brand in the premium space that hasn't crammed 6GB or more RAM into a phone yet. Now we think Google knows a thing or two about Android apps and the fact that the brand feels 4GB of RAM is enough to power its flagship only strengthens the belief that phones don't really need any more. Ditto for the single camera at the rear – Google's software algorithms and machine learning processes are so advanced that the latest Pixel flagships make do with just one lens at the back. The fact that last year's Pixel 2 XL is still the best smartphone camera out there, and that the latest one promises to top the charts again this year, seems to be making a mockery of the latest rivals, some of which sport three, even four rear shooters. Coming to the camera specs on the new Pixel smartphones, the rear camera features an aperture of f/1.8, and boasts both OIS and EIS. The dual shooters at front include an 8MP camera with autofocus and f/1.8 aperture, while the wide-angle 8MP snapper is fixed focus and features an aperture of f/2.2. Thanks to the difference in size, the two siblings get differently-rated batteries too, with the Pixel 3 drawing power from a 2,915mAh pack and the larger 3 XL sipping juice from a 3,430 battery.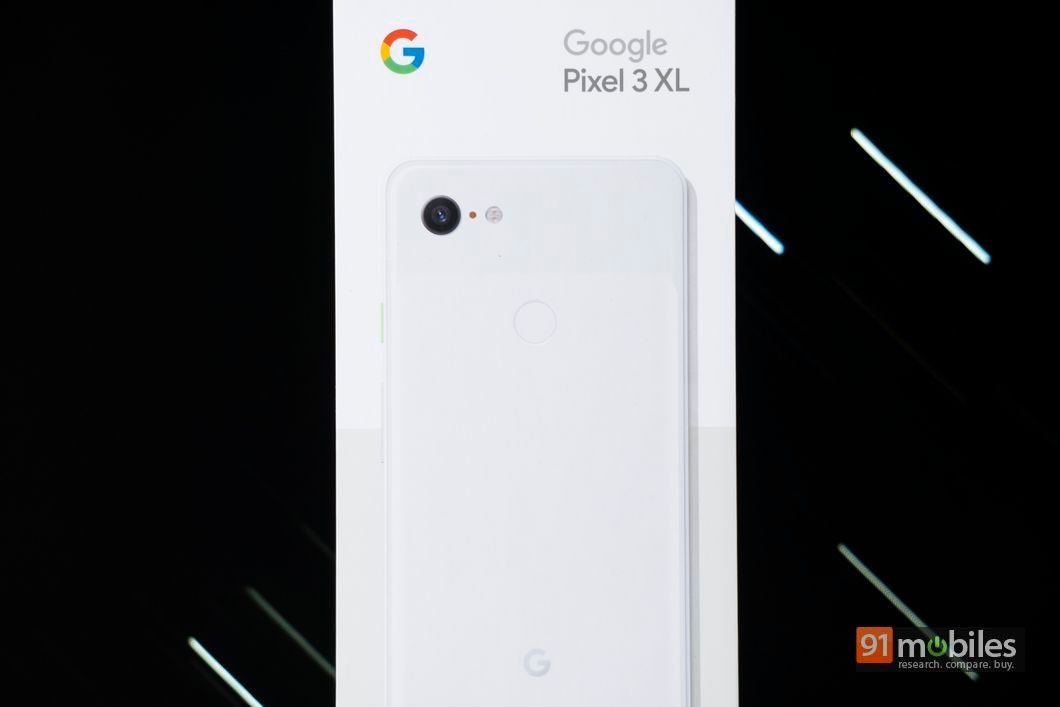 As can be expected, Google has included a ton of new features in its latest smartphones, with many of them focussing around photography, pun unintended. Google Lens (which is built into the camera app) for example, can now work in real time. It doesn't even need an internet connection to recognise objects like business cards, contact info, URLs, and QR codes. And when you do have internet connectivity, you can use Lens to identify landmarks, plants and animals etc, and translating text from one language to another.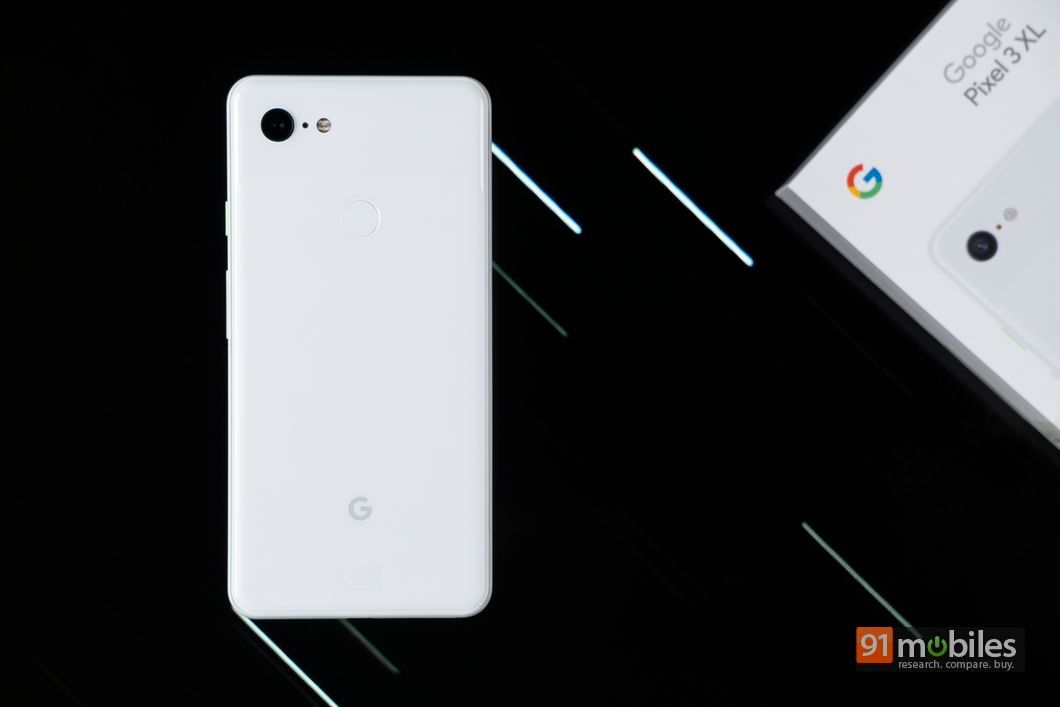 The camera on the Pixel duo features Smart HDR+, which is enabled by default, and captures up to eight frames before merging them together to produce the final result. A feature called 'Top Shot' uses machine learning to suggest the best shot, picking the best image from motion photos with people in them. Then there's a PhotoBooth Mode that shoots pics automatically when the camera detects smiling people in the viewfinder. A feature called Playground is another new addition, allowing you to use animated stickers to create what Google has labelled 'Playmoji', which are animated characters that can interact with each other and the user, mimicking facial expressions. Other camera-related features include the ability to shoot stills in RAW, Motion Auto Focus to keep a moving subject in focus, and Super Res Zoom that helps make sure no details get lost when you zoom in into a subject.
Both the new Pixel siblings also feature Active Edge for invoking the Google Assistant, and run stock Android Pie. Digital Wellbeing is baked in of course, giving you access to new features like Dashboard to keep a tab on your phone usage, a new DND mode and Wind Down that reminds you to switch off at night. You also get 'Now Playing', the song recognition feature that works offline and first made its debut with last year's Pixel models. Google has even added 'Now Playing History' that, as the name suggests, displays the history of all songs it had detected and offers actions to play the same via music services, see the video on YouTube, and more.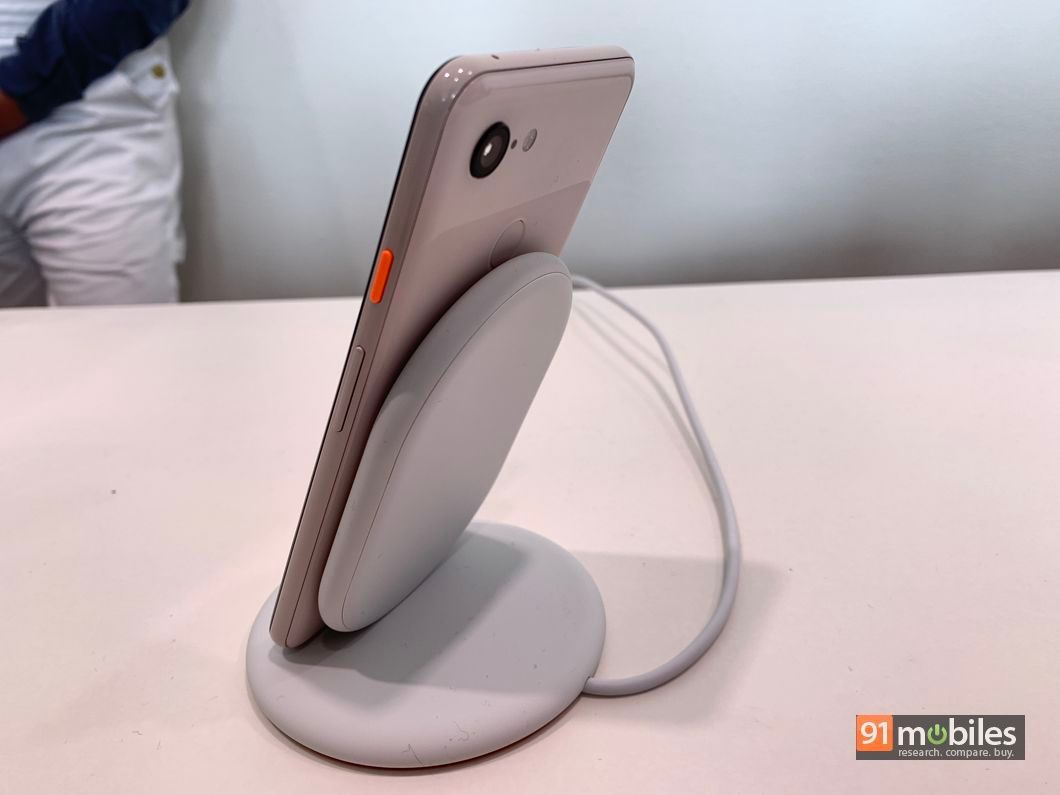 This year's Pixel smartphones also have a renewed focus on accessories. For one, there are the new Pixel USB-C earbuds which are included in the box. These feature built-in Google Assistant integration, so you can use voice commands and queries to interact with your Assistant and even do real-time translation. Then there's the optional Pixel Stand, which is a wireless charging dock that converts your Pixel phone into a digital photo frame while it's charging, picking up images from your Google Photos albums. The Pixel Stand also offers shortcuts to access your Google Assistant while your phone is docked, letting you launch your morning or bedtime routines, view your plan for day, see your commutes to work etc. A Sunrise Alarm feature gently brightens your docked Pixel 3 smartphone in warm hues before your alarm goes off, and you can even set up the Pixel Stand to automatically put your phone into DND mode when you prop it up for charging. All these features and the fact that the Pixel Stand can fast charge your Pixel 3 at 10W make it a really handy accessory, but it doesn't come cheap, and will set you back by Rs 6,900.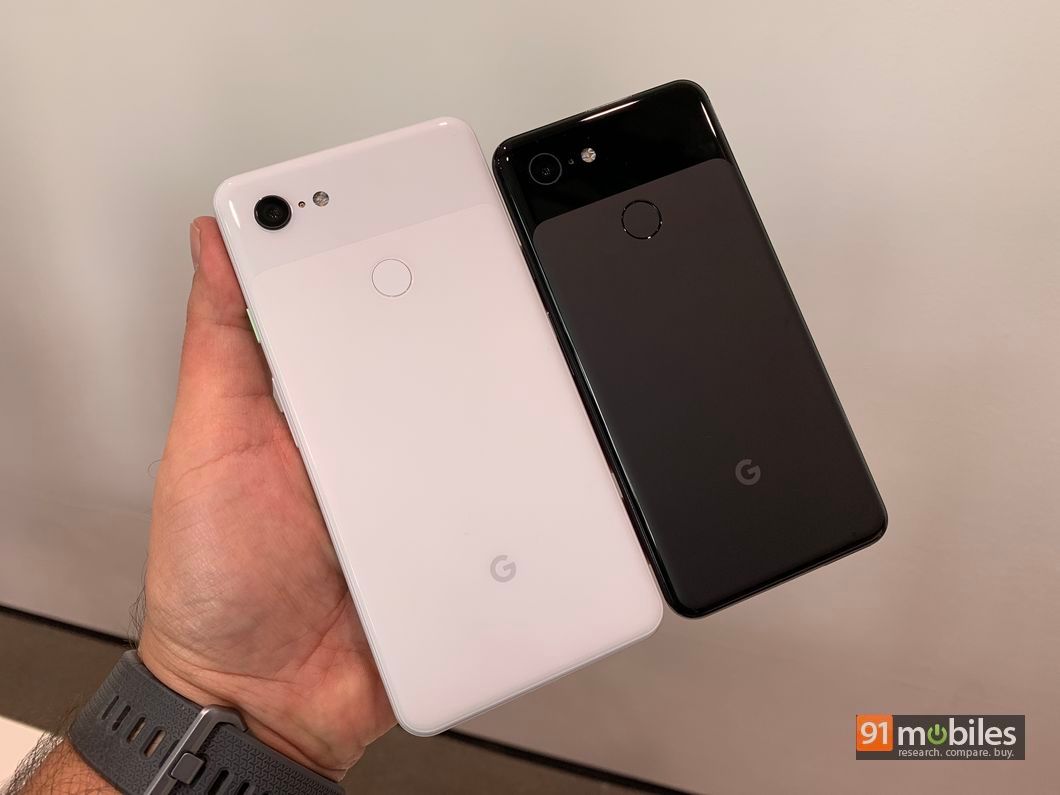 The Google Pixel 3 will be priced at Rs 71,000 for the base 64GB model, going up to Rs 80,000 for the 128 gig version. The Pixel 3 XL will set you back by Rs 83,000 for the base model, with the 128GB variant going up to a cool Rs 92,000. This pricing is lower than the Apple iPhone XS and the XS Max, but still makes the new Pixel duo the most expensive Android smartphones you can buy currently. The Samsung Galaxy Note9 is priced much lower in comparison, making it look like a more attractive proposition for those looking to buy a premium Android flagship. That said, the Pixel 3 and Pixel 3 XL do offer quite a few interesting features, and combined with the promise of (hopefully) offering the best smartphone shooters yet, should appeal to the Android purists and those who covet a clean, yet loaded usage experience along with the latest features promised by Google's mobile platform. Okay Google, you may not have thrown up any big surprises at the launch event today, but we'll be taking your new phones on a test drive to see how they fare, and hope they'll be able to blow our socks off. Lots more coming up on the new Pixel 3 and 3XL, watch this space.

Disclosure: this writer attended the Pixel 3 launch event in New York on Google India's invitation