"Google Pixel 4 series is confirmed to come with dual rear cameras, feature Face Unlock for security, and Soli radar motion sensor"
Google Pixel 4 and Pixel 4 XL smartphones are scheduled to go official on October 15th in New York. However, ahead of the launch, thanks to a series of leaks, hands-on videos and images, we already came across a good deal about the flagships. Not stopping there, new details about the Pixel 4 and Pixel 4 XL smartphones surface the internet every other day. These handsets are confirmed to feature dual rear cameras at the back, which is a bump up from the single sensor on the previous generation Pixels, a new Soli radar motion sensor for the hands-free gesture controls, and more. Combining all the leaks, we now bring you a round-up of everything we so far know about the Pixel 4 and Pixel 4 XL.
Google Pixel 4 and Pixel 4 XL specifications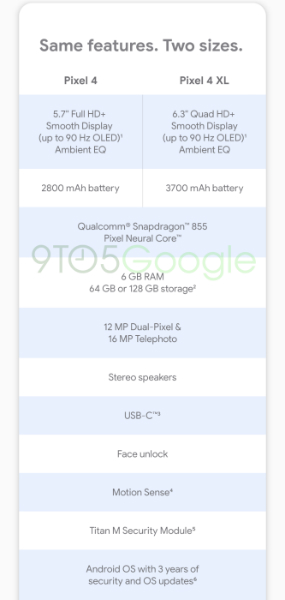 Google Pixel 4 and Pixel 4 XL smartphones are said to flaunt a 5.7-inch full HD+ display and 6.3-inch QHD+ panel, respectively, with 90Hz refresh rate and Ambient EQ. Both are likely to be powered by an octa-core Snapdragon 855 SoC with Adreno 640 GPU. The flagships will be available in two variants — 6GB + 64GB and 6GB + 128GB onboard storage. While the Pixel 4 reportedly packs a 2,800mAh battery, the Pixel 4 XL could have a 3,700mAh battery with 18W fast-charging support.
Both the Pixel 4 and Pixel 4 XL feature dual rear cameras consisting of a 12MP dual-pixel primary sensor and a 16MP secondary lens. The handsets pack stereo speakers, Titan M security module, Face Unlock, and Motion Sense. The handsets will likely run on Android 10 out of the box with promised updates for three years.
Pixel 4 face unlock
Google Pixel 4-series is confirmed to feature facial recognition for improved security. Now, a new marketing video that surfaced online showcases the Face unlock in action on the upcoming Pixel 4. In the video, the user gets a notification, and the Soli radar chip lights up the display as the user approaches the device. The sensor then detects the user's face and quickly transitions into the home screen from the lockscreen page. All this is done without the user touching the display. However, there's also an option to enable swipe up to fully unlock the device, similar to the latest iPhones.
Pixel 4 motion gestures
The Pixel 4 Soli radar sensor allows users to perform various tasks with just motion gestures. A new leaked promotional video shows these gesture in action. A hand wave can stop/snooze the alarm, silence phone calls, and switch tracks on YouTube Music. While the gesture movements slightly differ, they basically fulfil the purpose. It appears that these gestures only work when the screen is on and is unlikely that they might function when the screen is turned off, which makes the feature more of a gimmick than a productive inclusion.
Google Pixel 4 Neural Core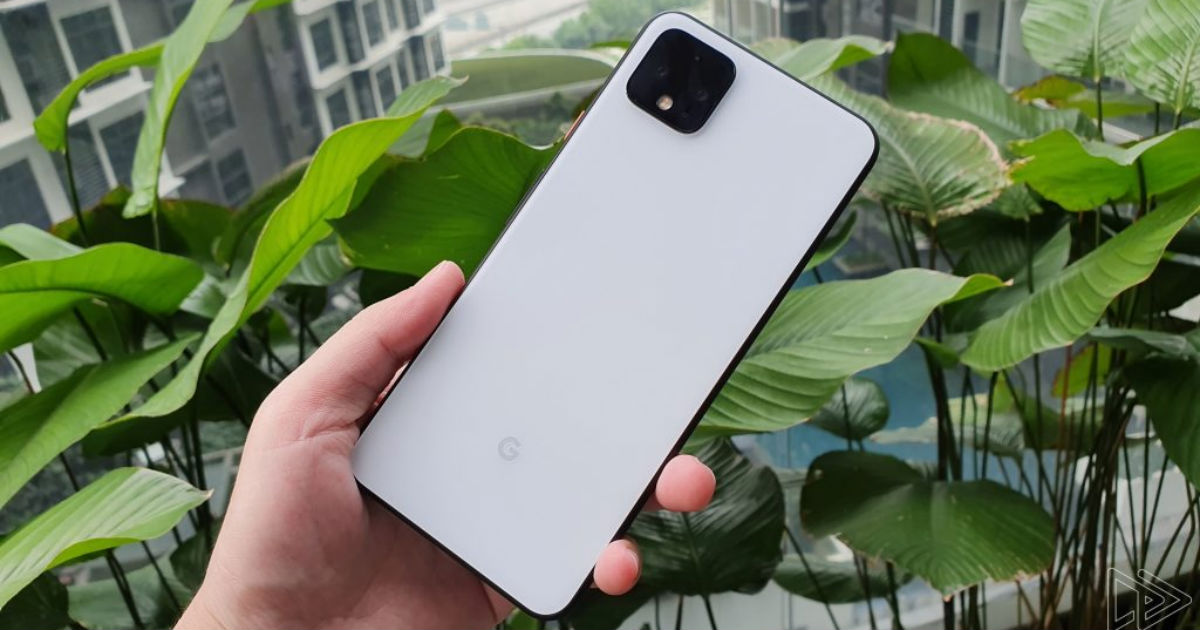 In specifications leak, it's discovered that the upcoming Pixel 4 smartphones will have a new 'Pixel Neural Core' chipset. Google Pixel 3 series from 2018 had Visual Core, and now it seems that the Mountain View company might be replacing it with Neural Core. As the name suggests, it might process images with a neural network for better output.
Google Assistant on Pixel 4
At the I/O 2019 Keynote, Google teased new generation Assistant and said that it would be launching on the "next Pixel phones." Now, a new video showing off the improved Assistant leaked online. Since Google replaced the Android 10 gesture navigation, there isn't enough space in the navigation bar for the commands to fit. Google's solution for this includes a shorter and transparent Assistant panel. Pixel 4 series will have a shortcut to launch Assistant Updates feed in full at the left. It also has a keyboard icon in the right corner. Google colours bleed at the bottom of the screen as you talk, and a panel slides up with what you're saying. The UI no longer takes full screen. Another demo highlights the new Google Assistant controlling apps, like showing the recent images from the Google Photos app. The new Pixel 4 Assistant is powered by Google shrinking voice recognition and understanding models.
Google Pixel Buds 2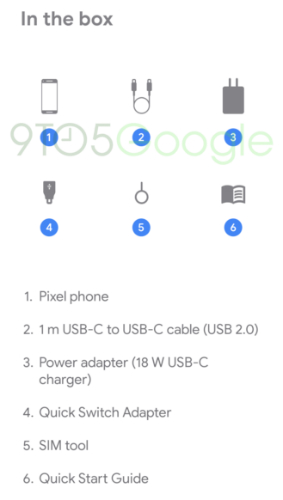 Apart from the Neural Core, details regarding the in-box accessories also surfaced online. This suggests that Pixel 4 would come with a USB-C to USB-C cable, an 18W USB-C power adapter, a Quick Switch Adapter, a SIM tool, and a user manual. This means that Google is not including USB-C headphone adapter and the USB-C earbuds in the box this time around.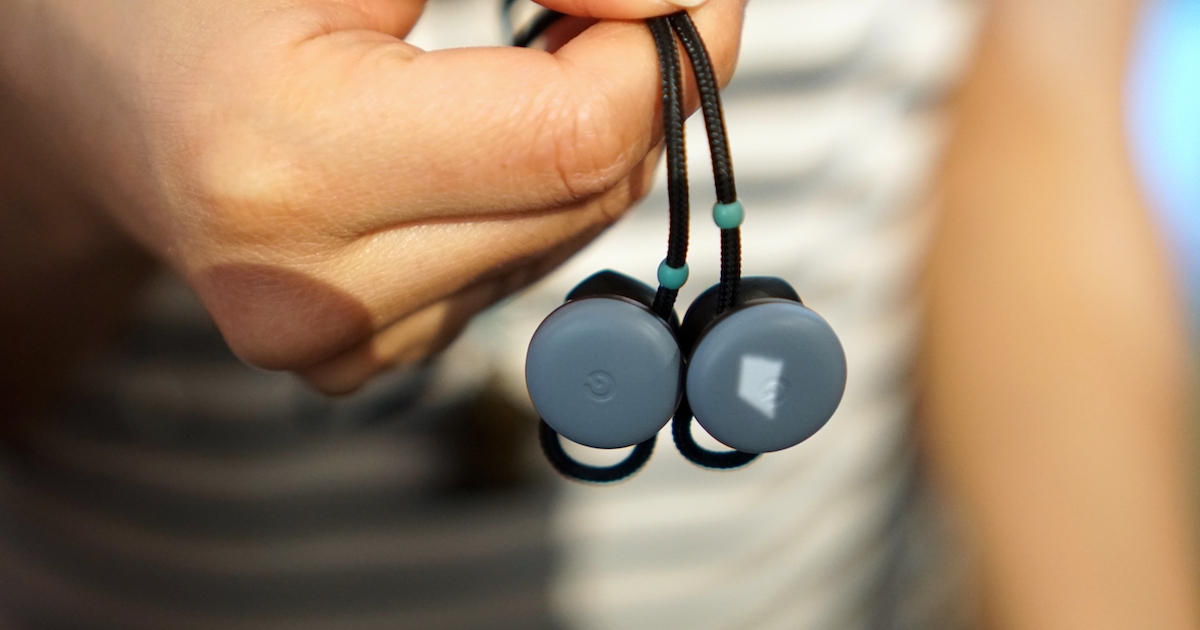 Google Pixel Buds 2 is expected to go official very soon, according to reports. However, it's unclear if these would be wired or wireless like Amazon Echo Buds and Apple AirPods. Nothing about the Pixel Buds 2 is known at the moment, but there's a good chance the new Pixel Buds might go official on October 15th event alongside the new Pixel phones.
New Recorder app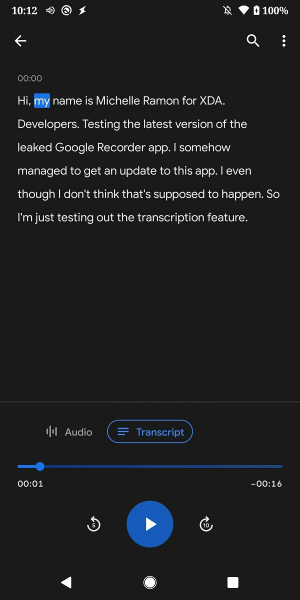 Google seems to be working on an updated Recorder app that will include a new automatic transcription of audio along with an audio search function that lets you find specific words or phrases from a single recording. According to XDA-Developer, the app isn't 100 percent accurate but does a decent job. For now, only supported transcription language is US English. Few of the recognised audio events include Applause, Bird, Cat, Didgeridoo, Dog, Knock, Laughter, Music, Rooster, Speech, Phone, and Whistling. The feature might make an appearance on October 15th.