"The next version of Android will likely be called Android 11, but Google might be sticking to Android R for beta testing"
Google is reportedly testing a pre-beta build of its upcoming Android version, due to be called Android 11. The information comes via a new Google Pixel 4 entry on the Geekbench browser, which states that the device is running on 'Android R'. The entry is visible on the Geekbench browser, removing the possibility of a forged screenshot being shared. It is also in line with Google's typical development cycle — pre-beta builds typically surface around the end of January, ahead of the first beta build rolling out for testers by March.
This is the first time that Android R, which should be called Android 11 in its later stages, has made a public appearance. Not a lot is known about it yet, but we already have some knowledge of what Android 11 would bring to the table. According to reports on the internet, Android 11 is expected to come with a better implementation of system-wide dark mode, including multiple or staged dark mode settings. It may also come with a new file transfer technology based on Bluetooth and Wi-Fi, which should make large file transfers faster and easier — something that Apple succeeded ages ago with AirDrop.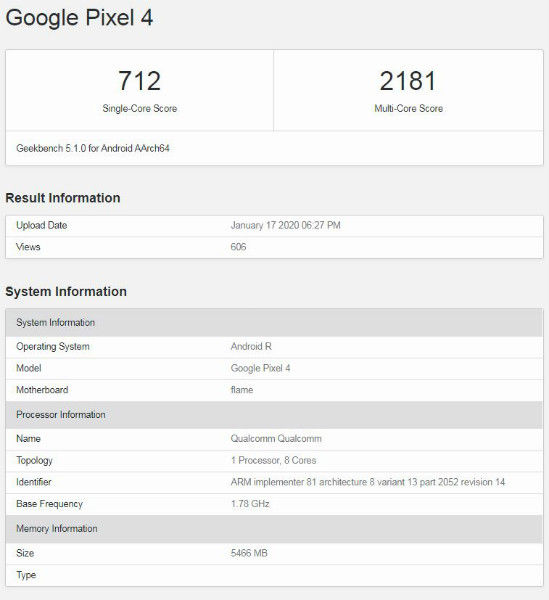 Other new Android R aka Android 11 features also include a reported lifting of video recording time limit in 4K, because of the way media encoding is done on Android devices up to Android 10. The new benchmark screenshot does not reveal anything about the upcoming Android version, and even the benchmark scores do not offer any particular indication of what effect Android R/Android 11 would have on the overall performance of the device. This, though, is not surprising, since initial builds are not particularly stable, and hence, not the right representation of what its final build would bring to the table.
Nevertheless, the Android R beta, which appears to have retained the alphabetical naming order unlike its stable build, should make it to users soon. This suggests that Google will be revealing more details about its new operating system quite soon. Google typically releases the first beta of the next Android version in March, which means we should soon hear more about Android R aka Android 11.